September 19, 2020

December 2013 | Vol. XII - No. 12


December Staff Picks
This month's staff picks include arts and crafts projects, musical toys, and other fun products that will spark kids' imaginations. Take a look at all of our staff picks below, then decide if any of them would be a good fit for your store.
Wyvern by SAFARI LTD.®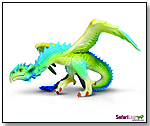 The new 2014 Wyvern from Safari Ltd® will be sure to take you on one thrilling and unforgettable adventure! This hand painted figure measures 6" L x 6.75" W x 3.75" H (15 x 17 x 9.75 cm), and is suitable for ages 4 and up. All products are 100% guaranteed and phthalate and lead free to ensure children's safety. Safari Ltd®'s 2014 introductions and more can be viewed and purchased online at safariltd.com 11/27/2013



SparkleUps® Sparkle Skins by THE ORB FACTORY LIMITED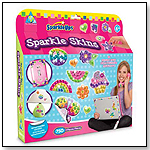 Follow a numbered legend and decorate 85 stickers with sparkling jewels. Personalize laptops, phones, lockers, books, and more. These repositionable stickers can be removed with no residue. 11/27/2013 (MSRP: $14.99; Age: 6 and Up)



Green Tones Square Tone Drum by HOHNER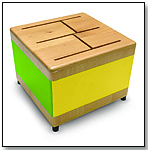 6" eco-friendly Rubberwood tone drum with 4 grooved tone chambers that produce warm and appealing rhythms when struck. Includes child safe rubber mallet. Open box will hang. 11/22/2013 (MSRP: $30.00; Age: 3 and Up)



Band In A Box Three by SCHOENHUT PIANO COMPANY


STRIKE UP THE BAND! This assortment of musical instruments is a great way of introducing children to music. Encourages rhythm and social interaction. Provides lively entertainment for all ages. Fun for jam sessions and group play. Makes a creative, reasonably-priced gift. 11/6/2013 (Age: 3 and Up)



mi mu ru™ by HENDERSON & COMPANY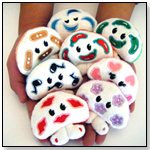 Introducing a new family of super-soft, collectible plush mushroom characters called mi mu ru™ (my moo roo). Each of the unique, beautifully embroidered characters (eight in all) have individual personalities complete with their own mottos and fun names. missikissi says, "A simple kiss can make everything better". zzzzizi says, "A nap a day makes grumpy go away." And, ouchi booboo states, "Bumps and bruises reminds us not to do that again." These are just some of the mottos from mi mu ru™.

Adding to their play value, each handmade 2" tall cute plush is attached to their own ultra-soft wristband (buddi bands™) which allow kids to wear 'em, carry 'em and share 'em. This feature enhances the play value while still being affordable. Kids will want to collect 'em all! mi mu ru buddi bands are more than a toy, they are a super-fun children's accessory. Sales reps/distributors welcome. www.mimuru.com 11/6/2013 (MSRP: $4.99; Age: 3 to 8)



Crazy-Cool Duct Tape Projects by DESIGN ORIGINALS



Get inspired to craft your world with these fun and funky projects for fashion and flair! Celebrity crafter Marisa Pawelko shows how to cut, rip, layer, and fold colorful duct tape to concoct fantastic fashions, school supplies and room décor. She reveals the nine skills every tapester needs to know, and provides all of the bells and whistles that kids need to get seriously funky as they customize each of the amazing projects in this book. 11/4/2013



Did My Owl Just Growl? Book/Plush Combo by FOBIE FRIENDS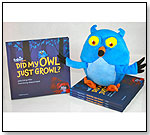 Did My Owl Just Growl? is our first book and is now available in hardback. The turmoil begins the moment the lights go out. Our frightened young boy is in his bedroom tucked in for the night, but he is confronted with eerie sounds and creepy shadows that send his imagination soaring into the spooky, dark woods. Fortunately, an unexpected friend guides him through his adventure. Includes plush Owl.
TDmonthly Editor's Notes:
- A series of books that help kids with their phobias. My daughter loves the illustrations.
- A story line that kids can follow and relate to. A great gift for any child.
- Fun use of rhyme throughout the story.
- Fobie Friends encourages youngsters to confront their fears with courage and an open mind.
- Encourages inner strength 9/26/2013 (MSRP: $27.99)



Green Start Wooden Puzzle - Busy Butterfly by INNOVATIVEKIDS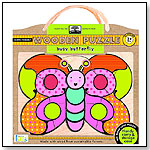 Brand new in the green start series made from 98% post consumer recycled materials and printed with eco friendly inks, this extension brings earth-friendly messages and all natural materials to the joy of creating beautiful multi-piece jigsaw puzzles. Kids will love putting together this puzzle full of colorful, busy butterfly. Comes with adorable and reusable storage box. 9/26/2013 (MSRP: $12.99; Age: 4 and Up)



K'NEX Supernova Blast Roller Coaster by K'NEX BRANDS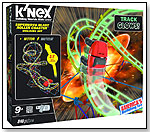 Get ready for an intergalactic adventure with the Supernova Blast Roller Coaster Building Set. Use over 800 K'NEX pieces including classic flexi-rods to build a model over 3 feet high! The specialized blaster motor launches your car on an out-of-this-world adventure through 22 feet of NEW glow-in-the-dark track!! For more fun, download instructions for a 2nd coaster, the Sonic Boom. Requires 3 "C" batteries (not included). Ages 9+. Standard parts made in the U.S.A. Special components made in China. Packaged in the U.S.A. 9/26/2013 (MSRP: $69.99; Age: 9 and Up)



---
---


Copyright © 2020 TDmonthly®, a division of TOYDIRECTORY.com®, Inc.