September 27, 2020

May 2014 | Vol. XIII - No. 5


TDmonthly 2014 Top Toy Debut Award Winners: Dolls, Plush and Collectibles
45 Retailers Have Made Their Picks!
This article sponsored by: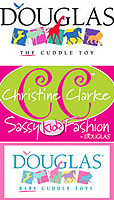 The Top Toy Debut Award winners have been announced!

1. 45.16% (14) Folkmanis - Grunting Pig

2. 22.58% (7) Aurora World - Sloths

3. 19.35% (6) Douglas Cuddle Toys- Spotted Pig; Folkmanis - Ostrich; Douglas Cuddle Toys - Tundra Wooly Mammoth

Special Mention, Dolls:

1. 12.9% (7) Imports Dragon - Caillou Learning Doll; Zeenie Dolls - Eco Warriors

You can see all of the nominees and learn more about these products below.



Following are some of the newest products from DOUGLAS CUDDLE TOYS, the generous sponsor of the preceding article:


Poinsetta Tutu Mouse 9" tall by DOUGLAS CUDDLE TOYS



She is a dancing mouse, ready for holiday fun and frolic. A swirl of red tulle with silver sparkles, she has a Matching ear bow, red ballet slippers, and a delicate embroidered necklace. 4/29/2014 (MSRP: $12.00)



Spotted Pig Family, 7", 10", 13" sitting by DOUGLAS CUDDLE TOYS



Now there are three little and big pigs to complete the family farm! Beautiful details, soft fabrics, and irresistible expressions make these pigs have personality plus! 4/29/2014



Barker Husky, 30" lying down by DOUGLAS CUDDLE TOYS


This lush and beautifully soft husky is almost life size...the details are amazing and the face is exquisite. The fur is silky smooth and soft as can be.
— Phil Wrzesinski, owner of Toy House and Baby Too in Jackson, Mich., told TDmonthly in a June 2014 survey that Douglas Plush does well in their store, especially the dogs. 4/29/2014



---
---


Copyright © 2020 TDmonthly®, a division of TOYDIRECTORY.com®, Inc.