August 2, 2021

October 2015 | Vol. XIV - No. 10

---
Top-10 Most-Wanted Novelty Toys
With additional reporting by Brenda Ruggiero

Novelty items make great impulse buys. They're perfect party favors, last-minute items to entertain kids in the car, and they make mean stocking stuffers too. Check out these best-selling novelty toys and see which would be a good fit for your store.

*No manufacturer paid to be included in this list. All products listed were designated by editorial staff without regard to the company's relationship with TOYDIRECTORY.com/TDmonthly Magazine.
Thinking Putty Super Illusions by CRAZY AARON ENTERPRISES, INC.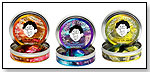 Thinking Putty is high quality silicone bouncing putty enhanced with knock-your-socks-off colors. It is all Made in the USA, non-toxic, and never dries out. The three new Super Illusions are unbelievably vibrant colors that shift depending on how the light hits them. The dynamic colors shine like no others: when held up to the light and pulled thin, the colors magically disappear and kids can see right through them. Launch date: June 2012.
— Mary Sisson, owner of Kazoodles in Vancouver, Wash., told TDmonthly in a Fall 2012 survey that Thinking Putty is one of her best sellers in the tween category. 7/19/2012 (MSRP: $13.50; Age: 3 and Up)



Strange Attractor Thinking Putty by CRAZY AARON ENTERPRISES, INC.

Deep black with subtle green sparkles, this slightly stiffer Thinking Putty has a mind of its own. Near a powerful magnet it comes alive! Strong enough to defy gravity. It can even lift tacks and paperclips on its own after charging in a magnetic field. One would be mesmerized by the invisible forces at play.
— Candace Gooch, owner of At Once All Agog in Limerick, Maine, told TDmonthly in July 2010 that this product is one of her top-three best sellers. She cited sales of 12 in the last month and three in the last week.
— In a late Summer 2012 survey, three out of 12 retailers said Crazy Aaron's Thinking Putty was their bestselling novelty item. Richard Gibson, owner of Learning Express of Newton in Newton, Mass., told TDmonthly that the putty brings in $5-6,000 a year, and "the best is the magnetic one."
— In a Fall 2013 survey, three out of 12 retailers told TDmonthly that Crazy Aaron's Thinking Putty was their best-selling novelty toy. (

Watch Video) 11/19/2009 (MSRP: $10.95)



Original Slinky by POOF-SLINKY INC.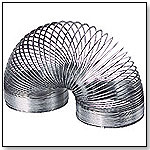 Kids today can enjoy this classic metal toy as much as their parents did when they were children. Awards: TDmonthly Classic 2008.
— Original Slinkys are one of the top-10 best sellers at the Lollipop Shop in Jonesborough, Tenn., and Kiawah Island, S.C., Co-owner Jeff Gurley told TDmonthly in spring 2008.
— "Slinkys are still doing very well," Ray Goodhart of Ages & Stages Toy Box in Golden, Colo., told TDmonthly in May 2008, noting that they sell "probably 15 to 20" per month.
— "Slinky — nostalgia does very well," Linda Hill, owner of Emerald Isle Toys in Emerald Isle, N.C., told TDmonthly in May 2008. "[We sell] 50 per year … [to] kids — not parents — looking for older toys."
— In May 2008, three of 55 retailers named the Slinky as one of their best-selling novelty items. Original Slinkys are a top-10 best seller at the Lollipop Shop in Jonesborough, Tenn., and Kiawah Island, S.C., Co-owner Jeff Gurley told TDmonthly in spring 2008.
Where to Buy: Rocking Horse Toy Store; Berkira (

Watch Video) 6/4/2008 (Age: 5 and Up)



Raptor yo-yo by DUNCAN TOYS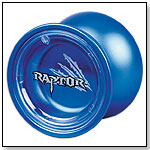 The Raptor rips through the competition yo-yo scene as an affordable, high performance yo-yo. Raptor features a large ball-bearing and SG Sticker response for professional unresponsive yo-yo play, as well as interchangable/removable side caps for added weight. Disclaimer: Raptor is for experienced yo-yo players and is unresponsive. Meaning that it does not return to the hand when users tug the string. To bring the yo-yo back to the hand one must do a "bind". Instructions are included. 4/5/2012



Sands Alive! Deluxe Set by PLAY VISIONS INC.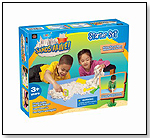 Set includes 5 pounds of Sands Alive!, 6 Geometric Shape Molds, 4 Deluxe Castle Molds, 4 Small Castle Molds, 5 Mini Castle Topper Molds, 2 Sculpting Tools, 1 Paver, Brick and Pebble Rollers with Interchangeable Handle and Large Play Tray.
— In a March 2014 survey, 2 out of 9 retailers told TDmonthly that Sands Alive! was a best-selling product.
— Kelly Ratoff, owner of Kennebunk Toy Company in Kennebunk, Maine, told TDmonthly in a May 2014 survey that Play Visions sands are consistently best-sellers. "As many as we can get, we sell through," she said.
— David Castillo, vice president of The Red Balloon Toy Store in Salt Lake City, Utah, told TDmonthly in a November 2014 survey that Sands Alive is one of their store's best-selling educational toys. "Sands Alive especially has been hard to keep on the shelf," he told us. 3/31/2014 (MSRP: $80.00)



Self-Adhesive Mustaches by SCHYLLING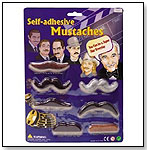 "You can be a super star every day!" says the illustrated blister card from Schylling. In assorted shapes, sizes, and colors, Schylling's Self-Adhesive Mustaches are instant personality. Whether for a disguise, fancy occasion, costume, or day-to-day fun, each of the seven mustaches is great for a laugh.
— "We sell a ton of those. I'm always amazed at the number of those we sell!" said Greg Larson, owner of Larson's Toys and Games in Columbus, Ohio, of Schylling's Self-Adhesive Mustaches during a September 2010 survey of 49 retailers.
— Two of 49 retailers listed Self-Adhesive Mustaches by Schylling as a best-seller in September 2010.
— In a late Summer 2012 survey, two out of 12 retailers said that mustaches were their bestselling novelty item. 9/29/2010 (MSRP: $7.50; Age: 3 and Up)



The Self-Inflating Whoopee Cushion by WESTMINSTER INTERNATIONAL CO.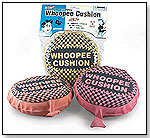 This whoopee cushion self-inflates and comes in a "Try Me!" package. It is available in yellow, orange or pink.
— "The whoopie cushion — that's your perennial novelty item," Tye Steinbach of Thinker Toys in Portland, Ore., told TDmonthly in May 2008.
— According to Thea Brown, buyer and general manager at World of Mirth LLC in Richmond, Va., whoopee cushions are best-sellers, running out the door at a rate of "10 per month."
— In May 2008, three of 55 retailers surveyed by TDmonthly singled out prank products as best-sellers in the novelty category. 6/9/2008



Magic 8 Ball by MATTEL INC.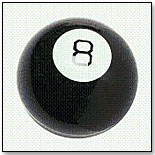 This all-knowing soothsayer has sure stood the test of time. Shake it up, ask it a yes or no question and in the window will appear the answer.
— Briana Miller, manager of Rockridge Kids of Oakland, Calif., said that when they get the product in, it "sells just fine."
— According to Palo Alto Sport & Toy World manager, Eric Hager, this product still sells well for customers of all ages. For tween and teen girls, his store did "okay" with a pink tween/teen girl version called the Magic Date Ball. He suspects his store will get it back on shelves if they can negotiate a good price.
— "I never had one as a kid, and as a result I was unfocused and directionless. Fortunately, I now have one in my office, and it helps me greatly in my professional life," wrote Robert I. Hedges from Burnsville, Minn. who gave the product 5 out of 5 stars on Amazon.com. 10/21/2005 (MSRP: $5.99; Age: 6 and Up)



Sands Alive GLOW by PLAY VISIONS INC.


Plastic components will react in the dark with the UV LED Glasses and lights up beyond your belief! Comes with 4 pounds GLOW Sand, large play tray, UV LED Glasses, UV Pen Light, Brick and Pebble Rollers, 4 Stencils in assorted themes, 2 Volcano Molds, 6 PVC Neon Bugs, 6 PVC Dino Skeleton, 3 assorted Jungle Animal molds, and a light up flashing red LED module to make your volcano come to life! ITEM PROHIBITED ON AMAZON.

2/17/2015



Gazillion Bubbles Hurricane by FUNRISE INC.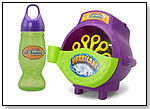 The Gazillion Bubble Hurricane is Gazillion's number one bubble machine. Year after year, this bubble machine cranks out thousands of bubbles for kids of all ages. Each Bubble Machine comes with an 8 oz. bottle of a "top secret" non-toxic Gazillion Bubble solution, just pour the solution into the reservoir attached to the Bubble Machine to continuously feed the wands creating a storm of colorful bubbles. Requires 6 "AA" batteries, not included. Works with core solution. iParenting Award Winner. (

Watch Video) 3/26/2012 (Age: 3 and Up)



---
---


Copyright © 2021 TDmonthly®, a division of TOYDIRECTORY.com®, Inc.