August 4, 2021

November 2015 | Vol. XIV - No. 11

---
Top-10 Most-Wanted Jewelry and Accessories
With additional reporting by Brenda Ruggiero

The holidays are coming, and no present wows like jewelry - no matter how young the recipient! See the best selling jewelry for kids below.

*No manufacturer paid to be included in this list. All products listed were designated by editorial staff without regard to the company's relationship with TOYDIRECTORY.com/TDmonthly Magazine.
Charm It! Peace Love and Happiness Charm by HIGH INTENCITY CORP.


A winning design from High Intencity's Design-A-Charm contest, the Peace Love and Happiness charm was designed by Emily R. from Pleasantville, NY and rendered in vibrant detail in an enamel charm measuring approximately one inch.10 % of the proceeds from the sale of this charm will go to the World Wildlife Fund on behalf of its designer.
— "Charm It! works really well in this area," said Blanche Snipes, owner of Tree Top Toys in Redmond, Wash., when asked about her top-selling items for tweens.
— Two of 44 retailers listed Charm It! as a best-selling item for tweens during a September 2010 survey.
— Katie Rook, manager of Be Beep A Toy Shop in Columbia, S.C., told TDmonthly in an October 2011 survey that High Intencity charm bracelets are their best selling tween item.
— Dean Smith, owner of JaZams in Princeton, N.J., told TDmonthly in a Summer 2012 survey that they sell between 40 and 50 Charm It! charms each month. (

Watch Video) 10/28/2010



Great Pretenders Sparkle Butterfly Bracelet and Ring Set by CREATIVE EDUCATION OF CANADA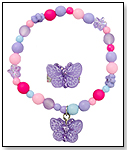 Sparkle butterfly bracelet and ring set. The bracelet is adorned with pastel beads and glitter flowers.
— Charles, the manager of Miller's Toys in Mamaroneck, N.Y., told TDmonthly in an October 2014 survey that this was one of their store's best-selling jewelry and accessories products. 10/30/2014 (MSRP: $4.50)



Mood Rings - Heart, Flower and Other Designs by SCHYLLING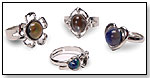 A well-recognized throwback to yesteryear, Schylling's Mood Rings combine glossy, color-changing cabochons with silver-toned settings styled with the 1960s in mind. The "stones" in the rings sense the mood of the wearer and change accordingly from anxious orange-black to content jewel-tone blue-violet. Styles are assorted, and the metal rings are made in the USA.
― "We sell dozens of mood ring pick-ups at the counter," said Joe Berardoni Sr., owner of Pun's Toy Shop in Bryn Mawr, Pa., during an October 2009 survey.
— In a September 2010 TDmonthly survey, seven of 44 retailers named mood rings a best-selling jewelry and accessory item, with one claiming sales of 43 a month.
— In an October 2011 survey about best selling jewelry and accessories, 4 out of 12 retailers told TDmonthly that mood rings were their best sellers. They sold an average of 2 dozen each month. 10/27/2009 (MSRP: $1.99; Age: 3 and Up)



What's Your Mood? – 120 pc. Complete Jewelry Counter Display Package from Cool Jewels® by COOL JEWELS WHOLESALE FASHION JEWELRY



The Mood Jewelry Counter Display Package is a quick and easy way to get started on selling the some of the fastest moving merchandise in the fashion jewelry category. This compact display occupies just a 9" circular footprint and comes loaded with 120 pieces of our best-selling mood jewelry. The "What's Your Mood?" header sign is sure to pique your customers' curiosity as the chart details the different means of each color of the mood pendants. Don't hesitate. Enjoy great margins and sell through with these consumer favorites. Cost $228.00. Just $1.90 per necklace + FREE display. Easy $5.99 - $6.99 retails

2/5/2014



Sticky Mosaics® Fairy Forest Jewelry Box by THE ORB FACTORY LIMITED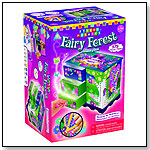 Take a journey into a magical Fairy Forest. This whimsical box has three separate drawers to store all your treasured trinkets. Follow a numbered legend and add glittering jewels and tiles to complete a whimsical woodland scene. Featuring magical fairies and a wise old owl, this beautiful piece of room décor can be displayed for years to come.
— In an October 2014 survey, two out of 10 retailers told TDmonthly that Sticky Mosaics jewelry boxes were their best-selling jewelry item.
— In a January 2015 survey, two out of 10 retailers told TDmonthly that Sticky Mosaics was their best-selling arts & crafts line. 1/31/2013 (MSRP: $19.99; Age: 5 and Up)



Pink Poppy Missy Heart Thin Headbands by CREATIVE EDUCATION OF CANADA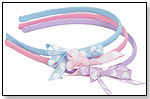 This set includes two hair accessories in pastel colors, each decorated with a heart-print bow. Pink, lavender and blue headbands are available.
— In early fall 2010, 11 percent of 44 retailers surveyed told TDmonthly Pink Poppy is a best-selling jewelry and accessory brand. 10/6/2010 (MSRP: $4.25)



Pink Poppy Jewelry Display Stand by CREATIVE EDUCATION OF CANADA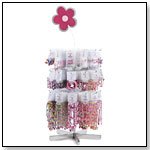 Pink Poppy features jewelry and hair accessories that include fashion items such as bracelets, necklaces, hair clips and ponytail holders, handbags, and cupcake boxes with themes like princesses and ballerinas, fairies and flowers, stars and hearts. With the Pink Poppy display stand, these items can be displayed to retail customers without requiring a lot of square footage inside the store.
— In a Fall 2012 survey, three out of 12 retailers told TDmonthly that Pink Poppy products were their best selling jewelry & accessories. (

Watch Video) 7/5/2010



Threadz - Fashion Accessories Kit by PLASMART INC.



Quick and easy. Sew, weave, and wear a Headband and Bracelet with a Threadz Fashion Accessory kit. These unique fabric creations are available in pastel or neon color combos. 9/24/2014 (MSRP: $11.99; Age: 6 and Up)



Enamel Best Friends Heart Necklaces by COOL JEWELS WHOLESALE FASHION JEWELRY



Best friends necklaces are always a popular seller! These Enamel Best Friends Heart Necklace feature a silver ball chain and come in pairs of 2.
Cost : $3.00 /necklace
Retails: $8.99 - $12.99
See our other Best Friends Jewelry by clicking here http://www.cooljewels.com/bestfriends.aspx to visit the Cool Jewels® website. 6/27/2014



---
---


Copyright © 2021 TDmonthly®, a division of TOYDIRECTORY.com®, Inc.