July 28, 2021

December 2015 | Vol. XIV - No. 12

---
Top-10 Most Wanted Educational Toys
With additional reporting by Brenda Ruggiero

These educational toys help kids have fun while learning - and according to specialty retailers interviewed by TDmonthly, they're flying off store shelves.

*No manufacturer paid to be included in this list. All products listed were designated by editorial staff without regard to the company's relationship with TOYDIRECTORY.com/TDmonthly Magazine.
Rush Hour Deluxe Edition by THINKFUN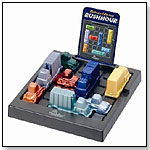 A winner of 20 awards, Rush Hour continues to be one of ThinkFun's most popular and renowned mind-challenging games. In honor of Rush Hour's 10 years of success, ThinkFun is celebrating with a Deluxe Edition that is guaranteed to delight seasoned Rush Hour fans and newcomers alike. Just like the traditional game, the object is to put problem-solving skills in gear to help the red car escape the traffic jam. But Rush Hour Deluxe Edition has been revved-up for maximum performance, featuring 60 of ThinkFun's best challenges and an exciting new level of play. It comes complete with a modern design, 15 bright metallic cars and a collector's gift box for easy travel. Launch date: Summer 2006.
— When surveyed about his best-selling puzzles in a Summer 2011 survey, Joe Berardoni, owner of Pun's Toys in Bryn Mawr, Pa., said he sells between 5 and 7 Rush Hours puzzles each month.
— As of 7/12/2011 this product had 4.3 out of 5 stars from 19 reviews on Amazon.com. Pros: Helps build problem solving skills; great for travel or quiet time. Cons: Two reviewers said that the Deluxe Edition was disappointing, as it actually has less features than the original game.
— Kids caught in traffic love to pull out this game and find their way out of the crunch. Rush Hour makes a great travel toy, specialty retailers have told TDmonthly, and it's been a top seller in their stores for more than 10 years. For these reasons, we gave it our TDmonthly Classic Toy 2007 award. (

Watch Video) 11/20/2006 (MSRP: $19.99; Age: 8 and Up)



4M Kidzlabs / Quicksand & Volcano by TOYSMITH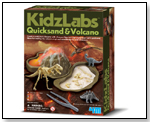 Build this surprising pool of quicksand! Experience the mystic power of watching dinosaur skeletons sink slowly beneath the sands. Have even more fun unearthing them later for assembly. Or make the volcano erupt and create a prehistoric diorama! Contains paper diorama set with mini paper display, plastic volcano and quicksand pool, sand bags, gripper, T-rex skeleton set, dinosaur figurines, paint and paintbrush, and detailed instructions. Also needed but not included: corn starch, a mixing bowl, a teaspoon, a stirring spoon, dishwashing liquid, vinegar, baking soda, red food colouring, water and old newspaper.
Awards: 2015 TDmonthly Top Toy Award 8/31/2015 (Age: 8 and Up)



Construction "Fun Bundle" and Garden Fairy "Fun Bundle" by CONSTRUCTIVE EATING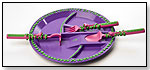 Constructive Eating's Construction and Garden Fairy "Fun Bundles" are gift packages of the companies hottest selling items. Choose between Construction or Garden Fairy theme. Each
Bundle includes U.S.A made three piece utensil set, and plate along with matching easy clean placemat and accompanying plush (choose between front loader or 1 of 3 plush garden fairies). Launch date: March 2007. 12/5/2012 (MSRP: $5.00; Age: 0 to 6)



Roll & Play by THINKFUN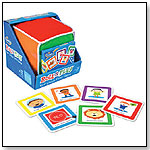 To play, simply toss the big plush cube and identify which colored side faces up. Choose a matching color card and perform the simple activity shown. "Make a happy face," "Moo like a cow," etc. The activities supported by Roll & Play are designed to help kids shine, supporting healthy development and celebrating success. Roll & Play gently introduces play patterns and rules through a loving, joyful play experience. Launch date: 2012. 2/12/2012 (MSRP: $19.99; Age: 1 and Up)



Mind Blowing Science by SCIENTIFIC EXPLORER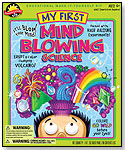 When you get right down to it, what´s more fun than science? If it´s the kind of scientific activities included in Mind Blowing Science, the answer is "not much." It´s tough to beat the color-changing erupting volcanoes, the never-wet sand, and all the other experiments waiting to be conducted in this set. The package includes red cabbage powder, baking soda, cooking oil, corn starch, goldenrod paper, cotton swabs, test tubes and caps, plastic cups, pipettes, magnifier, measuring scoops and a guide. Parental supervision is required.
— As of 1.06.2011 this product had 4.5 out of 5 stars from 51 reviews on Amazon.com and was No. 15 on the top 100 bestselling toys and games. Pros: Colorful experiments intrigue young children. Cons: Adult supervision required at all times; too simple for older children.
— "We sell a lot of that one. It's very colorful and it's very popular. We sell about six per month," Gwen Bowden, manager of Doodlehopper for Kids in Springfield, Va., said in late August 2009.
— Two of 38 retailers told TDmonthly in early fall 2009 that Mind Blowing Science is a best-selling science product at their stores. Disgusting Science was also named as a top seller. 9/23/2005 (MSRP: $20.00; Age: 4 to 8)



Extreme Secret Formula Lab by SMARTLAB TOYS


Kids try their hand at mad science using a beaker, funnel, mix-and-measure scoop, squishy-lidded bubble test tubes, and an abundance of glow-in-the-dark powder to concoct 20 experiments that glow, ooze, and stink up the kitchen. From glow-in-the-dark alien blood to scratch-and-sniff stickers, young scientists will never have so much fun with custom-designed tools and commonly found household ingredients. 1/8/2013 (MSRP: $19.99; Age: 8 and Up)



Zingo! by THINKFUN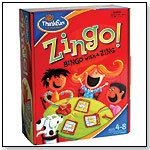 Players try to fill their Zingo! cards with matching tiles from the Zingo Zinger. The first player to fill his or her card wins. Rules can be adjusted to favor more or less competition among players, and to vary the length of time each game requires. This game was a 2007 T.O.T.Y. Nominee for Specialty Toy of the Year. "It teaches memory, matching, vocabulary and social interaction skills. Kids have so much fun playing again and again; they don't realize they're learning essential thinking skills," Marketing Communications Manager Emily Peters of Thinkfun told TDmonthly.
— "Customers use this game as their 'standard' party gift," Owner Elaine Hackney of Boing! JP's Toy Shop in Jamaica Plain, Mass. told TDmonthly in summer 2007.
— "We sell out as soon as they come in," added Pam Horwitz, manager of Mr. Toad's Toy Company in Naples, Fla. Four of 63 retailers singled out Zingo! as the hottest-selling game in their store. Seven percent of 56 retailers listed Zingo as a top-selling game in January 2009. Six of 38 retailers called it a best-selling game in Feb. 2010.
— "Zingo is a great game for 4- to 5-year olds," Jamie Burdette, owner of LB Toys in Media, Pa., told TDmonthly about this game — a top seller in his store — in April 2008. "The basic Bingo concept starts to introduce words and spelling." (

Watch Video) 5/10/2005 (MSRP: $15.00; Age: 4 to 8)



Alphabet Puzzle by HAPE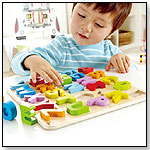 Sturdy, stand-along letters let kids practice their ABC's as well as form simple words. Birch wood puzzle frame and stand-up puzzle pieces painted with water-based paint. Launch date: January 2012. 4/27/2012 (MSRP: $19.99; Age: 3 to 7)



Snap Circuits Motion by ELENCO



Contains over 40 parts. 165 experiments can be completed using the kit, like a spinning lighted fan, a small RC car that moves forward and backward, and more. It stimulates the mind and teaches kids about electrical engineering, gears and rations in a fun and educational way.
Awards: 2014 TDmonthly Top Toy Debut Award

2/26/2014



Abacus Half Beads by BAJO TOYS USA

This 9 3/4" X 3 1/4" X 4 1/2" abacus teaches kids the concepts of halves with twice the fun. The colorful wooden whole balls on top let kids count from 1 to 5, and the sliced balls below let them add a half where they need it. 8/2/2006 (MSRP: $17.99; Age: 2 and Up)



---
---


Copyright © 2021 TDmonthly®, a division of TOYDIRECTORY.com®, Inc.