October 18, 2021

April 2016 | Vol. XV - No. 4

---
Is Take-Two getting ready to break out into the big league?
Is Take-Two getting ready to break out into the big league?
Take-Two is today the smallest of the four leading video game publishers – Activision, Electronic Arts, Ubisoft and Take-Two. It is a company best known for its top title Grand Theft Auto (GTA). At one stage, GTA was pretty much all the company had to offer but they have since then very effectively diversified their portfolio to the point that the game represented a third of the company's sales in 2015 and the projection for the first quarter this year is less than 20%.

This decline is also reflected in the wider consumer interest metrics as evident in social media:




Source: Tickertags

GTA V was first released on PS3 and XBos 360 on September 17, 2013; on PS4 and XBox One on November 18, 2014; and finally for PC on April 14, 2015. Just as for GTA IV, the V version is now losing resonance and this is responsible for the sales decline forecast for this calendar year. The widely anticipated GTA VI is expected to be released in 2018.This is how Take-Two's sales developed over the past six years: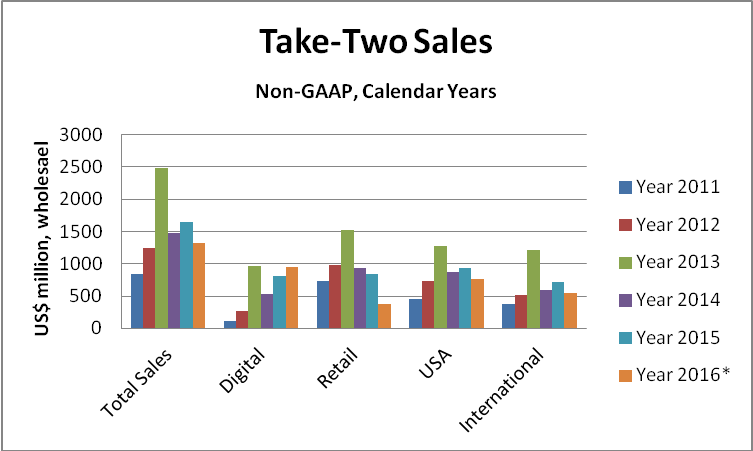 Source: SEC Filings

It is interesting to see the very strong performance of their digital offering which includes a pretty good performance in the rapidly growing mobile game market. Take-Two had in February in the U.S. a 6.6% market share in units of paid apps sold for the IPhone, second only to Activision's 6.9%. However, in Dollar terms, Take-Two dwarfed everybody with a market share of approximately 10%.

The projection above for calendar year 2016 does not include the possible release of Red Dead Redemption 2 which would, of course, increase the sales number for the year by about 20%.

In any event, the company is expected to perform this time better than in past phases of the GTA cycle for three reasons. One is that the company has a fairly robust portfolio of new games coming down the pike this and next year. The buyers tell me that in addition to Red Dead Redemption 2 three games are under development – NBA 2K17, Borderlands 3 and Sid Meier's Civilization VI – and they expect at least two of the three to be released during the 2017 calendar year.

Secondly, its catalog sales are holding up pretty well as is demonstrated by their market share in the U.S.: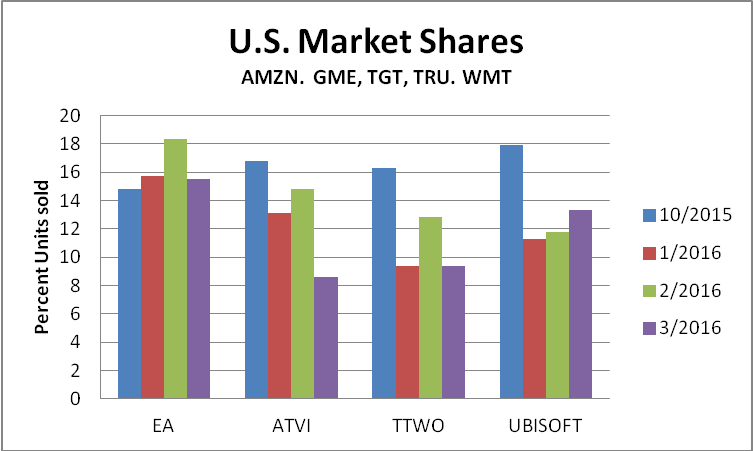 Source: Klosters Retailer Panel

Thirdly, the quality of their games has consistently outranked all of its three competitors if Metacritic is anything to go by: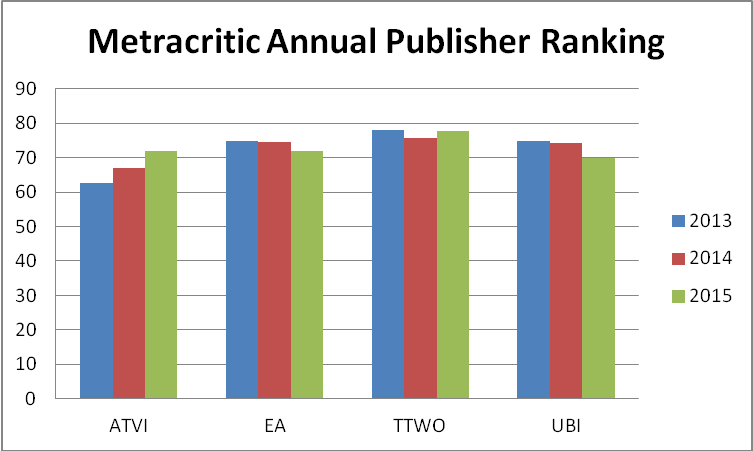 Source: Metacritic publisher ratings

This qualitative edge is also recognized by the national buyers both in the U.S. and in Europe who basically believe that they are pretty safe when they take a commitment for a Take-Two product, a state of affairs that is not necessarily the case with any of the three other companies.

In summary, the company has a good and strengthening title portfolio, is pretty much ahead of the market as far as digital and mobile participation is concerned, and is very much respected by the leading retailers for the quality of its products and of its management. While this should guarantee solid growth in the future, it is not enough to ensure that Take-Two breaks out of its straitjacket of being the smallest of the four companies. There are, however, suggestions that this might be about to change. The buyers have been watching Take-Two's balance sheet and its inordinate amount of cash – now equivalent to more than 70% of yearly sales.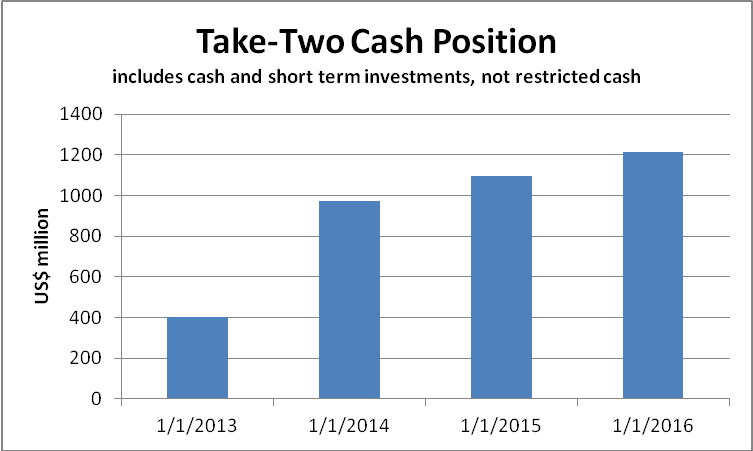 Source: SEC Filings

If measured as a ratio of cash to sales, and compared to two of its major competitors, Take-Two looks as follows: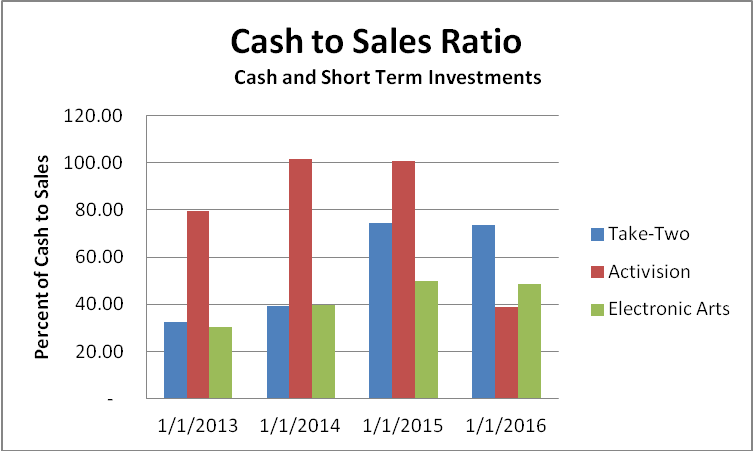 Source: SEC Filings

Activision suggests a real pattern there. They built up their cash reserves just before making their King Digital acquisition in 2015.

One company often mentioned by the buyers as a possible partner for Take-Two is Telltale Games. Firstly, Telltale Games, just like Take-Two, is known and respected for the quality of their games. Metacritic gave the a score of 74.6 for 2015 – just marginally below Take-Two's 77.7 score. Telltale Games have found their niche in creating licensed games on the basis of movies, comics or TV shows – Walking Dead, Jurassic Park, Game of Thrones and Back to the Future are cases in point. They are apparently working on a few more such as Batman, Marvel , Games of Thrones Season 2, Walking Dead Episode 4. Many believe that the company is hard pressed to do justice to them all given constraints in their financial and personnel resources. It is for this reason that the buyers believe that a merger between Take-Two and Telltale would be a very good fit because Take-Two has clearly the financial resources as well as the personnel Telltale would need to bring all their current projects to a successful conclusion. Also, Telltale's game portfolio would ideally complement that of Take-Two.

The question is how Lionsgate, Telltale's major shareholder since February last year, would respond to such an approach from Take-Two. Lionsgate is the producer of such well-known movies as Hunger Games, Divergent, John Wick, Last Witch Hunter, Sicario and Allegiant – all of which would lend themselves very well to video games. In fact, Lionsgate themselves until relatively recently brought out video games based on their movies but apparently have stopped doing so – all the Lionsgate games sold by Gamestop are now in the pre-owned category and there is no new offering in sight. However, they are said to be developing a host of mainly mobile games with Starbreeze Studios, Animoca, Side-Kick and Kiwi – no mention of Telltale in these reports. This apparent lack of involvement could well suggest that Lionsgate might be willing to consider a divestment.
In the final analysis, Take-Two can well survive without an acquisition. However, Telltale would bring with it the prospect of a whole bunch of games that would ideally complement what Take-Two is offering. In addition, Telltale's relationship with Lionsgate could open the door for Take-Two to get its hands on to the many movie IPs owned by Lionsgate and not so far exploited in the video game space. In short, a partnership with Telltale could propel Take-Two into the big league.

Ubisoft's Far Cry Primal was February's best-selling game, followed by Call of Duty: Black Ops III, Grand Theft Auto V, Naruto Shippuden: Ultimate Ninja Storm and NBA 2K16.
---
---


Copyright © 2021 TDmonthly®, a division of TOYDIRECTORY.com®, Inc.