Laurie Norton wasn't trying to launch a business. She created a product entirely out of a mother's need. She crafted the Biking Buddy as an entertainment device to wrap around her waist and amuse her son as the two biked around town. Norton quickly recognized the potential of the belt and realized it didn't have to wrap around just her waist. The Busy Belt, as it soon became, could strap on to car seats, strollers and just about anywhere, allowing babies to amuse themselves when parents were occupied.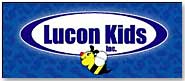 Norton then began to raise a successful company in addition to raising her two sons and being a wife. Lucon Kids (ToyShow), creates products to meet busy parents' needs. The parents of today are constantly on the go and Lucon Kids has envisioned clever methods of keeping babies happy and parents stress free. As a result, new product lines, such as the Go Belts and plush toys, have spun-off from the original line, creating entertainment for older children as well.
Combining the nurturing elements of parenting with a strategy to create imaginative toys, Lucon Kids is poised to make a significant contribution to modern households everywhere. "If we can continue to do that successfully and take our cues from young families, then who knows where our imaginations will lead us…?"
I'll Take That 'To Go' Please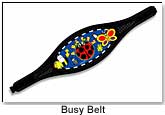 Our products are designed for the young busy family. Busy families need all the help they can get. This toy (the Busy Belt) provides a fun and imaginative way for little ones to occupy their time when parents have to go about their other duties.
I just wanted to take a ride on my bike…My 18 month old son was not happy just looking at the scenery while perched on the baby seat behind me. So, I created a belt I could wear with little toys on it so my son could amuse himself while we rode. The next objective was to make the belt versatile by attaching it to a stroller, crib, car-seat, shopping cart or infant swing. That's when it became the Busy Belt Play Center.
Off We Go…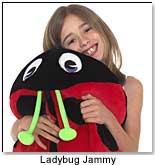 I got good feedback and support from friends and family. I started doing research on how to manufacture belts that were safe and appealing to infants and toddlers. The Busy Belt was designed for ages 0-2 years. Of course, kids grow up. So the Go Belts were developed and designed around a certain theme (Princess Belt; Bug Catcher; Spy; Construction Belt).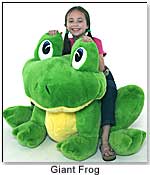 The frog and ladybug characters on the belt grew into new products by themselves. We now have frogs and ladybugs in giant plush beanbags and smaller jammy bags.
These lines (the plush and Go Belt) are aimed at older children, aged 2-8. Our short term goal is to see these lines take over where the original Busy Belt leaves off.
The Ultimate Toy Maker – Parents
We will have to be flexible…keeping up with new technologies is probably our biggest task. As parents we want to provide a safe, healthy and imaginative learning environment for our children. A good product is one that is useful, not just a distraction. When parents see the value in it, they want it. When kids like it, they ask for it. Those remain our highest priorities as parents and toy makers.