In the world of toys and hobbies, the model train commands a special category. Few types of playthings are as impossible to outgrow. There are toy trains appropriate for infants as well as every subsequent stage of development through adulthood. And adulthood is where the hobby truly picks up steam. Model Trains are one of the oldest types of toys. Since the 1800s, companies throughout the world have generated new product without interruption. The unparalleled volume of items results in a myriad of different ways to collect. One can acquire solely by company, scale, railroad, material or any combination of the four. Some pursue only vintage trains while others attempt to keep up with the latest products. It is quite endless and, to the outsider, it can be difficult to grasp just how intense the hobby can be.
The craftsmanship that regularly goes into model trains is stunning. Moreover, it's by no means merely cosmetic, as these detailed wonders have to function with extreme precision. And just as model trains themselves have marched on for well over a century, so has the technology that manufactures them. Model trains are more high-tech than ever and companies are constantly outshining each other with jaw dropping achievements – all while simultaneously keeping up in the detail arms race. The model trains of today are indeed both marvels of engineering and works of art.
LIONEL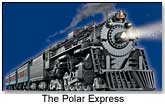 2004 may see a spike in crossover sales when Lionel releases its version of The Polar Express ($249.99) this holiday season. Based on the Caldacott-winning children's book by Chris Van Allsburg, this property will also become a major motion picture this Thanksgiving.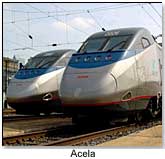 Without a doubt, the most anticipated model train - probably of all time - is the Amtrack Acela. Due out in September, 2005, Lionel has committed to producing only 2000 units. It is promised to be "…the most unique, advanced and highly featured model train ever offered. It is by far the top of the Lionel Line. Nothing before comes close to this package in technology, in features, in absolute accuracy." In a press release, Lionel President Bill Bracy announced, "We are committed to deliver the most advanced features, driven by cutting edge technology to create the best train ever made. Even the most skeptical railroader will be impressed." Still over a year away from release, the Acela is already sold out.
AMERITRAINS/MARX TRAINS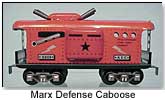 The popular brand of Marx Trains has merged with Ameritrains. While the name may be different, the quality of their tin lithographed O-Gauge trains remain the same. New releases are the AEC Defense Caboose ($46.99) with 8 wheels, black-and-silver details and cannons at the top and the Pennsylvania Gray Locomotive and tender 0-4-0 ($189.95).
M.T.H.

From their "Premier" line, the GP38 – 2 Diesel Engine w/ Proto Sound 2.0 ($399.95) features the Proto-Speed Control system, which allows a slow and shockingly smooth run.
MICRO-TRAINS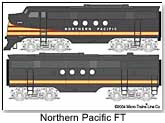 On deck in the N-Scale size is the Northern Pacific FT A/B Locomotive Set ($223.30). This item will have numerous features including: prototypically accurate, grab irons, 5 pole motor with flywheel and installed Micro-Trains Magne-Matic Couplers front and rear. It is scheduled for a September release.
ATLAS MODEL RAILROAD CO.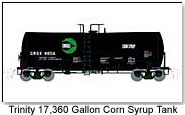 Also in the N-Scale, the N Trinity 17,360 Gallon Corn Syrup Tank Car ($24.95) is due in October. It's detailing will include, three separate styles of manway / platform / ladder arrangements, 100 Ton Roller Bearing Trucks and See-through top platform grating.
ELECTRIC TRAINS SYSTEMS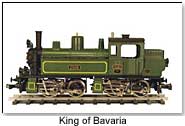 Not all model trains are manufactured by huge companies. Operating out of the Czech Republic , ETS produces all-metal, 'O' gauge model trains that are hand crafted. Their items are quite beautiful and include the Steam Locomotive "Lucie" No. 17 and the Steam Locomotive Mallet Type of the King of Bavaria Railway .
ARISTOCRAFT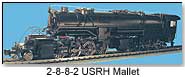 Due out in the fall, the 2-8-8-2 USRH Mallet ($900) is expected to pack a punch. It will feature Can Motor Drives with Multiple Axle Power Pickup, Operating Marker / Classification Lights, Black metal drive wheels with electrical pick-up, Blackened Solid Brass Grab Railings and Operating Direction Control Front Headlight. A minimum of 8 to 10 foot diameter curves are required.
BACHMAN TRAINS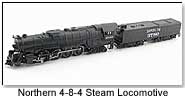 While companies develop and manufacture new entries to their lineup all the time, many existing ones get upgrades. The Northern 4-8-4 Steam Locomotive ($90.00) is an N Scale staple and has recently been improved to include new wheel profiles, new tooling chassis and a new mechanism.
MARKLIN
A quality HO Gauge set that covers many bases is the 29858 "Swiss" Premium Starter Set with a Freight Train and a Passenger Train as well as Large C Track Layout, Digital Control Unit and Transformer ($995.00) Both trains feature a digital decoder and controlled, high-efficiency propulsion. The built-in headlights shine a great distance and the regular headlights are digitally controlled. It comes with a comprehensive illustrated booklet.
MTS IMPORTS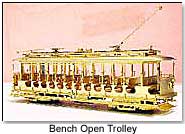 The prestigious all-brass category will soon see the release of the exquisite HO Scale Conn. co. 15 Bench Open Trolley ($499.00). This item will be made in conjunction with "Ajin Precision" of Korea . This four-wheel car will use a "Faulhauber" motor and will come unpainted. Custom finishing is available at an extra cost.