When Jason Fein´s father started Guidecraft in 1964, the small woodworking company offered ten products designed for schools. Forty years later, the line has grown to over 160 toys and furnishings that appeal both to school supply and consumer markets.

Guidecraft gained speed around the same time as HeadStart programs began appearing across the country. The toys they created were educational and durable. As the company grew it gradually found a following among consumers.
When Fein took the reins in 1991, school supply still accounted for 80% of sales, with the remaining 20% coming from the retail markets. "Since then evolution has been to equalize the two," says Fein. The business is more balanced now, with approximately a 50/50 mix. "It allows us to stabilize the company. When one area isn´t doing well, the other compensates," explains Fein.
An important part of that balance is Guidecraft´s line of tough, colorful, fun furniture developed to spark a child´s creativity and imagination without losing functionality. The pivotal shift into furnishings came in 2000 when Hurricane Floyd battered the East Coast. Guidecraft´s Hudson Valley manufacturing building was hit hard, with product, raw materials and equipment destroyed in the storm.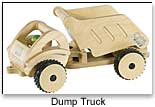 Rather than rebuilding, Fein bought a furniture manufacturing plant in Minnesota . By combining their ability to create strong large wood crafts with Guidecraft´s sense of whimsy, a new range of products emerged. These furnishings are now a key aspect to Guidecraft´s future.
"Our focus and direction is to continue to develop furniture. We´ve seen great success with it," says Fein.
Fein has also moved to outsourcing the manufacturing and importing products from Europe and Asia , to keep costs competitive. Thanks to the Internet, Guidecraft has supplemented its substantial retail and catalog sales with growing sales through the web.
Despite the many changes the company has seen over the y ears, the core values of the company remain the same. "Every product needs to have an educational component so it can be used in a school. With that said, we keep an eye on designing product with style and color to attract the consumer. And of course the quality level must be durable enough to survive an educational setting," says Fein.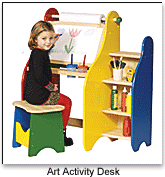 Several new products highlight Guidecraft´s innovation. The Art Activity Desk is based on an antique roll-top desk, but it has been redesigned to include a magnetic white board easel, chalk board, a fold-down desk and shelf storage. Painted in vivid primary colors, the unit includes a stool and roll of paper so budding artist can get to work right away.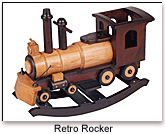 The Retro Rocker series has received considerable attention at shows. The handcrafted rockers take the shape of trains, motorcycles, boats and cars. Even interior designers are attracted to the toys, buying them as showcase pieces for people´s homes. "They are instant heirlooms - handmade, gorgeous pieces of wooden art that are durable enough for kids to use every day," says Fein.
Continuing its tradition of offering exceptional educational toys for schools, the CITO line of sturdy, fun-to-drive construction vehicles offers hours of block play. Meanwhile, Guidecraft´s line of bookcases serves not only as storage but as play centers - they are shaped as dollhouses, firehouses and barns.
Fein credits the core management team with much of the company´s success. "I´m very fortunate to have opportunity to work with a phenomenal team of five people that are just an engine that´s revved up and ready to go. We´re very excited about the upcoming year," says Fein.