cSteve Jackson, executive vice president of Oregon Scientific (ToyDirectory) and founder of the North

American Oregon Scientific Electronic Learning Products division, oversees sales and marketing, and supervises distribution throughout the continent. He started as a consultant for the industry, worked for Viacom New Media and Konami, Inc. as vice president of sales and had positions at Spartus, Inc., Parker Brothers, and Mattel.
Jackson has been involved in the toy industry most of his life. "The greatest influence on my success has been an insatiable drive to provide a fun and valuable play experience for kids by providing them interesting products that stimulate their minds," he remarks.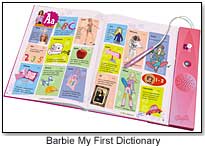 Learning products have seen tremendous growth. "In our area, electronic learning is one of the greatest advancements to assist parents and teachers in the development and learning skills for children. Our newest item is the Barbie My First Dictionary, an interactive dictionary for ages three and up, featuring our license for Barbie through Mattel," says Jackson.
Oregon Scientific, now celebrating its fifth anniversary, makes nearly fifty items, including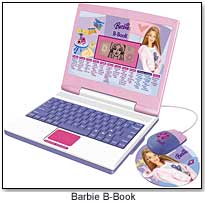 laptop computers, talking storybooks, resource books, and other electronics for early childhood. Jackson says that all their products are interactive, engaging a child and stimulating responses and reactions in a fun forum. A purse with a keypad inside and a watch are things that Mom and Dad use. "One great benefit to our learning laptops is that children already have an inclination to imitate what they observe in their worlds. Our best-selling product is the Barbie B-Book."
Oregon Scientific's merchandise is available in thousands of retail outlets, such as Toys R Us, WalMart, Kmart, Target, Circuit City, wholesale clubs, specialty toy and variety stores, grocery stores, and major e-tail sites. Forty percent of their overall sales are international. They make electronic learning devices in seven languages. The target age group for their products is three to thirteen.
"Every product we brand at Oregon Scientific is intended to enhance people´s lives. Our business philosophy is to always supply the best quality of product and service at the most affordable price, and we always keep in mind that it is all about the children. Life lessons are learned throughout childhood, and through play a child begins to develop behaviors and knowledge that they can use for the rest of their lives," states Jackson.
His personal philosophy is to give children something fun, but give Mom and Dad the comfort that their child is learning something. He believes in aiding the process, providing skills, and making kids happy.
Oregon Scientific's secret to success has been to use advancements in technology for innovative and creative products that stimulate the mind through interactive fun entertainment. Jackson adds, "What is better than making a child smile?"