Article Synopsis

Arts & Crafts remains a popular and growing category; 2003 year-to-year gains were 5% for dollar sales and 10% for unit sales
Weaving is the biggest craft craze of the moment
Interest in ceramic and plastic sculpture continues to be strong, especially among students
Beading is popular, thanks primarily to product innovation
Whoever said, "The more things change, the more they remain the same"?
Jessica, an 8 year old Brownie Girl Scout of Ashburn, VA, loves Weaving Loops and Loom from Wool Novelty Corporation. It's a simple craft that includes a loom, cotton terry weaving loop and a child's threading tool to make a pot holder. Mothers will probably remember making this craft back in their own Girl Scout days but Weaving Loops and Loom has since been updated with neon colors.
Pat Smith, a manager at Michael's crafts store in Sterling, VA, says that Weaving Loops and Loom is their biggest craft craze right now. "We can't keep the kits on the shelf," Smith says.
A number of yesterday's crafts are back in style - most with updated extras: neon, glitter, or similar embellishments.
According to Bryan Mattraw, the art teacher at Hillside Elementary School in Ashburn, the two most popular projects for his students are clay and weaving.
"They are things that the students can literally wrap their hands around as well as their minds," Mattraw says.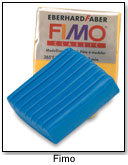 Al Mortali, a high school art teacher in Old Saybrook, CT, says that ceramic clay, plaster craft and wire sculpture are popular with his students.

At Dick Blick Art Materials, Lanny Rosenbaum, vice president of sales and marketing in Highland Park, IL, says there has been a big growth in popularity with polymer clays like Sculpey and Fimo.

Christine Nicholls, a design specialist at Creative Kids and Home agrees that Sculpey and Fimo modeling clays are popular. "It's easy to get impressive results with very little practice," Nicholls says.

Additionally, glass beads are a hit, thanks to product innovation. "Some of the new glass beads are really amazing. It's a craft kit and they can make jewelry that fits their own fashion style," says Nicholls.

Many craft items are popular with both girls and boys. "Anything that is messy is popular with most boys," comments Nicholls.

Mattraw says that technology has and will have the strongest impact on arts and crafts in schools. Children tend to be tech savvy with computers, digital cameras, etc. and use these tools for their creative expression.

"What is really taking off in our high school is computer graphic design and digital photography," Mortali says. Nevertheless, traditional crafts continue to be a significant part of school and at-home projects.

Arts and crafts sales are a strong segment in the overall toy market, according to the NPD group, a New York-based market research firm. The crafts sector posted a 5 percent increase in dollar sales and a 10 percent in unit sales, compared to 2002. This is the second year that children's arts and crafts products have increased in strength.

"Creative projects encourage children to find the resources to make what they want," Nicholls adds. "It is fun to sit back and watch children solve their own challenges."