It's not just yuppies carrying cell phones these days: Tweens, and even grandparents, have gone wireless as well. All of them choosing from the limited models put out by the cellular phone industry, it´s difficult to differentiate one user's phone from another. Until now.
Fun Friends are collectible plush cell phone covers that give personality and charm to any flip or bar phone. Founded by Julian Parry and Charles Larson, the company produces a menagerie of plush animals that protect cell phones, spice up TV remote controllers, and even make a boring stapler a fun conversation piece.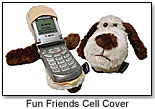 Parry got the idea for this plush venture when he returned to his home in South Africa and saw a man using a lobster as a cell phone cover. He took this concept back to the United States where he teamed up with Larson, his old college roommate, and developed a line of characters that include Ty the tiger, JR the Jack Russell Terrier and Pinky the pig. Fun Friends also offers customized cell phone covers for customers who desire more individual flair.
Fun Friends recently won the Crystal Apple Award at the NACS (National Association of Convenience Stores) Trade Show and has caused a buzz in the technology community, appearing in magazines and on CNN. The company's products have also been a hit with women, children, and pet lovers, as well as celebrities such as Shaquille O´Neal, Judd Nelson and Matt Damon.