Today's movies remain in audiences´ minds long after the final credits roll, thanks to hundreds of film-related licensed products available. According to Michael Redman, who tracks toy and video game trends for NPD Funworld, 25-30% of total toy sales are licensed product sales. The Licensing Letter puts the profit that film studios realize from licensing at $7.6 billion per year. Of course, this revenue is realized across hundreds of different products and categories. How do children choose which licensed products they want? Let´s take a closer look.


Plush
Plush characters are one of the most reliable tie-ins to a family or animated movie. Surprising, fun twists in these products abound. Hits "Shrek" and "Shrek 2" were movies that appealed to both children and adults on different levels. Hasbro does the same thing with their Shrek 2 Wise Crackin' Shrek and Donkey ($29.99 each). Employing recorded voices to amuse the Tween and adult Shrek enthusiast, the dolls still retain a cuddle factor that even the youngest child can appreciate.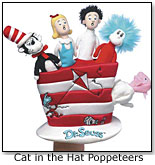 Manhattan Toy (ToyDirectory) adds an extra dimension to their plush Cat in the Hat Poppeteers ($25.00) by turning it into a five-finger hand puppet. Beanie Babies by Ty has made their first foray into the character licensing game with a set of five Beanie Babies for Garfield: The Movie ($39.95). If it's a success watch for more character licensing deals from Ty.

Games
It seems to be a growing trend for non-electronic game manufacturers to apply a movie theme to their perrenial bestsellers as an inexpensive way to jump on the licensing bandwagon. UNO, the 30 year-old card game by Mattel, has over two dozen iterations ranging in price from $5.99 to $14.99. Movie-themed editions include Spider-Man, Hulk, X-Men, Shrek and Harry Potter. But before stocking up, ask: Will the customer who bought Parker Brother's Monopoly Jr. Toy Story a few years ago really come back and buy Monopoly Jr. Shrek 2 this year?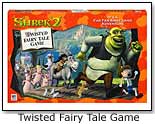 Conversely, there's also a solid that a customer, following a retro trend experts are noting in the industry, will simply buy the traditional edition instead of a themed edition. When choosing games it's better to select ones unique to the movie they feature such as Vintage Sport Card Inc.'s Harry Potter: Magic Game Card Set or Hasbro's Twisted Fairy Tale Game featuring the Shrek characters.


Imaginative Play
When discussing Harry Potter character licensing, noted toy industry consultant Chris Byrne says, "The fantasy is becoming part of Potter's world. The products that have done well for Potter are the ones that immerse kids in the world." One company that naturally lends itself to this i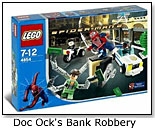 dea is LEGO. Their building block sets that often include specialized characters are often divided into sets that portray keys movie scenes or sets such as Spider-Man 2: Doc Ock's Bank Robbery (176 pieces at $19.99). LEGO also has the ability to offer sets in a wide range of prices that appeal to everyone from the 8 year old with an allowance burning a hole in his pocket to the grandmother searching for a generous holiday gift. They list 11 sets based on "Harry Potter: Prisoner of Azkaban" from Draco's Encounter with Buckbeak (36 pieces at $7.99) to Hogwart's Castle(927 pieces at $89.99).
You can also fill your customers desire to be a part of their favorite character's world by turning them into that character. Costumes aren't just for Halloween anymore. Once again, pick a product that is more than just a mask such as Manley's Spider-Man Electronic Gloves ($9.99) that emit that Spiderman zap with the push of a button or the Web Disk Shooter by ToyBiz ($10.99) that enables heroes-in-training to shoot 12 web discs through the air.

Collectibles
While most character merchandising is directed at children there is another market, the extreme fan, often a 20 to 30 year-old males. Not every movie inspires this level of fan.


These conspicuous consumers typically orbit movies and properties based on long-running comic books, with a few exceptions, like the first movie to create this market: 1977´s original "Star Wars." The most enticing collectibles for those fans include accurate figures ranging from 6" to 12" such as Star Wars 13" Anakan Skywalker Pre-Painted Soft Vinyl Model Kit by Kotobukiya, Inc.($99.99) or the less expensive 11" Talking Gollum figure by Toy Biz (32.50) from the "Lord of the Rings" trilogy.
These fans also enjoy the more unusual big-ticket offerings of companies such as LEGO's Episode I: Darth Maul Sculpture set (149.99) that includes 1860 pieces and when constructed forms a grimacing 17-inch tall bust of the saga´s villainous Darth Maul. Expect an uptick of interest in this type of product with the release of "Star Wars - Episode III: Revenge of the Sith." Retailers planning to stock this type of merchandise should also advertise heavily to that specialized market, not expect these collectors to simply walk in off the street searching for hundred dollar items.