Article Synopsis

While basic magic is fairly simple, more advanced tricks require study and coordination.
Magic has important benefits to teach children about change, growth, help children improve their social skills and is also a useful diagnostic tool for depression.
Magic is not readily available in chain stores, although kits remain available at some locations and both magic kits and individual tricks are easily found online.
Who isn't fascinated by magic? Audiences have been spellbound since Harry Houdini first captivated audiences with his feats of escapism in the 19th century. One hundred years later, another Harry has taken the world by storm. With 80 million books in print and a movie franchise, Harry Potter is a marketing juggernaut. The boy wizard and his cohorts, Ron and Hermione, have captivated global audiences, broken print records, and literally made author J.K. Rowling wealthier than the Queen of England.

If your child is a fan, you might want to look into a magic kit for your own budding magician. Does it sound too hard, esoteric, or dangerous? Bear in mind that "magic" is nothing more than the manipulation of reality, based on principles grounded in science and math, and the knowledge of perception. While basic magic is fairly simple, more advanced tricks require study and coordination. While it's fun to amaze people and be the center of attention, magic has also been shown to have other important benefits for children.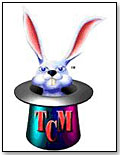 According to Brian Gilroy, MSW, "magic can be used metaphorically to teach about change, growth, and life skills. Magic is a great positive reinforcement for good behavior. It's also a useful diagnostic tool, particularly with depression. Also, the utilization of magic to help children improve their social skills has great potential. This may be because learning and magic are 100% social activities—you must interact with others. The kids seemed very turned on by the magic tricks."
In his article, Magic to Develop Social Skills, Gilroy says that in both his private practice and in school counseling, "the use of magic has a tremendous positive impact. It helps me build rapport quickly and serves as a great ice-breaker in groups. It is also a useful diagnostic tool for depression."

This view is seconded by Robin Kruk, in her article, Teaching Outside the Box Using Magic, "Kids love magic... I work with all kinds of kids of all ages, homeschoolers, some with learning disabilities, ADD, dyslexia, behavioral problems,…we have a large number of boys in the 9-14 range whose attention needed capturing…How do you get kids to love learning? Teach them something they want to learn! According to Kruk, magic builds self esteem. "Learning magic increases comprehension skills, co-ordination, creativity, and helps confer confidence with public speaking".



Magic also literally levels the playing field. This is one area where the most athletic, brainiest, or prettiest don't necessarily excel. According to Gilroy, "while much magic requires sleight of hand and skill, many other tricks are extremely easy and require no skill. It's a matter of knowing which ones to choose."
A Dying Art?
With all the benefits, you might be surprised to learn that magic remains a niche market. Few mainstream toymakers carry magic kits. Even Wal-Mart, which has swallowed the toy distribution market whole, doesn't stock them.

While they are not readily available in chain stores, kits remain available at some locations. According to Steve Eatherington, Marketing Manager of Mail Order Express, of Leicestershire, England, "a kit would suit a beginner better, and would also make a good gift. We sell more kits than individual tricks and have actually delisted many of the individual tricks."

However, both magic kits and individual tricks are easily found online. While Amazon refused to give a sales figure, they do stock magic kits via Penguin Magic, which is listed on their site. Most kits include basic magic like rope, money, card tricks and juggling.

Jay Noblezada, a Penguin employee and practicing magician in Las Vegas, call these "self-working" tricks and says they are the place to start because "they're easy, make you look good, and require no dexterity or sleight of hand." Jay also says that a child "doesn't have to know the principle in order to work it."
Kid Magicians Can Start Early
Most kits are intended for ages 4—12, and are especially designed for small hands and cognition levels. According to Jay, twelve seems to be the age when children either turn to other things or confirm a serious interest in magic, and plenty of them do so. Daniel J. of 5 Finger Magic, agrees, saying that their kits are geared more toward late teens and adults than children.

Teens can move on to street magic (which refers to the venue); mentalism, a "learned form of ESP," based on scientific principles; or complicated tricks requiring more comprehension, study, dexterity, and frequently, props.

In any case, the older child or adult practitioner is sure to find something to pique his or her interest in the many magical offerings online, such as 5 Finger Magic's best-seller, D-Lites, a glowing red light that you can grab out of thin air, pass from hand to hand, and make disappear by blowing on it.

Says Noblezada, "How many hobbies teach the value of study, taking action, and are so powerful and adaptable? "The rewards of magic are tremendous."