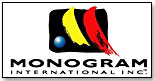 Monogram International is known for movie collectibles; everything from items based on animated tales to their newest licensing contract with Warner Brothers for the live action film "Batman Begins." The company has grown through the vision and drive of executives like Michael Normann, vice president of sales and marketing for the last year. He gained an education during his eight-years with Toys R Us, where he spent the last four as a buyer. Even through high school he worked in toy stores, gaining hands-on experience in the industry.
Normann says that selling to children involves a number of steps –conducting market research, constructing drawings, holding committees to discuss options, creating a sample, showing it to buyers – all before making a final decision. Still, he says this is easier than selling to collectors, which requires a higher quality product with more details and a different price point.
At this point, Monogram is just beginning to tap into the international market. Throughout the United States the company has 15 mass and hundreds of gift customers. Normann´s motivating philosophy is that if you have a quality product for a reasonable price it will sell.
"We chose to specialize in licensed product because we see a niche not a lot of people are filling," Normann explains. "We are one of the oldest Disney licensees and have signed over one hundred contracts since 1970. Our biggest sellers are Disney mugs and key chains, as well as Super Hero products - Batman and Superman banks and bobble heads. We hope that the new Batman movie, scheduled for release in the summer of 2005, will be a huge hit."
Nancy Green, marketing manager for Monogram, says, "We will be releasing at least four new action key chains, at least two new banks, plush items, and bobble heads. We focused on Looney Tunes ´Back in Action´ when it came out, same with the Power Puff Girls and Scooby Doo I and II. We´re really hoping this one will be successful and are putting a lot of time and effort into products we can market only eight weeks before the movie is released and then during its play at the theatre. We´ll also market eight weeks before the DVD is released."
Green believes that "Batman Begins" merchandise will appeal to the same crowd of collectors and fans as other DC Comics merchandise.
"It´s harder to work on live action movies because the characters need to look like the movie stars and the style books are harder to create," she comments. "Batman has 100 percent brand awareness and so many other channels."
"Batman Begins" is only the start of a new future for Monogram in the action collectibles market.