Kinsmart - School Bus 5"
by
TOY WONDERS INC.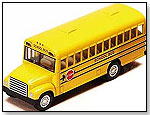 5107D Kinsmart - School Bus. 5"L x 1.5"W x 1.75"H die-cast metal yellow school bus with openable door & pull back motor action. This yellow school bus is manufactured by Kinsmart. 12 pcs per display box.
— When asked about best-selling die-cast items in a Summer 2011
TDmonthly
survey, Dean Smith, Co-owner of
JaZams
in Princeton, N.J. said of the Kinsmart School Bus "We sell a lot of them: about 30 to 40 per month. It will pick up in the next 2 months. It's our biggest single die cast item."
— In a Summer 2012 survey about die-cast toys, Dean Smith, owner of JaZams in Princeton, N.J., told
TDmonthly
that they sell 15 school buses from Toy Wonders each month.
— In an August 2013 survey, two out of nine retailers told
TDmonthly
that yellow school buses were their best-selling type of die-cast toy. 8/22/2011 (Price: $6.99)
[Add to my Inquiry Basket][?]