light:night
by
EMPHASIS PRODUCTS INC.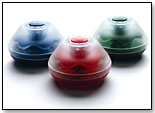 The light:
night
can be used in any space to light a pathway for safe passage or provide a colorful glow. For safety, the light:
night
boasts an auto-on feature in case of power failure and the cradle sits on the nightstand with a 3' cord to detract toddlers from electrical sockets. While on the recharging cradle, the light:
night
emits a dim-colored glow, signifying that it is recharging. Once removed from the cradle, the light:
night
automatically shines a bright white light and can be controlled by its button. The button allows the light to be toggled from off to bright white light to colored glow. The LED's will never get hot and they last up to 100,000 hours. For additional security, the battery lasts up to 14 hours on a full charge. The light:
night
comes in red, blue and green.
(

Watch Video)
5/25/2006 (Price: $40.00)