B. DAZZLE
Among the broad range of educational toys making it big in the game and hobby industry there is one particular game that stands in a class all on its own. Brought to you by b. dazzle, Scramble Squares have been offering mind boggling puzzles since 1994 to whoever is brave and patient enough to take its challenge.
Scramble Squares are puzzles containing nine illustrated pieces where the player will attempt over and over again to arrange the pieces into a 12 x 12 square in order to match the graphics on the edge's forming a completed design in every direction. With only nine pieces and a variety of colorful themes such as nature, sports, fantasy and culture, Scramble Squares are often underestimated in their complexity. In fact, it's almost impossible to solve them in one try, which makes the game all the more exciting.
For the skeptics b. dazzle presents Scramble Squares 5- Minute Challenge where retailers offer consumers a chance to solve the puzzle in five minutes and earn themselves a free puzzle as their reward. Very few complete the challenge but those who don't try to restore their egos by buying themselves a puzzle or two to solve and prove their competency. B. dazzle's Scramble Squares have been recognized as "The Best Product" in the games category in Learning Magazine's January/February 1997 issue. They have also earned a spot as one of the "750 Hot Selling Items for Back-to-School" in Buyer's Quarterly's 2000 issue. B. dazzle's puzzles have gained reverence as one of the most popular toys for the educational dealers and teacher supply market. Scramble Squares are a challenge no matter what age you are and are a suitable gift for any occasion.
Kathie Gavin, founder of b. dazzle, introduced Color 'n Seek as well in January of 1994. Color 'n Seek is a poster art where hidden images and word associations are unmasked by coloring them in. Color n' Seek entices imagination and has been a winner of The Great American Toy Test along with Scramble Square. Scramble Squares and Color n'Seek both have earned the pedestal they stand on as one of the top educational items to hit they toy industry. They encourage fun in a challenge and mind determination so if your brain is looking for a workout b. dazzle will supply the equipment.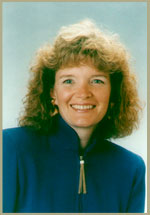 Home Contact Us Broadcast Media Kit

Disclaimer Privacy Policy Career Opportunities Feedback
Use of this site constitutes acceptance of our Terms of Use.
© Copyright 2002 ToyDirectory Monthly, a division of ToyDirectory.com®, Inc.