July 20, 2018

August 2007 | Vol. VI - No. 8


TDmonthly's Psychologist Mom
She'll Put Your Toys on the Couch
Dr. Wright doesn't just look at toys; she analyzes them. In and out of the box, she scrutinizes them for playability, appropriateness and educational value. The latter quality is especially important to this psychologist/mother, who also homeschools her three children.

This month,

TD

monthly Magazine's Psychologist Mom packs up a fuzzy backpack, puzzles out an alphabetical dragon and more, rating each product with 1 to 5 TD stars (for

TD

monthly!); 5 is the top mark.

Ball of Whacks by U.S. GAMES SYSTEMS INC.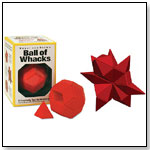 Gender: Boys and Girls
Category: Puzzles & Skill
MSRP: $29.95



TD

monthly rating:





The Dr.'s Impressions: The Ball of Whacks is made up of 30 magnetic rhombic pyramids that can be taken apart and rearranged in an endless number of ways. It comes with a 96-page illustrated guidebook that includes exercises for brainstorming and problem solving, and challenges users to invent and construct new shapes.

Kids' Perspective: My 8-year-old son has not put down his Ball of Whacks since he got it — he even sleeps with it. He has a lot of fun creating new designs and shapes and looking in the book to see if it already exists.

Recommendation: This imaginative ball of creativity is about the best toy I have seen in years. Adults and kids both love this little toy. It inspires creativity, and everyone loves to show off their original shapes. We also found that it was fun with more than one person participating.

---
Personalized Book on a Hook: Safari Adventure by PRECIOUS CARGO PUBLICATIONS CORP.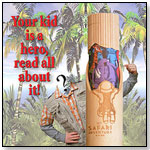 Category: Educational



TD

monthly rating:





The Dr.'s Impressions: The Book on a Hook kit comes with a 26-page illustrated story about a child who's at home with a cold and has to figure out a way to enjoy the day. Throughout the story, the child must fill in details to create a personalized story. Then he or she must print it out and bind it.

Kids' Perspective: My 11- and 8-year-old sons were very excited as we pulled out Book on a Hook, but after the initial excitement, it was an effort to get them to finish it. It was too pre-determined and sterile for my kids, although it might interest a younger child if Mom does most of the work.

Recommendation: Anything that has to do with a book is always interesting to a parent. However, while I liked the idea of Book on a Hook, I felt overwhelmed by the paperwork, directions and size of the item. A very industrious parent and child could fill in the missing details and create a book that they print, but it is a lot of trouble and money for the outcome.

---
Giant Open Gift Box of Beads by HAMA - MALTE HAANING PLASTIC AS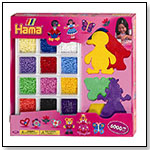 Age: 5 and Up
Gender: Boys and Girls
Category: Arts & Crafts
MSRP: $34.95



TD

monthly rating:





The Dr.'s Impressions: This kit comprises little beads with which one creates a design on a pegboard and then irons the beads to form them into one shape. It comes with 6,000 beads, 10 pegboards, a color-printed design sheet, a storage tray and ironing paper. There is enough in this well-designed kit for hours of fun.

Kids' Perspective: My 8-year-old, detail-oriented son really loves these beads. He spends hours at a time putting different shapes together and only irons them occasionally. Most kits like this have shapes, but he liked that this kit had animals and insects as well as the traditional hexagon and heart.

Recommendation: This is a wonderful kit for children. It inspires creativity and attention to detail. Shape relation and color balance are strongly utilized when the child forms a design, and children seem to get lost in the experience of this activity. I can't recommend it highly enough.

---
Auto Mobiles – Galactic Pals by UP AND AWAY INC.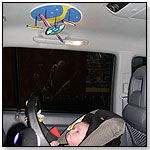 Age: 0 to 2
Gender: Boys and Girls
Category: Infant & Toddler
MSRP: $12.99



TD

monthly rating:





The Dr.'s Impressions: What a great idea! This mobile sticks to the top of the car with Velcro. It is easily removable to be used in different cars and is very colorful and bouncy. The model we evaluated featured stars, planets, the moon and a rocket.

Kids' Perspective: The 11–month-old that tested this product was not very interested in the mobile. It caught his eye, but it was too high above his car seat and the strings were too short.

Recommendation: I think the mobile is a good idea, but is too small to hold the interest of a child young enough to like it.




Copyright © 2018 TDmonthly®, a division of TOYDIRECTORY.com®, Inc.