July 17, 2018

April 2009 | Vol. VIII - No. 4


Watch Videos of How Games Played at Toy Fair
Watch What's Fun
Your customers need demos before they buy; so do you! So, TDmonthly Magazine has brought you dozens of new game demos on video from the American International Toy Fair in New York:

Retailers: Did you know you can broadcast TDmonthly Toy Videos from your website? (See website terms of use.) Manufacturers: Find out how a TDmonthly Video attracts buyers.

Camp Talk by AROUND THE TABLE®


Designed for kids heading off to camp or for family camping trips, this fun game was created for kids, by kids. It's also a good way for kids to get to know new friends at camp. The handy flashlight and compass allow you to navigate your way back to your campsites or cabin for some fun, late night conversations. Great around the campfire too. It's "perfect for kids going away to summer camp. This product was requested by specialty retailers," Owner Beth Daniels of Around the Table told TDmonthly. Launch date: February 15, 2009. (

Watch Video) 1/9/2009 (MSRP: $7.99; Age: 7 and Up)



Monsterpocalypse by PRIVATEER PRESS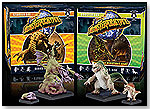 Monsterpocalypse is a fast-moving, action-packed strategy game played with high quality collectible miniatures portraying the most fearsome giant monsters ever imagined. Each battle takes place in a city, which opposing players construct by placing models of buildings on a city map. Players will then build their force from their respective collection of models. Each force will consist of a giant monster model, and several supporting units (tanks, flying vehicles or creatures — depending upon which of the themed factions you decide to play). Purchasing Booster Boxes will expand your collection, giving you more tactical options and abilities to better suit your strategy. Launch date: October 10, 2008. (

Watch Video) 9/25/2008 (Age: 10 and Up)



LOL! by SLANGUAGE GAMEZ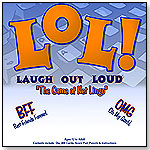 LOL! (which stands for Laugh Out Loud!) is a new, fresh and exciting game of Internet lingo that involves acronyms, shorthand and Web slang used in chat rooms, email and text and instant messaging. The goal is to be the first to yell out "'LOL!'" to give the answer to the net lingo. Launch date: February 15, 2009. (

Watch Video) 1/23/2009 (MSRP: $29.99; Age: 12 and Up)



CAMP Travel Edition by EDUCATION OUTDOORS


The CAMP Travel edition is very compact and mobile, with a unique wood design. Up to 4 multi-level players, and has fun "setback" and "move forward" functions. All new outdoor trivia cards, with vibrant full color images, includes content highlighting all 50 states.
— "The board game Camp has sold well in our store. Happy to see the travel edition that kids and parents can play together," Marlene England of Dancing Bear Toys & Gifts, told TDmonthly at Toy Fair 2010. (

Watch Video) 1/27/2009 (MSRP: $19.99; Age: 4 and Up)



Ultimate Spinner by ROBBINS TOY


Ultimate Spinner consists of 12 games, some of which help children learn alphabets and letter recognition, numbers, math, and how to tell time. Others promote active play, such as running or dancing.
— TDmonthly's Roundtable appreciated the fun, quality and educational appeal of this game. "It was fun to see them folding paper into shapes, drawing, acting things out, and interacting with each other," reviewer Sue Christensen said of her 7- and 11-year-old sons.

Past Videos: Toy Fair 2009 (

Watch Video) 10/1/2008 (MSRP: $49.95)



Consensus® by MINDLOGIC INC.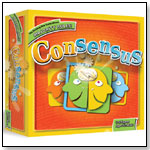 Consensus is not a trivia game or a strategy game. It is a game about opinions that allows its participants to express themselves as individuals or as part of a group. Ideal for parties or family settings, the game has a subtle, yet strong, educational component. Consensus consists of 300 Noun Cards, 100 Adjective Cards and 80 Voting cards. An average game lasts about 30 minutes. Although Consensus can be played with as few as three players, the greatest benefit can be derived when there are five or more players participating. The more players, the more opinions, and hence, the more debating and bonding that takes place. Launch date: August 2008.
— "This fun and fast-paced social game takes about a minute to learn and requires no prior knowledge of anything whatsoever," Marshall Chrein, CEO of Mindlogic, told TDmonthly. "It is a game where you can learn how your friends and family view all sorts of things." (

Watch Video) 11/25/2008 (MSRP: $24.95; Age: 12 and Up)



Endango™ by ELASTIC EARTH LLC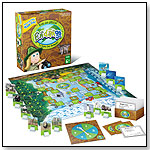 Endango™ is an environmental board game that teaches kids how to go green. With a unique game strategy, it links children's behaviors to their indirect environmental consequence – the fate of endangered animals. When playing the game, each player is responsible for three endangered animals in an environment. The points players earn as they navigate the human track affect the fate of the endangered animals in their environment. Positive points for "green behavior and knowledge" help save the animals; negative points for "less environmentally friendly behaviors" move the animals toward extinction. This product received a 2009 Parents' Choice Recommended Award. (

Watch Video) 12/12/2008 (MSRP: $19.99; Age: 6 and Up)



Charge Large Board Game by HASBRO INC.


Charge Large comes along just in time to provide society with an educational and entertaining board game about credit cards. The goal of Charge Large is to increase competition among players as they battle against each other to be become part of an elite class of Black Card Members. Players begin with their entry level Gold Credit Card and Cash to set forth on their journey to purchase companies, stocks, buildings and most importantly to Charge Smart while Charging Large. Ultimately, Charge Large teaches players not to fear credit cards, but simply learn how to leverage themselves wisely. It is therefore time for society to practice how to Charge Large Responsibly! (

Watch Video) 12/12/2008



Senseability by SENSABILITY GAMES CORP.

Get ready to touch, time, see, balance, bluff, listen, locate and laugh your way through this outrageous game! Teams race to perform all kinds of fun, easy to play challenges spread over ten sense-ational categories. (

Watch Video) 2/6/2009 (MSRP: $29.99; Age: 12 and Up)



Blunders™ - Make Learning Manners Fun by SUCCESSFUL KIDS INC.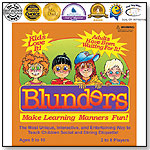 The adorable characters of Becky, Bobby, Brenda and Billy Blunder revolutionize the way manners are taught. The game includes a game board, a story book and 300 fun and interactive charade, multiple-choice, scenario and true/false questions covering social and dining etiquette. "Blunders™ is the only board game on the market today that makes learning manners interactive and fun!" Successful Kids Inc. President Aimee Symington told TDmonthly. This game has received the following awards: Dr. Toy, National Parenting Center Seal of Approval, iParenting Media, Creative Child Preferred Choice, Mr. Dad Seal of Approval, eChoice, and The Toy Man Award of Excellence and Seal of Approval. Launch date: February 17, 2008.
— "I've loved the Blunders Game from the moment I was introduced to it. Now you can reinforce manners at one of the places where manners are key. Manner Mats takes the blunders concept and turns it into a set of 38 table mats. The mats include tones of games including word searches, challenges, multiple choice, what is wrong with the picture, complete the sentence and many more. Another innovative way to teach manners without having to point your finger," Jennifer Shuman, owner of 1SmartNoodle, told TDmonthly at Toy Fair 2010.

Past videos: Toy Fair 2009 (

Watch Video) 11/27/2007 (MSRP: $24.95; Age: 5 to 10)



SHAPE the World by VARDO GALLERY LLC

Shape the World is a game for everyone, everywhere. Using the universal language of shapes and numbers, imagination and simple shapes are combined to create images of objects in the world around us, providing economical and intergenerational play with no drawing skills required, and no advantage with age. Just a little luck gives all players a chance to win. Easily customized, players can shape their own world. For one to six players, each player has one minute to draw up something to fit the designated category using the shapes available. Players decide if the drawing fits the category or not. (

Watch Video) 11/3/2008 (Age: 9 and Up)



Likewise! by BUFFALO GAMES INC.



Likewise! is a thought provoking party game where it pays to think alike. In this game, individuals are presented with a random pairing of a Description and Subject Cards and attempt to match answers with words or doodles. With over 5,000 possible category combinations, this is the laughable, lively, like-minded party game that everyone will enjoy. Launch date: March 1, 2008.
Awards: A TDmonthly Classics Award for being an all-time favorite toy.
— As of 7/21/2011 this product had 4.6 out of 5 stars from 16 reviews on Amazon.com. (

Watch Video) 1/8/2008 (MSRP: $24.99; Age: 14 and Up)



Mini Zillio by ZILLIO

Zillio has 12 colorful staircases based upon multiplication tables. The visual and tactile relationships between steps enable kids to discover and master difficult math concepts as they learn and play with 10 essential math skills. Mini Zillio handles numbers up to 36, and measures 18" x 18" x 8", compared to Mega Zillio's 27" x 27" x 12.5". For up to 4 players at a time.
Awards: 2010 Tillywig Brain Child (

Watch Video) 9/10/2008 (MSRP: $99.95; Age: 4 to 94)



Triviathon by JEEZLE PETE'S! LLC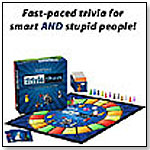 TRIVIATHON... fast-paced trivia for smart AND stupid people! Triviathon will have players singing, dancing, arm wrestling, cheering, cheating, and more as they compete in a game that puts each player's cognitive, physical, and social skills to the test, while they try to win a race moving at speeds of 0, 1, 2, or 3 spaces based on trivia questions they don't even have to know the answers to. Made in the USA, this game is designed for 2 to 12 players. Triviathon has received the following awards: Creative Child Magazine's 2009 Game of the Year; PTPA Media 2009; iParenting Media Award 2009; The National Parenting Center Seal of Approval 2009, NAPPA Honors 2009; and Dr. Toy's 100 Best Children's Products 2009.
— "A trivia game that you can win without having to know the answers. Now some of us might agree that that is our kind of trivia game. Super fun and fast paced. A great choice for family game night. My own children are going to love this game!!" Jennifer Shuman, of 1SmartNoodle, told TDmonthly at Toy Fair 2010.

Past videos: Toy Fair 2009 (

Watch Video) 12/19/2008 (MSRP: $29.99; Age: 8 and Up)



Duck Hunter by INTERACTIVE TOY CONCEPTS LTD.

Hunt or be hunted with the Duck Hunter. Launch the duck in the air and try to hunt it down with the toy shooter as it flies freely in the air. The i-Fly Duck Hunter offers an interactive infrared battle between bird and player. Free flights can be up to 30 secords or more with realistic wing flapping. Takes 3 direct hits to bring down the duck. A 10 second charge equates to 30 seconds of free flight. (

Watch Video) 3/2/2009



Sushi ROLL!! by MINDTWISTER USA



In this fast-paced card and dice game for the whole family, players take turns as the sushi chef by rolling four sushi dice. Other players then race to match sushi cards in their hand to the sushi that was rolled. The first to do so says "Order up!" and lays down his or her cards. Whoever gets the most sushi cards by the end of the game wins. Players can use Wild Wasabi to help, but must beware the dreaded Stinky Sushi card. "It is easy to play, and the whimsical theme keeps you coming back for another hand," Mike Richie, game developer for Mindtwister USA, told TDmonthly. Launch date: April 2009. (

Watch Video) 1/23/2009 (Age: 5 and Up)



Jishaku by RSV PRODUCTIONS INC.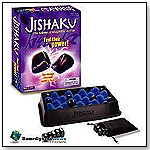 This portable strategy game is similar to chess or checkers, but with a twist — the magnetic stones with unmarked north and south poles can jump out of their position at any point during the game, giving players a whole new element of challenge. "Jishaku" is the Japanese term for "magnet." The game received a 2008 National Parenting Center Seal of Approval, an iParenting Media Award, a Major Fun Award and a Mr. Dad Seal of Approval. Launch date: June 3, 2008.
— Tutoring Toy in Salt Lake City sells about 20 per month of this game, Buyer Casey Sartain told TDmonthly in fall 2009. (

Watch Video) 11/11/2008 (MSRP: $19.95; Age: 8 and Up)



Heart Cast-Metal Puzzle by PUZZLE MASTER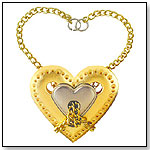 In this example from a line of patent-protected puzzles, the small heart must be removed from the large heart to solve the puzzle. (

Watch Video) 4/14/2009



Meatball Madness by TARA TOY CORP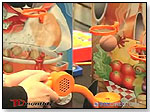 Kids will develop their hand-eye coordination while working up an appetite for pasta with Meatball Madness. The battery-powered ladel lets them levitate a meatball through a series of obstacles in a restaurant and onto the customer's plate. The game comes in three sections, which can be scattered throughout a room or house to encourage kids to run from section to section. Launch date: February 2009. (

Watch Video) 4/9/2009



Jurassic Chess by MAZEOLOGY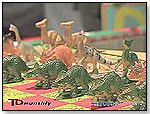 Veggies and Carnivores stand off in this chess game that features authentically modeled and painted dinosaur figures. Launch date: February 2009. (

Watch Video) 4/14/2009



WarStone™ by DUNCAN TOYS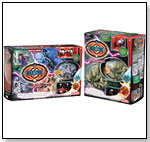 WarStone is a collectible card game using marbles to compete against opponents on a board. The starter set is designed for 2, 3, or 4 players. To start a game, divide the card deck by color and match up stones with cards of the same color. Set up the battlefield. Place stones in their starting positions. Stones with icons match the icons on the cards. Except for Hex cards, each stone has a matching card. The object of the game is to fire at an opponent and knock a predetermined number of them off the battlefield. The cards instruct you how to attack. Contents include 24 WarStone Stands, 24 Page Rule Book, 2 Savage Stones, 4 Master Stones, 16 Core Stones, 60 Cards, Ruler and Markers, and Storage Pouch. 4/15/2009



Flibbix Bridge by MERILLIAN, LLC.


Expand your Flibbix possibilities with the Flibbix Bridge. A little trapdoor can send players onto a playing level they're not expecting. Launch date: February 2009. (

Watch Video) 4/9/2009 (Age: 7 and Up)



Orchard Toys - Greedy Gorilla by THE ORIGINAL TOY COMPANY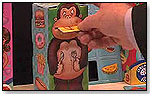 The Greedy Gorilla's come all the way from England to teach kids better eating habits. Give him something unhealthy and he burps. He's made of 75% recycled cardboard. Launch date: February 2009. (

Watch Video) 4/14/2009




Videography by Alison Marek and Amanda Wilder. Edited by Alison Marek.





Copyright © 2018 TDmonthly®, a division of TOYDIRECTORY.com®, Inc.