---
Why You Need a TDmonthly Toy Video
Top-10 Ways That Videos Help You Sell Your Product

Find out HOW to get a
TD
monthly video by scrolling down. Find out WHY you need one by reading what retailers and other vendors have to say:

1. Retailers Can SEE Before They Buy:
"The
video reviews have been phenomenal
for helping us understand how products work and how they are used and letting us get a idea of what a product is like without actually having to go to a show — or refreshing our memory from a show if we don't have specific notes on it. ..."
(listen to Hans' full remarks in the video at right) — Hans Masing, owner of Tree Town Toys and Brain Station, Ann Arbor, Mich, 2009

"If I want to
see what a certain product looks like
, I can do a little search on it and click it and run it and see what it looks like. "
— Terry Myers, owner of Kaleidoscope Toys, Round Rock, Texas, 2009


2. Videos Sell FOR You

"
Last week, a
sales representative
contacted me to inquire about carrying our line. When I asked him how he had heard about our company h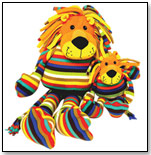 e told me that he had
viewed our videos on TDmonthly.com
and was impressed with the uniqueness of our product and the diversity of our line ...   It gave me great pleasure to know that
people in the industry were watching it,
finding it informative and
contacting me as a result!" —
Laurie Greenblatt, VP of sales, beeposh, inc., 2008 (See Laurie demonstrate her toy by clicking on the red arrow.)



3. Videos Attract People to Your Product

"Thank you for filming our games at Pomona! I noticed (using the stats you provide us) that games with video get many more hits than those without! — Leah Osterhaus, VP of marketing, Out of the Box Publishing Inc.

4. Consumers LOVE Videos



"We constantly hear from consumers that they've seen the TDmonthly spots." — Beau James, Corolle Dolls

5. Retailers Can Easily Teach Their Staff About YOUR Product



"We use the TOYDIRECTORY product videos as teaching tools for our staff. Not only do they show the features of the toys, but the benefits are touched on as well. The videos also allow us to preview toys that we may be interested in stocking in our store." — Jennifer Wyatt, manager, Totally Thomas' Toy Depot, San Diego, 2009

6. Retailers Use Videos to Sell Toys on Their Websites

Here's what they said when asked in January 2009 what features they'd like to add to improve their sites:

"Additional videos of products in action." — Diana Nelson, owner, Kazoo & Co., Denver

"More videos of product demos" — Joe Berardoni, Pun's Toy Shop,  Bryn Mawr, Pa.



7. Toy Professionals NOTICE  New Videos

"TDmonthly

does an excellent job documenting the toy industry's trends and highlighting

new

products with informative interviews

that are enjoyable to watch. I always look forward to seeing the next set of videos." —

Kathleen McHugh

, 

American Specialty Toy Retailing Association (ASTRA) President, 2008

8. Videos Can Be Your PROXY

In addition to our short product demos, TDmonthly's video team can produce high-quality instructional videos that you can use to teach your retailers how to merchandise your products, as b. dazzle, inc. did.  We can even design a marketing plan that will maximize your video's utility.

9. For the quality you get, they're extremely low cost

"[TDmonthly's] email broadcasts, product reviews and video diaries — provide a cost-effective vehicle in promoting SaiZon and Stikfas products to many retailers we may not have otherwise approached." — Martin New, director of sales and channel marketing, Stikfas/SaiZon (ToyShow) 2007

10. Online videos are HOT!

Twenty-five billion online videos* were viewed nationwide in the month of August 2009 alone!



How to Get a TDmonthly Toy or Instructional Video:





TOY VIDEOS





1. If you're going to a trade show, contact us to schedule an appointment for a video promotion package.
2. Between shows, or before the show to highlight your product to buyers who are researching on the web, send a sample to TDmonthly Magazine's Video Review Department (address below) along with a flat fee of just $495.00. How do we keep the cost so low**? Because we're toy professionals with our own studio, and you benefit from the volume of videos we create.
You get:
A 20- to 30-second

TD

monthly Magazine

video review, uploaded to our

TD

monthly

Toy Videos feature.
A logo link so you can link directly from your Website to your

TD

monthly

ToyTV demo. You can also share the logo/link with your customers for use on their Websites.
Your video attached to a searchable description of your product. Our 27,800 registered retailers will be able to watch your video whenever they read your product's description in

TD

monthly Magazine

articles or search features.

CALL us to book a video today





INSTRUCTIONAL VIDEOS

Instructional vide

os vary widely depending on the manufacturer's needs. You can view an example by watching the b. dazzle, inc. videos at left. Please contact us and ask for the Videography, for an initial consultation .

VIDEO REVIEWS


If you want your customers to know how children play with your toys, TDmonthly may be able to arrange a Video Review for you, too. See the one we shot for Zinkotek, right. Price will vary according to manufacturers' needs.

CONTACT US:

VIDEO DEPARTMENT
TDmonthly Magazine®
TOYDIRECTORY.com, Inc.®

12340 Santa Monica Blvd. Suite 237
Los Angeles, CA 90025


* Source: comScore press release 9-29-09
* *Cost for independently produced 30- to 60-second videos can range from $2,000 to $10,000 and more.


TDmonthly reserves the right to add or delete videos, at its discretion.


Writer's Bio:
ALISON MAREK is an award-winning writer, director and cartoonist whose work has been published by Fairchild Publications and DC Comics (Piranha Press), broadcast on Showtime and other cable networks, and viewed worldwide in film festivals. See her short films and print work on www.alisonmarek.com. Watch her nefarious villains in the web series www.MuggsMovers.com. Get inspired by her cartoons "Daily ARFFirmations to Unleash Your Inner Fido" at www.ARFFirmations.com. Phew! And then ...
Read more articles by this author
THIS BANNER IS AN AD:
---
---