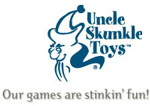 UNCLE SKUNKLE TOYS, INC.
Uncle Skunkle Toys is a game company selling our products under our own label in the USA. Uncle Skunkle Toys develops games that not only look good in your living room, but that are fun for the whole family to play. We believe a good game is one that combines a bit of chance with a bit of strategy and put a dash of each in all of our products. This is why young and old can play our games and both find them challenging.
Click here to see some of the newer products UNCLE SKUNKLE TOYS, INC. has shared with ToyDirectory and TDmonthly Magazine.
UNCLE SKUNKLE TOYS, INC. primarily manufactures/wholesales products in the following categories:


Games-General
Games-Family
Games-Board
Games-Action
General Toys
Creative Activities

4130 SW 117th Avenue #231 Beaverton OR 97005
Tel: (503)200-2717



E-mail wholesale inquiries to:
For additional information visit: https://www.uncleskunkle.com