November 25, 2020

June 2005 | Vol. IV - No. 6


Educational DVDs to the Rescue
Article Synopsis

Educational DVDs are a $100 million business.
43% of infants and toddlers watch TV every day.
New DVDs for tiny tots build motor and language skills.
Sales of educational DVDs accounted for 13.1 percent of total DVD sales in 2004, reports The NPD Group, with fourth quarter sales as high as 16.7 percent of the total market. Sales of baby videos have tripled over the past two years, with annual sales at approximately $100 million, according to BusinessWeek.

Currently, there are hundreds of videotapes and DVDs for infants on the market produced by more than a dozen companies, and the market is ripe as younger and younger children are starting to watch television.

According to an October 2003 report issued by the Henry J. Kaiser Family Foundation, a nonprofit organization that studies major health care issues, 74 percent of all infants and toddlers in the survey had viewed television before age 2, and 43% watched television every day.

With a plethora of products to choose from, companies have created an identity for themselves by specializing in titles in a specific category. Companies such as The Baby Einstein Company (ToyShow) or Baby Bumblebee (ToyShow) concentrate on general instruction to help build areas such as vocabulary and problem solving, though their methods vary greatly. Tiny Tot Sports (ToyShow) and BabyPro (ToyShow) focus on sports-themed videos, while there are several players in the field of language instruction.

Here are the newest products to enter the market:
Brainy Baby DVD - Laugh & Learn by BRAINY BABY



Young viewers will laugh at silly faces, "things that go," matching games, music and much more, while learning critical skills such as problem solving, listening skills, classifying skills and concept awareness. The 45-minute DVD includes special features, including Scene Selections, Storybook, Baby Bloopers, Sneak Peeks, Behind the Scenes and Fun Learning Activities. 9/1/2004 (MSRP: $17.99; Age: 1 to 3)



Lots to Learn: In My House by LOTS TO LEARN LLC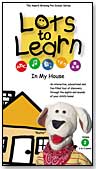 Lots To Learn: In My House on DVD is the latest addition to Lots to Learn's series of educational and entertaining children's programming. In My House is a fun-filled tour of discovery through the sights and sounds of a child´s home. This high-quality DVD features creative, fun and interactive segments that can be enjoyed by the whole family, such as: "Shapes, Colors and Sounds," "My Living Room," "The Alphabet," "Exercise In My House," "Clocks," and "Counting Windows'" in English and Spanish! It includes original music of all genres and an engaging character named Buster. 5/10/2005 (MSRP: $19.99; Age: 2 to 5)



All About Me by BABY BUMBLEBEE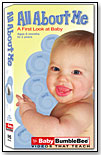 This introduces infants and toddlers to their own bodies! This delightful video features kids, songs and fun. More than 20 body parts are reviewed, including face, mouth, eyes, ears,  elbows, knees, fingers and toes. This exploration of the human body is tailored to the littlest learners and presents a number of original songs a child will love to sing along with. A cast of children and babies ensures that children will be captivated. 12/22/2004



Baku Goes to China by WORLD NOTES LLC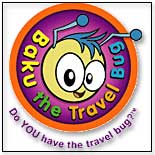 Baku the Travel Bug is a groundbreaking new DVD series that takes children ages 3 to 8 on cultural adventures around the world. With the help of his travel partner Aunt Sydney, his trusty Compass, the wise old Scrapbook and the Big Globe, Baku teaches children from the neighborhood about life in faraway places. In Baku Goes to China, Baku explores the mysteries of the Far East. 5/10/2005



Baby Monet Discovering the Seasons by BABY EINSTEIN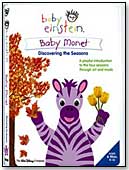 The "Baby Monet Discovering the Seasons" DVD takes your little one on a sight and sound filled journey through spring, summer, fall and winter. This captivating introduction to the seasons will delight babies and toddlers with beautiful real-world images and musical masterpieces by Vivaldi. Plus, with three language tracks, your little one can listen in Spanish, French and English. From rainbows to sunflowers and falling leaves to snowflakes, "Baby Monet Discovering the Seasons" is a delightful journey through the four seasons. Brightly colored toys, real-world images and fun-loving puppet shows highlight this stimulating adventure. 5/10/2005



AthleticBaby All-Star DVD by athleticBaby LLC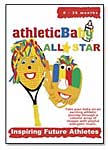 Inspire young children to be physically active with this innovative video series. Set to bouncy, energetic music showing young children engaged in active play, the video incorporates colorful, imaginative footage of balls and puppets created from real sports-gear. Introduce youngsters to a variety of sports including soccer, basketball, baseball and football. Parents and caregivers will want this video to assist them in encouraging positive attitudes and behaviors from an early age. — Aire Norell 1/12/2005 (MSRP: $14.99)



Baby Tennis by TINY TOT SPORTS INC.


Baby Tennis, like all of Tiny Tot Sports' videos, aspires to playfully introduce babies and toddlers to sports, specifically tennis. Tiny Tot's research has shown that watching as little as 10 minutes of videos is enough to get toddlers to begin imitating behaviors and playing actively. This stimulating and entertaining video series captures children´s interest through eye-catching shapes, colors and bouncing balls, rather than technical instruction. Children identify with the engaging characters and toddler interactions. The videos promote positive social interactions through sports by emphasizing sharing, friendship and teamwork. 5/10/2005



Let's Dance and Tumble! by BABYPRO LLC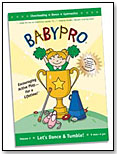 BabyPro's dynamic new sports-themed DVDs address our nation's concern about overweight and inactive children by inspiring a physically active lifestyle for little viewers. Let's Dance & Tumble! is the latest release featuring the sports of cheerleading, dance and gymnastics, and its cleverly designed Baby-to-Pro imagery will delight children ages 9 months to 4 years. Former gold medal Olympian Amanda Borden salutes Let's Dance & Tumble! for "rais(ing) the bar on traditional toddler TV," and Dr. Alon Tatsas proclaims it "a healthy approach" to baby programming. The other titles in the series include Let's Play Ball! and Let's Make a Splash! Wholesale discounts are available for orders of 12 or more DVDs. Launch date: January 12, 2006. 5/10/2005 (MSRP: $12.98; Age: 0 to 4)



Growing Up Bilingual by CIAO KIDS



Ciao Kids is a leader in foreign language learning products for children from 2 to 8 years. Their products have been financed by the European Union and are currently used by more than 10,000 teachers across Europe to teach a second language. Products may be used by parents at home or by educators in school. The Growing Up Bilingual series consists of Volumes 1 and 2 to learn Spanish or English (ESL). Each video lasts approximately 35 minutes and includes six short animated cartoon episodes with musical narration that will entertain children as they learn a new language. In spring 2005 DVD support, volumes 3 to 5 will be launched. French, Italian and German will also be added. 5/10/2005



---
---


Copyright © 2020 TDmonthly®, a division of TOYDIRECTORY.com®, Inc.