April 11, 2021

August 2005 | Vol. IV - No. 8

---
Wooden Toys Are Sturdy Sellers
Who would have thought that being environmentally conscious and marketing products as quality buys that stand the test of time would generate sales in this high-tech era? Wooden toy sellers, that's who.
Matthew MacDonald, owner of Wooden You Know, has carved out a niche by selling wooden toys at both his Maplewood, N.J., location and online. Having been in business for less than a year, he estimates that sales have increased by 10 to 15 percent each month.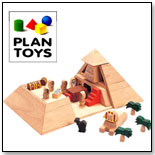 Like many retailers of wooden toys, MacDonald directs attention to the quality, durability and exclusivity of his products. He also points to their educational value and environmentally friendly nature.
"It seems to me that we live in a 'disposable' society. Wooden toys can help to counter that mentality. When compared with other toys, wooden toys tend to have a longer 'toy box life'—blocks, for example, might be used by a child under 2 to develop gross motor skills, and used again when that same child is 5 to build an imaginary town. Even when the child eventually outgrows the blocks, parents might keep the blocks in the attic, to be brought out again a generation later when a grandchild arrives," MacDonald said.
At MacDonald's store, HABA (ToyShow) products sell the best. Another top seller is PlanCity, a line of wooden products put out by Plan Toys that involve numerous pieces used by children to create their own towns.
Wooden You Know deals only with manufacturers who produce environmentally friendly toys and are committed to reforestation. The business makes this fact clear to its customers. It's not surprising to hear that Wooden You Know's informal tag line is "Kid-Tested, Mother Nature Approved."
While other stores sell wooden toys alongside products made of other materials, they still have experienced healthy sales. Though customers may not have walked through the door intending to buy a wooden toy, many people cannot resist the solid craftsmanship.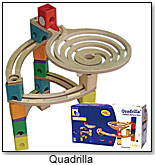 For Jo Ann Barrett, owner of White Rabbit Toys in Ann Arbor, Mich., sets of the marble-run wooden construction toy, Quadrilla by HaPe, have been a real eye-catcher. Even at the steep price of $159, she said, "I just brought in two sets and they sold out on the first day. It's fabulous."
Also, some wooden toys are perennial sellers. For instance, Romalda Allsup, buyer for Terra Toys in Austin, Texas, said, "I try not to ride waves. I'm conservative—I buy low-tech things. I try not to buy the hot new thing unless it's cool by itself." For her, the ancient Chinese game Go has been a reliable seller.
Kathie Dockstader, buyer for Top Ten Toys in Seattle, Wash., said, "I buy a lot of stuff made around the world. I look for local inventors—a lot of the companies whose products we stock started here (in Seattle)." For her, and other retailers of wooden products, quality and community matters. And, it seems to be working—her store has been in business for 19 years.
What follows are some top-selling products at the stores mentioned in this article:
Wooden Tea Set by MELISSA & DOUG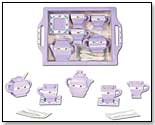 This set of 15 pastel-colored wooden tea pieces comes fitted in a tea tray. The sturdy kit includes a teapot, sugar bowl with lid, creamer, two tea cups and saucers, two plates and three spoons. 7/15/2005 (MSRP: $25.99; Age: 3 and Up)



NameTrains by MAPLE LANDMARK WOODCRAFT CO.



Each different-colored letter, available in A through Z, comes on wheels. All letters are crafted from hard maple and have a nontoxic color finish. Magnets allow letters to be strung in a line to form names. $4.90 each.
— "Maple Landmark wooden train letters sell very well," said Gail, manager of the Toy Chest in West Hartford, Conn.
— 44 retailers surveyed in September 2010 said Maple Landmark Name Trains are their best-selling personalized item.
— In an October 2011 survey, Joe Berardoni, owner of Pun's Toys in Bryn Mawr, Pa., told TDmonthly that "We do not personalize, but we do sell a lot of Maple Landmark's colored train letters." They are "great as a newborn gift," and Pun's sells dozens each month. 7/15/2005 (MSRP: $4.90; Age: 3 and Up)



Tiny Town by HABA USA/HABERMAASS CORP.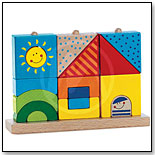 This colorful combination of beechwood triangles, cubes, circles and semi-round blocks can be used to build a small, imaginative town. The blocks measure about 9" x 5.5". 7/15/2005 (MSRP: $35.95; Age: 1 and Up)



The Large Car Carrier by D AND ME WOOD TOYS LLP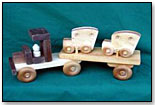 Part of the City Truck collection, The Large Car Carrier includes a driver and two maple cars with walnut insets. The trailer is detachable from the cab and the cars are removable as well. Other items could be hauled in place of the cars. 7/15/2005 (MSRP: $44.95; Age: 2 and Up)



Quadrilla Twist Set by HAPE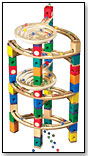 Kids and adults alike can enjoy using the 105 pieces in this set to create many different kinds of giant marble runs. The brightly colored, sturdy wood pieces include two twist-action helix pieces. It also has rails, connecting blocks, accelerators and action pieces. This large Quadrilla set comes with 100 colorful marbles and instructions on how to build three rail combinations.
— Girls and boys are both into building systems, as well, such as Marble Run," Eric Masoncup, owner of Gepetto's Toy Box in Oak Park, Ill., told TDmonthly.
— Quadrilla was a monster hit during the holiday season 2005 and continued to sell afterward, retailers all across the nation told TDmonthly.
— Accessories, including extra tracks and blocks, are available separately.
THIS PRODUCT IS NO LONGER SOLD BY HAPE 7/15/2005 (MSRP: $150.00; Age: 4 and Up)



Folding Go Set by WOOD EXPRESSIONS INC.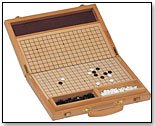 The object of the two-player game, Go, is to gain control of territories and capture enemy stones while moving black and white pieces across a checkered board. While it is easy to learn, this game of strategy provides hours of challenging fun for players. At an even price point, this transportable, folding set comes with plastic stones and cloth bags. It is 12" x 6". 7/15/2005 (MSRP: $34.95)



X9 Sports Utility by AUTOMOBLOX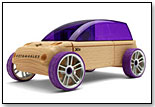 The rich purple roof and soft rubber tires appropriately dress the Automoblox King of the Road. With an increased ride height and extra-large rims, this ride rolls with the big boys. Increased storage capacity in the rear block allows this ultimate lifestyle vehicle to be equally big on adventure and style. (

Watch Video) 7/29/2005 (MSRP: $35.00; Age: 3 to 9)



---
---


Copyright © 2021 TDmonthly®, a division of TOYDIRECTORY.com®, Inc.