So, you thought you were the coolest kid on the block with your canopy bed fitted with Star Wars sheets? Kids' rooms in 2003 are worthy of Architectural Digest by comparison. Combining fantasy and practicality, new furniture lines for children allow kids to create a living space that's truly their own.

See-Through Book Displays
Useful and Fun
Mike Richter of the Children´s Factory (childrensfactory.com) refers to his company's furniture as toys, and kids relate to them the same way. "Our toys have to be much more durable because they get as much wear and tear in two weeks as the average item will get in the whole span of a childhood," said Richter.
The company's innovative items include See-Through Book Displays ($64.95) made of soft fabric with clear pockets (up to 18 inches wide—handy for displaying picture books) and grommets for hanging the display where convenient.


Mobile Storage Units

Children's Factory also manufactures a variety of Mobile Storage Units($229-$329) consisting of soft-edged ABS-molded trays with nylon casters to allow for easy transport from bedroom to playroom. Parents can choose flat storage units for more space, or tilted units for easy identification through clear-topped jumbo trays.

HooHobbers (ToyDirectory) continues its 20 years of tradition with polypropylene furniture as unique as its name. "Our products did not exist before we made them. When they came out no one had ever seen them before," said Bill Sommerschield, CEO of HooHobbers (hoohobber.com).

The Hoohobber Toy Box folds up and is completely weather-proof, allowing families to conveniently tote toys to the beach or on camping trips, with no need to worry about pinched fingers thanks to the box's lightweight mesh cover ($60).


Clothes Tree

The Clothes Tree ($65) is a gingerbread house with spinning characters serving as clothes hooks. A centered nameplate helps personalize kids' clothes. As decoration and past-time, the classic Rocking Horse ($65) folds down to 4 inches tall for travel, and features a head made of soft foam material, so kids won´t get hurt if they´re accidentally bucked from the saddle.

The new Kidkraft Kitchen ($179.95) and Brighton Table & Chairs, available in pastel shades ($128.95), have been generating rave reviews from retailers. Also from Kidkraft, the traditional and popular Avalon Table & Chairs ($159), available in Honey, Oak and Natural finish, is sure to stand the test of time.

Fantasy Furniture

Levels of Discovery's Princess Line (ToyDirectory) pays homage to old-fashioned girlishness with items such as the fanciful Princess Table & Chairs Set ($274.95).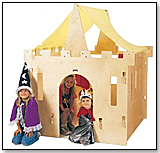 Jonti-Craft's KydzCastle

Jonti-Craft's KydzCastle ($578.75) also keeps the medieval spirit alive. Measuring 60" x 57" x 70," the deluxe castle has plenty of room for young royalty. A back window doubles as a puppet theater and includes red puppet curtains for performances.


Airplane Knob



Ballerina Slippers Knob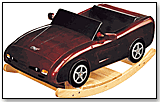 Maxim's Corvette Rocker

PJKids, heeding the furnishings trend towards customization, offers stylized door and drawer knobs that can change the whole look and feel of a room. PJKids' creative knobs come in several different themes, such as the Airplane Knob ($7), Baseball Pull ($11), and Ballerina Slippers Knob ($18).

Castle Tent Beds ($630) and FireHouse Tent Beds ($589) by PJKids each have ladders and slides to make bedtime fun. The company's Bug Off Lamp ($69) features a hand painted wood base with carved butterfly and garden slug.

Maxim's Corvette Rocker ($149.99), for ages 4-7, lets kids take to the highway without liability insurance.


Stokke's Kinderzeat



The Galt Activity Play Table

Timeless Classics
Teaseaco's Floral Wonder World ($229) is a hand-painted table and chair set perfect for tea parties. Recommended for ages 2-8, the set includes two chairs.
Stokke's KinderZeat ($199) is the perfect solution for parents who want to avoid purchasing furniture that their children will soon outgrow. With a fully adjustable ergonomic design that expands to hold up to 300 lbs., the Kinderzeat is perfect for kids from 18 months to teenage years.
Kolcraft's Pockets Of Fun Toybox ($39.95) is a soft-sided toy box with a roomy exterior and mesh pockets that are perfect for books, cards, crayons and more.
The Galt Activity Play Table is a classic addition to any classroom or backyard. The sand, water and construction table has three compartments of different depths. The table also comes with a lid that converts the table into a flat working surface. Legs pop off for easy storage. (Ages 3 and up, $110).