Most kids who play Crackernomics are smitten by the end, throwing around new business terms they picked up during game play.

Mark Liebig has spent the last 23 years educating cherry-picked employees of multi-national corporations on global market operations. He's run two- to five-day training programs simulating international trade using interactive software and hardware.

His latest challenge? Eight-year-olds.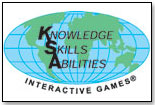 "All those years, after those people experienced the corporate training program, they said, 'got anything for kids? If my kids got a taste of this …'" explained Liebig, president of KSA International (ToyDirectory).
So, he developed Crackernomics, a board game specially designed for children ages 8 and up. It's the first in a series of four games intended to teach kids at different age levels about everything from global markets to return on investment to fixed-cost ratios and beyond, as well as improving their math, geography, negotiation, trading and communication skills.
Future games in the series will have increased business reality and will be geared toward older age groups in an effort to create business- and global-savvy children, guaranteeing a profitable American economy for years to come.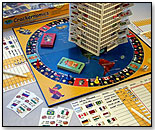 But how did Liebig make the initial leap from catering to scotch-drinkers to juicebox-sippers? Roughly three and a half years ago, he was contacted by a retired Schlumberger Ltd. executive, who was teaching economics to kids in grades 10 to 12 in Alameda, Calif. The executive remembered Liebig's global market simulator from the many years he sent his oilfield service employees operating in 80 different countries through the training program.
"He asked me to help out because he knew I already had the global market simulator in place," Liebig explained.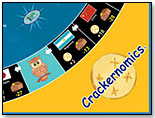 Liebig refined the system for a high school audience and received encouragement from high-school and college educators in Northern California. After completing a market survey, he discovered it would require a much larger infrastructure to launch this product in the nation's school systems. During the process, his head kept echoing with the urging of former executives to create something for an even younger audience, so he decided to start at the beginning.
"Two years of testing went into Crackernomics' design to insure that a highly interactive and fun business game for 8-year-olds would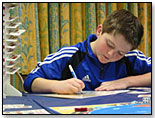 be the end result and would be available through retail channels."
Liebig's Ph.D. in communications methodology and his 23 years in operating and updating his corporate global market simulator went into crafting Crackernomics' rules and play style. What he developed is a game that uses cartoon animal characters to draw children into investing in cracker mills located in the top 24 economies across the world, based on their gross domestic product. At the end, four different winners emerge — the player with the most diverse investments, the most frequent return on investments, the highest total return on investments and the most crackers left over.
"It may last 45 minutes or two hours," he said, depending on the kids. Play comes to a halt "at the end of 31 decisions."
Most kids who play Crackernomics are smitten by the end, throwing around new business terms they picked up during game play, according to Liebig. Yet, he's still keeping his day job, while he launches the new games division of his company. With two unique product divisions, he looks forward to a bright future.
"We want to be known as the business game people for kids and the business simulation people for adults," he said.