May 10, 2021

December 2006 | Vol. V - No. 12

---
Holiday Sales Mounting With Horses and More
Small Collectibles Are Back in the Saddle
"Schleich and Papo sell really well at Christmas." — Thom Maslow, Learning Express

With additional reporting by regional correspondents Virginia Davis, Dennis Furlan, Elizabeth Greenspan, Krista Lebednik and Brenda Ruggiero

This year, Papo Knights from Hotaling Imports (ToyShow) are facing off with classic offerings from Schleich North America (Gift Guide) and Reeves International's ever-steady Breyer horses, a survey of 54 retailers revealed. Other combatants include Safari Ltd. (Gift Guide), with its new line of Blue Ribbon Horses, and Bullyland knights.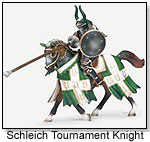 "Schleich and Papo sell really well at Christmas," confirmed owner Thom Maslow of Learning Express in Belmont, Calif.

Susan Spence, manager of Kringle's Toy Box in Amherst, N.H., sells those same lines of figurines. "Even though [they're] toys," she said, "they're collectibles because parents like them, too."

Breyer "has been around for many years, and sometimes it's matter of a mother or aunt who's a Breyer horse collector, and they start their daughter, niece, or nephew into it," Patti Tepper-Rasmussen, owner of Learning Tree Toys, Games & Books, Inc. in Oklahoma City, told

TD

monthly.

Owner Steve Maynard of The Time Machine in Manchester, Conn., also carries Breyer horses, and sees the 2006 movie "Flicka" influencing market trends.

Even musical Treasure Boxes by Enchantmints are available in a horse collection that features four unique designs.

Retailers and manufacturers expect the following collectibles to be sure-footed winners this season:
Papo – Knights Crusader by HOTALING IMPORTS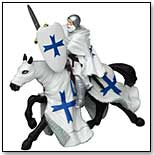 Dressed in white and emblazoned with a cross, this knight is ready to defend his faith. His horse is also dramatically draped. Each is available separately. Launch date: 2006.
— "Papo... across the line. Our Knight Papo figures are our best-selling stand-alone figures," said Alex Witten of Sparks Toy & Hobby Shoppe in Smithfield, R.I. Eighteen of 34 retailers TDmonthly spoke with in spring 2007 cited Papo as best-selling action figures in their stores.
— Retailers reported sales of Papo Knights averaging 50 to 100 units a month.
— "Papo's design, quality and play value continue to inspire children and even adults with the imaginary world of Papo," said Larry J. Hotaling of distributor Hotaling Imports. (

Watch Video) 5/2/2006 (MSRP: $4.99; Age: 3 and Up)



Blue Ribbon Mustang Collectible by SAFARI LTD.®


Horses by Safari are one of the best-selling collectibles at The Toy Store of Highlands in Highlands, N.C., owner Michelle Hubbell told TDmonthly. All of the Safari animals do well at Victoria's Toy Station in Baton Rouge, commented owner Katie Culotta. 5/23/2006 (MSRP: $12.00; Age: 3 and Up)



Breyer - Classic Shire by REEVES INTL. INC.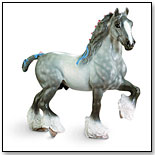 Breyer's expertise in horses comes through as it provides a 1:12-scale model that children and adults, equestrian amateurs and even experts can all appreciate and enjoy.
— "I carry Breyer horses," Marilyn Sipila, owner of Toys Etc. in Poulsbo, Wash., said about best-selling gift ideas in her store.
— "I would say Breyer horses," concurred Mary Walsh, owner of Magical Child in Greenfield, Mass.
— Three retailers specifically told TDmonthly that Breyer horses are popular last-minute gift ideas for girls. 8/24/2006 (MSRP: $15.00; Age: All Ages)



Cowboy With Lasso by SCHLEICH NORTH AMERICA, INC.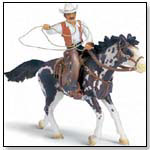 There's a new category of collectible from Schleich — the American Frontier (Wild West). Like this Cowboy With Lasso, they're based on the United States' westward expansion of the 1800s. "Schleich figurines are meticulously crafted and hand-painted with attention to detail," said Katherine MacLean, sales and marketing coordinator for Schleich North America Inc. "They are realistic without a cartoon feel. The price points are reasonable. Schleich is becoming a brand." Launch date: September 2006.
— "We have a line of animals from Schleich that does extremely well. There are all types of animals from frogs to horses to elephants," said Holly Reay, owner of Kid's Corner in Carmel, Ind.
— Bonnie Dodds, owner of Bonnie's Toys and More in Iowa City, enthusiastically endorsed the brand in the miniature category by exclaiming, "Schleich everything!" sells well.
— Nine of 45 retailers we asked told TDmonthly that these figurines were popular with their customers. 7/19/2006



Crusader - Lyson by BULLYLAND TOYS INC.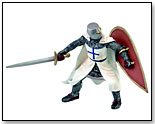 This stalwart knight is ready to conquer, with drawn sword and a fighter's stance. Part of Bullyland's new line of knights and fantasy figures, he debuted at the 2006 International Toy Fair. 5/2/2006 (Age: 3 and Up)



Knight With Red Shield and Horse by SAFARI LTD.®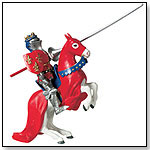 These figures are part of the Knights and Dragons series and are sold separately. Both collectibles are hand-painted and accurately detailed. 5/23/2006 (MSRP: $4.50; Age: 4 and Up)



Thomas & Friends Wooden Railway by LEARNING CURVE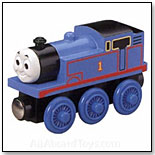 This wooden railway toy is the classic among the Thomas & Friends line. Compatible with wooden railway toys from other manufacturers, this replica of the popular children's character embodies the hopes and dreams of mini-Thomas fans.
— "Thomas the Tank by RC2 — I sell 100 to 150 units a month," Ray Goodhart, owner of Ages and Stages Toy Box in Arvada, Colo., told TDmonthly.
— Janelle Cedusky, manager of Cheeky Monkey Toys in Menlo Park, Calif., told TDmonthly that her best-selling wooden toy item is "Thomas the Train by RC2 in general, but especially the Wooden Railway System. It's hard to specify how many we sell because all are popular."
— "Thomas & Friends Wooden Railway is the perfect last-minute gift or stocking stuffer. [The] deep product line offers a wide range of price points, from $10.99 engines to deluxe sets," said Laura Mares, marketing manager for Thomas & Friends Wooden Railway. 8/24/2006 (MSRP: $10.99)



Star Wars: Crimson Empire by ENTERTAINMENT EARTH INC.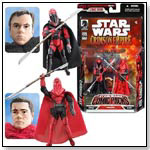 This limited edition "Star Wars": Crimson Empire action figures and comic book set features Kir Kanos and Carnor Jax. Previous versions of Royal Guard action figures kept their faces a mystery, but these figures have names and unique personalities, along with removable helmets and well-detailed, realistic faces. Other accessories include newly designed weapons, such as a double-bladed staff and a specially concealed blaster pistol. Launch date: 2006. 10/3/2006



1:18 Scale Hot Wheels 2004 Mini by MATTEL INC.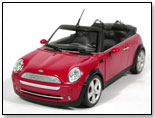 This is a beautifully crafted 2004 Mini Cooper Cabrio diecast model car on a 1:18 scale. It's a great collectible or gift piece, and is areal showcase model for any auto enthusiast. 6/6/2006 (MSRP: $29.00; Age: 6 and Up)



Horse Ranch music Treasure Box by ENCHANTMINTS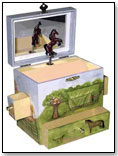 The tallest style is excellent for tiny treasures. Earrings, bracelets, charms and sachets are all safe and comfortable inside. There are four drawers: one in front and one on each side. It measures 6" x 4" x 6". 6/29/2006 (MSRP: $25.00; Age: 5 and Up)



Penny Toy Calico Cat by SCHYLLING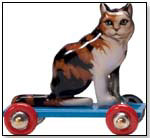 This tin kitty makes a great holiday decoration. Each Penny Toy has a delicate string attached. 7/19/2006 (MSRP: $4.99; Age: 8 and Up)



Pirate Benders by HOG WILD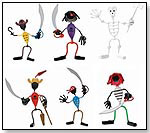 The new Pirate Benders have dropped anchor and are shivering timbers everywhere. There are six different pirates: Hook, Patches, Bones, Peg, Swab and Red Beard. Each comes with a sword or accessory and is packed inside a treasure chest tin. 10/4/2006 (MSRP: $7.95; Age: 8 to 12)



Batman Gargoyle by KOTOBUKIYA / KOTO INC.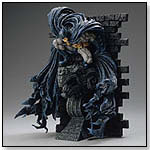 The Batman Gargoyle collectible is 7.6" tall. Steve Maynard, owner of The Time Machine in Manchester, Conn., told TDmonthly that Batman collectibles will sell as a carryover item for the 2006 holidays. 2/7/2006 (MSRP: $79.99)



Morphibian by KID GALAXY INC.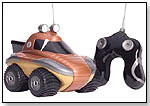 A Morphibian is a radio-controlled, multi-terrain vehicle that comes in one of four animal options, including the "Land Shark," "Dirt Frog," "Gator" and "Cobra."
— "They're very durable, and they can go from land to water with no problem," said Wendy Kramer, manager at Big Fun Toys in Hoboken, N.J.
— Laura Miller, owner of Imagination Village in Concord, N.H., added, "It has a pretty good price point and has big appeal for the kids."
— This RC car navigates shallow water as well as roads. (

Watch Video) 4/20/2006



W. Britain - Yorktown – Alexander Hamilton by FIRST GEAR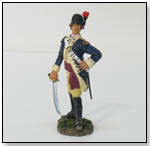 This one-piece set features Alexander Hamilton, who commanded the American Light Infantry during the 1781 Battle of Yorktown. 7/25/2006 (MSRP: $28.00; Age: 8 and Up)



Food Flippin' Mario by ROCKET USA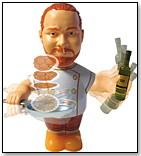 Food Flippin' Mario is a 5.25"-tall tin wind-up action figure. Simply wind him up, flip the on-off switch, and watch Mario as he vibrates, flipping a pan of pasta and meatballs in one hand while shaking a bottle of his famous olive oil in the other. It's not only a great toy but also a great option for kitchen décor for any fan of Mario's show. 6/8/2006 (MSRP: $15.95)



Spotted Cow by HAGEN-RENAKER INC.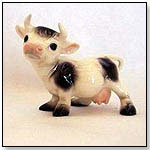 This ceramic, domestically produced figurine made in California is different from the imported resin figurines that are the usual collectible today, Susan Nikas of Hagen-Renaker told TDmonthly. The company has produced ceramic miniature figurines since the early '50s, and grandmothers who collected them as children are now starting collections for their grandchildren. They are hand-crafted from start to finish, which makes each one unique. Launch date: July 1, 2006. 11/14/2006 (MSRP: $9.00)



Darth Vader Mimobot by MIMOCO INC.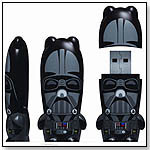 The first in the Star Wars Series 1 limited edition mimobot collection, Darth Vader comes in 1-, 2- and 4-gigabyte capacities and is preloaded with bonus removable Star Wars mimobot content, including trailers, soundbites, avatars and wallpapers. The designer USB flash drive was produced in collaboration with Lucasfilm Ltd. Only 2,500 to 3,500 will be made per character. MSRP: 1GB $69.95, 2GB $99.95, 4GB $149.95. Launch date: April 2007. 11/2/2006 (MSRP: $69.95; Age: All Ages)



Real Action Hero Ash With Pikachu by Medicom by POKEMON USA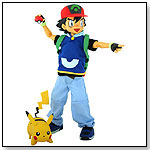 This 10" action figure of Ash features more than 26 points of articulation and is one of the most detailed figures ever made by Medicom. Ash wears a cloth outfit and comes with two pair of interchangeable hands, and of course, his best buddy Pikachu. Only 1,500 pieces of the limited edition piece were made. Launch date: September 1, 2006. 11/2/2006 (MSRP: $79.95; Age: 12 and Up)



Ash and Pikachu Limited Edition Statue by Hard Hero by POKEMON USA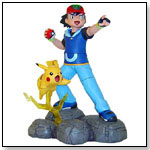 This limited edition piece stands 13" high and is crafted from cold cast porcelain. All 1500 pieces are signed and numbered. Launch date: September 1, 2006. 11/2/2006 (MSRP: $169.95; Age: 12 and Up)



TD-15 Crawler by FIRST GEAR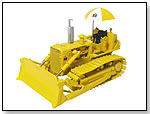 This 1:50-scale version of the International TD-15 crawler features diecast metal rolling track and authentic engine detail, plus an umbrella and a blade and hitch. The product fits on the trailer of the 1:50 Ford F-800 Truck and Trailer. It is also available in a red variety that comes with a hitch but no blade. Launch date: November 2006. 11/17/2006 (MSRP: $42.95; Age: 10 and Up)



ATTACKTIX Star Wars vs. Transformers InterGalactic Showdown Pack by HASBRO INC.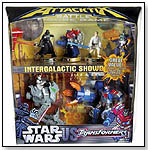 Who will win in battle – Darth Vader or Optimus Prime? In this pack of six battle figures, iconic figures from the Star Wars universe collide with the world of Transformers. Omega Supreme and Crumplezone can help bring exciting action to your next battle. Players must destroy their opponent's ranks when Omega Supreme picks up and throws his enemy. The last one standing wins. "The highly collectible figures represent a new kind of pick-up and play game where no game board is needed and strategy is the top priority," Joanna Barber of Hunter Public Relations told TDmonthly. Launch date: Fall 2006. 11/20/2006 (MSRP: $19.99; Age: 6 and Up)



---
---


Copyright © 2021 TDmonthly®, a division of TOYDIRECTORY.com®, Inc.