May 11, 2021

February 2007 | Vol. VI - No. 2

---
Bubble Gum Turns Kids to Chemists
Kitchen and Bathroom Science Boast Everyday Appeal
"It's not just the old boring wire and battery type stuff." — Crystal Mobb, Tinkerz Toy Shop

With additional reporting by regional correspondents Dennis Furlan, Elizabeth Greenspan and Brenda Ruggiero

Science products from Scientific Explorer, Tedco (ToyDirectory) and others rank as educational best sellers, six of 18 retailers told

TD

monthly. But, these days, kids don't have to be chemistry whizzes or little Einsteins to benefit from them.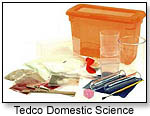 Science is fitting right in with the "everyday," bringing new interest to experimentation and learning.

What's Selling

Owner Mary Sisson of Kazoodles in Vancouver, Wash., does well with Spa Science and the Ultimate Gum Kit from Scientific Explorer.

"When I was a kid, you had a choice between a chemistry set and microscope," she told

TD

monthly. Now, kits have "experiments about everyday life."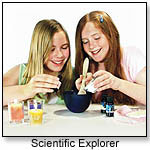 Sales associate Crystal Mobbs at Tinkerz Toy Shop in Coeur D'Alene, Idaho, agreed: "It's not just the old boring wire and battery type stuff."

Children are the most likely to choose some of these unique kits. Make Your Own Funny Gags and Outrageous Pranks, also by Scientific Explorer, is a "bit on the wild side. I have kids who literally save up their own money because mom and dad won't buy it for them," said owner Kevin Tjaden of Scientific Wizardry in Boise, Idaho.

Ein-O's Fantastic Domestic Science Crazy Cuisine from Tedco invites kitchen experiments, whereas Thames & Kosmos' (ToyShow) Physics Solar Workshop offers more traditional subject-focused exposure.

What's Fading

Magnets are no longer very successful, two retailers admitted. Nor are classic ant farms, one retailer said.

"When the ant farm started to use gel instead of sand, that kind of brought [it] back," Scott Anderson, owner of Great Rocky Mountain Toy Company in Bozeman, Mont., told

TD

monthly. "It's those kinds of things that need to be done."

What to Make of It

Consider both parents and children when stocking scientific products, and cater to the everyday. Keep some "oldies but goodies," such as prisms, but also look for innovation that brings revival.

Here are some kits and other science toys retailers say are selling well:
Make Your Own Chocolate Kit by VERVE INC.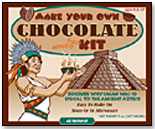 Mixing chemistry with world culture and history, this kit lets kids make 8 oz. of dark chocolate on the stove or with a microwave (adult supervision recommended). It includes organic cocoa butter, cocoa powder, confectioner's sugar, starter crystals, a temperature indicator, paper candy liners, cacao beans and the story of chocolate. Great for class room activities, scout troops, birthday parties, home school, or after school. 12/5/2006 (MSRP: $13; Age: 8 and Up)



Ultimate Gum Kit by SCIENTIFIC EXPLORER


With this kit, children can mix more than 15 flavor combinations to create their own crazy concoctions and make huge amounts of homemade gum. "This kit contributes to a child's educational development because it involves a lot of creativity," Susan Rives of product development for Scientific Explorer told TDmonthly. "Kids are encouraged to come up with their own custom gum flavor….After they're satisfied with the gum, they can design its packaging." Launch date: August 2006.
— "Scientific Explorer science kits. [Kids] can make candy, do slime, the bubble gum factory, dino kits," Denis Hofsetter, owner of The Toy Store in Atlanta, Ga., listed some favorites in his best-selling educational line.
— "In the science and nature category, we sold 45 last month," Margy Pein, owner of Tree House Toy Shop in Cumberland, Md., told TDmonthly in July 2008.
— Twelve percent of retailers said science kits and related activities account for their top-selling educational products. (

Watch Video) 12/5/2006 (MSRP: $29.99; Age: 8 and Up)



Spa Science by SCIENTIFIC EXPLORER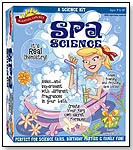 With this indulgent kit, girls can transform a bath into a frothy fizzing sea of color and fragrance. They can make colorful, fragrant bath soaps, fizzers and oatmeal scrub while learning the science behind gels, fragrance and more. This kit "is not about being a stick figure or a beauty queen, but rather about relaxation and learning….While mixing and matching custom fragrances, kids can learn about the science of smell. While whipping up a fizzy bath ball, kids learn about how acids and bases react," said Elizabeth Rives of Scientific Explorer, who created the kit for the company while still a college student. Launch date: February 2003.
— Mary Porter, owner of science center The Curiosity Zone in Ashburn, Va., told TDmonthly, "Our best-selling toys are our science kits [from Scientific Explorer], especially Spa Science."
— "Scientific Explorer. Anything at all sells well," Carolyn Meyer, owner of Blue Turtle Toys in Dayton, Ohio, told TDmonthly.
— "The line we do best with is Scientific Explorer, because it's a complete kit and it's easy to understand," said Greg Bonner, owner of Heights Toy Center in Little Rock, Ark.
— Annie Ricks, owner of My Imagination Station in Hattiesburg, Miss., told TDmonthly her best-selling item for tweens is, "Spa Science, by Scientific Explorer."
— Want this? As of 05/06/2011, this product was available for purchase at Magic Box Toys. 12/5/2006 (MSRP: $19.99; Age: 9 and Up)



Funny Gags and Outrageous Pranks by SCIENTIFIC EXPLORER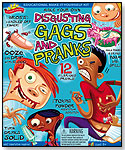 This kit contains more than 20 different activities, from concocting a stink bomb to making itching powder from scratch. The kit received iParenting Media's "2004 Great Holiday Winter" award. It "reveals the secrets behind pranks while encouraging social skills. Kids have a great time laughing while they learn!" Jean Bessette of Scientific Explorer told TDmonthly. Launch date: February 2004. 12/5/2006 (MSRP: $19.99; Age: 8 and Up)



Physics Solar Workshop by THAMES & KOSMOS

Physics Solar Workshop explores the topic of solar energy, focusing on photovoltaic cells. By building 12 models and conducting 30 experiments, you will learn how solar cells transform light into electrical energy, and how motors and mechanical devices can optimize the work done by this energy. You will build different types of vehicles and machines to demonstrate how gears can convert and transform power for different needs. There are 320 parts, which are also compatible with the other physics kits. The 64-page book offers illustrated instructions for the projects. This kit was developed with Greenpeace in Germany.
— This kit offers experimentation "with different mechanisms that allow you optimize the use of the solar power depending on specific applications. For example, you build vehicles with different gear ratios….In this way, it teaches kids how solar power can be harnessed and transformed for use in the real world," president Ted McGuire of Thames & Kosmos told TDmonthly. 5/4/2006 (MSRP: $59.95; Age: 8 and Up)



Physics Workshop by THAMES & KOSMOS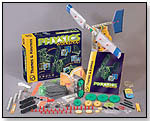 Through building 36 models and conducting subsequent experiments, kids will learn the fundamental laws of mechanical physics. This hands-on approach is both fun and effective because the principles of physics are demonstrated right in front of children. Projects include building a windmill, making a hammer machine, and experimenting with pulleys and gears. It comes with a 64-page manual. 12/11/2006 (MSRP: $49.95; Age: 8 and Up)



The Light Crystal Prism by TEDCO INC.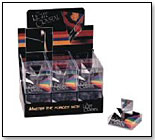 Color, refraction, light, Isaac Newton (in all his glory), rainbows and a kaleidoscope. It's a one-stop optics lab and just plain cool. Plus it's a door of introduction to history, engineering and even mineralogy.
— This quality acrylic prism works for fun and exploration. Kids learn how to split a beam of light into a multicolored rainbow or look through the top beveled edge to reflect images into kaleidoscopic patterns.
— "Prisms are perennial sellers, always fascinating, always interesting, always a must-have once a child begins to look through them. No matter what the season, prisms are always an item," said Martin Fong, owner of Dis & Dats toy store in San Francisco.
— Kyle Davies of Brainee Bunch in College Park, Md., said the smaller ones are selling particularly well for them.
— "You could look at a simple toy prism and say 'whatever' or you could look at it and remember that people like Einstein, Boyle, Newton and hundreds of other great minds used to play with them when they were kids, too," Sue Ellen Childs of Tedco told TDmonthly. 8/31/2005 (MSRP: $8.95; Age: 8 and Up)



The GeoSafari Talking Microscope by EDUCATIONAL INSIGHTS INC.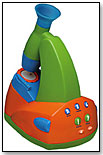 This unique product introduces young children to science at an early age. Kids can examine all sorts of insects on 12 prepared interactive slides and listen while facts are shared about the critters. They can even switch the talking microscope to quiz mode to test their knowledge. It features a 5X focusing magnifier and a light for easy viewing. It requires three C batteries (not included).
— "The Talking Microscope allows even young children to learn about the small creatures they may see in the world around them. It is highly interactive yet easy to use and provides several levels of game play to bring out the budding scientist in children," Kati Elliott of KEH Communications told TDmonthly. 4/27/2005 (MSRP: $29.99)



GeoSafari Talking Telescope by EDUCATIONAL INSIGHTS INC.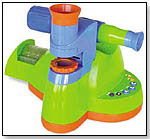 Children can get an up-close view of 12 animals and eight space-age phenomena as they hear cool facts or take a fun quiz. The detachable telescope features 3x magnification, automatic shut-off, and two game modes: Facts and Quizspeak. It is designed to develop listening comprehension skills and teach children important scientific concepts. "Children are learning about planets and animals with incredibly beautiful pictures….They can learn interesting facts, then take off the optical piece and use it as a real telescope," Kati Elliott of KEH Communications told TDmonthly. 12/7/2006 (MSRP: $29.99; Age: 5 and Up)



Ant Farm Gel Colony by UNCLE MILTON INDUSTRIES INC.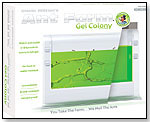 In honor of its 50th anniversary, the classic ant farm of the '50s fast-forwards into the future with this all-new Ant Farm Gel Colony habitat. Ant fans can watch their ants make 3-D, translucent tunnels in this futuristic habitat, featuring a green-tinted clear gel for ants to dig and tunnel. The clean, contemporary styling also makes this item perfect for a kid's room, classroom, college dorm or office. Launch date: Fall 2006
— "Ant farm fans get all of the benefits of the original — seeing ants thrive in a habitat of their very own while developing an appreciation for these amazing tiny creatures." Andrew Sroufe of Salmon Borre Group told TDmonthly. 10/24/2006 (MSRP: $19.99; Age: 6 and Up)



Crystal Growing Kit – Sapphire Blue by TOYSMITH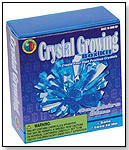 Kids can grow their own crystals with this kit that includes crystal formula, base rock, a growing tray, a magnifying glass, a spatula and easy-to-follow instructions. Rose Pink, Jade Green, Topaz Yellow, Amethyst Purple and White Diamond kits are also available. "Quality materials deliver excellent results," Debra Ashley of Toysmith told TDmonthly. 12/11/2006 (MSRP: $7.00; Age: 10 and Up)



Smithsonian Weird Science Body Works by NSI INTERNATIONAL INC.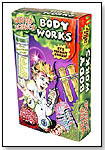 Body Works has all the ingredients required to concoct slimy brains and other yucky stuff, including fingers, eyes, brains, cuts, blood and eyeballs. It allows kids to expose plaque on their teeth, test for saliva digestion, and make an ear wax detector. Children will learn that blisters protect the skin and snot helps keep germs out of the body. 12/11/2006 (Age: 8 and Up)



Butterfly Garden by INSECT LORE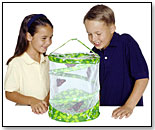 This net habitat (almost like a Chinese lantern) encloses caterpillars, food and the setting for a caterpillar's eventual metamorphosis. It requires mail-sent larvae. "The Butterfly Garden not only shows actual insect metamorphosis, but it does so in just three weeks' time. Many other animal habitats can take up to six months for any changes to occur. This makes it a perfect item for kids who have short attention spans and is an ideal science project for any classroom," John White, marketing director of Insect Lore, told TDmonthly.
— Fred Rosenberg of On the Park in Kingwood, Texas, named this as his No. 1 seller in May 2008, with sales of 50 to 60 units monthly. "I just can't keep them in stock right now," he told TDmonthly. "We have a display on our counter with the real butterflies so people can see it go through the process," said Kim Emigh, VP of e-commerce at Growing Tree Toys in State College, Pa.
— 25% of 64 retailers surveyed in August 2008 named this as their top-selling nature toy, reporting average sales of 12 per month. Five of 38 retailers named Insect Lore's butterfly habitats as best-selling science and nature products in late summer 2009. In an August 2010 survey, 21 percent of 43 specialty retailers said Insect Lore is a top-selling science and nature brand. Five retailers specifically cited Butterfly Garden as a best seller.
— As of 5/21/2012, the Butterfly Garden had spent more than 1,600 days in the top-100 best-selling toys and games at Amazon.com and has 4.4 out of 5 stars from 461 reviews.
AWARDS: 2010 TDmonthly Top Seller (

Watch Video) 7/18/2005 (MSRP: $19.99)



Galactic Ooze by TOYSMITH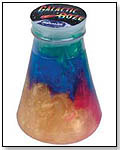 Each 3-½" plastic beaker oozes with mysterious color swirls of green, blue, purple, yellow and pink. The product features a "unique blend of distinctive colors and texture," Debra Ashley of Toysmith told TDmonthly.
— Owner Fred Rosenberg of On the Park in Kingwood, Texas, said in spring 2007 that inexpensive impulse items from Toysmith are best sellers in his store's "birthday" category. 12/11/2006 (MSRP: $2.00; Age: 5 and Up)



SCROV-10 Snap Rover by ELENCO



Have fun building your own RC Snap Rover using the colorful Snap Circuit parts that come with this kit. There is no soldering required as all the parts snap together with ease. Once completed, you will be able to navigate your surroundings with the easy-to-use Snap Rover remote control. "The Snap Rover is a hands-on experience and gives children an opportunity to build their own RC Snap Rover along with 20 other projects," Walter Larsen, national sales manager for Elenco, told TDmonthly. It was named one of the 100 Best Children's Products of 2006 by Dr. Toy. 10/11/2006 (MSRP: $74.95; Age: 8 and Up)



---
---


Copyright © 2021 TDmonthly®, a division of TOYDIRECTORY.com®, Inc.