---
TDmonthly's 2010 Award Winners: Top-Selling Toys & Games
17 Playthings Receive Honor for Performance in Specialty Market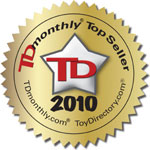 When it comes down to the bottom line in the toy industry, we have to ask: Which products do kids LOVE? and Which items help retailers' businesses THRIVE?

The answers are one and the same — best-selling products that fly off shelves, repeatedly bringing smiles to children and parents. This year, TDmonthly Magazine is proud to present the 2010 TDmonthly Top Seller award to 17 products or lines that have shown exceptional sales performance in independent toy stores in 2010. Please look back to previous awards to see other top sellers, including some that continue to ring up sales today: 2009, 2008, 2007.

No manufacturer paid to be considered or selected for this award.



Winners met one or more of the following criteria:

· Featured in a TDmonthly top-10 most-wanted article (or multiple top-10 articles), based on monthly surveys of 30 to 60 specialty retailers across the United States
· Recommended by retailers during interviews conducted at trade shows or in-house via phone or email, and data gathered online from store websites, blogs, Facebook, Twitter and other industry platforms
· Indicated as a best-selling product on Amazon.com, FatBrainToys.com or other selling sites online
· Product or line is not a previous winner of a TDmonthly Top Seller award
· In a summer 2010 survey of 31 specialty retailers regarding a list of 53 TDmonthly Top Seller award nominees:
- received an average sales assessment of at least 3.5 out of 5
- stocked by at least 38 percent of the survey respondents
- received no negative comments from any respondent

Winners will receive the following, free of charge:
· A digital TDmonthly award seal for use on websites, product packaging, stickers and printed materials
· An email broadcast announcing the winners sent to TDmonthly's 14,600 retailer subscribers
· Possible in-house video demonstration of the product, subject to editorial discretion

About TOYDIRECTORY.com® and TDmonthly Magazine®
Since 1996, Los Angeles-based TOYDIRECTORY.com has been connecting retailers and manufacturers within the specialty toy industry. As of 2009, Google ranks TOYDIRECTORY the No. 1 site in the world for wholesale trade directories and Yahoo! rates TOYDIRECTORY as the most popular business-to-business directory for the toy industry. TOYDIRECTORY.com and its subsidiary, online trade publication TDmonthly Magazine, accelerate business among toy-industry professionals by providing a central online meeting place where retailers can quickly locate new products and companies, and manufacturers can promote their product lines, awards and specials. TOYDIRECTORY and TDmonthly's community of 1,200 manufacturers and 14,600 retailer subscribers can download toy videos for their websites, find out what's selling nationwide, read about breaking news and trends, and get advice from experts on how to develop and maintain profitable relationships. TDmonthly includes a searchable database of more than 25,000 products, 2,000 product demonstration videos, and more than 3,000 pages of articles and tips.

Writer's Bio:
Julie L. Jones has written articles for both newspapers and magazines. Before joining the staff of TDmonthly Magazine, she worked as a communications writer and provided editorial support for a market research company.
Read more articles by this author
THIS BANNER IS AN AD:
---
---