September 26, 2020

February 2007 | Vol. VI - No. 2


My Best Sellers: Playmatters
Broad Age Appeal and Unique Design Matter Most
In this issue of

TD

monthly, Michael Ziegenhagen, owner of Playmatters in Cleveland, revealed how he's kept four specialty toy stores going strong since the early 1990s (Read More).



| | |
| --- | --- |
| | Michael Ziegenhagen, 14-year owner of four stores called Playmatters, discusses the importance of using trade organizations as a means of learning and sharing information. |


Here he shares some of his best-selling toys:
Blast Pad Advanced Missile Launch by MARKY SPARKY TOYS



The Blast Pad Advanced Missile Launch System comes with telescoping technology that expands to almost 3'. The carrying case holds up to six soft-tipped missiles and the Flex Launch tube can't kink to restrict airflow. Mark Rappaport, founder of Marky Sparky, invented his first toy when he was 9, according to his website. The Blast Pad was the winner of the 2003 Creative Child Magazine Preferred Choice Award.
— "We sold more than 500 during Christmas [2005] alone," said Lee Ann Stern, general manager for the 11-year-old Village Toy Shop in Easton, Mass. Amanda Toupes, manager of Magic Box in New Orleans, added, "Some of [the missiles] get 200' in the air."
— This toy is "sans pareil," according to Michael Ziegenhagen, owner of four Playmatters stores in Cleveland. "It has broad appeal as an outdoor boy toy" and has been one of his best sellers for four years.
— "These have sold well for us from day one," Co-owner Jude Larene of Izilla Toys in Seattle told TDmonthly in mid-2007. "It's a kid magnet at the park." 9/1/2004 (MSRP: $23.95)



PlayFoam by EDUCATIONAL INSIGHTS INC.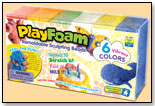 PlayFoam provides hours of creative fun with its lightweight, colorful foam-sculpting material that won't crumble, stick to skin or surfaces or dry out. According to an Educational Insights press release, PlayFoam was being "pre-ordered by the hundreds" at Toy Fair 2006.
— Sally Lesser, owner of Henry Bear's Park in Massachusetts, told TDmonthly in spring 2007 that PlayFoam is a product her stores try to keep "in stock all the time, as I'm sure anyone would." In fall 2007, Owner Idanna Smith of Juggles in Wakefield, R.I., named it as a best seller.
— Jim Whitney, president of Educational Insights, shared this insight with TDmonthly: "From the moment you touch PlayFoam it intrigues and fascinates ... It combines all the fun of sculpting with the soft, dry, squishy tactile feeling of a stress ball. It ... will last for years and is addictively fun."
— PlayFoam, a winner of a TDmonthly Top Toy 2007 award, is one of those creative alternatives to clay that many specialty retailers have made a staple in their stores. The reusable product comprises tiny foam balls that draw textural interest for the sculptor and offer visual appeal in a finished creation. Playfoam easily encourages open-ended play.
Where to Buy: Berkira; EQuick Xpress (

Watch Video) 12/14/2005 (MSRP: $9.99; Age: 5 and Up)



Blokus by MATTEL INC.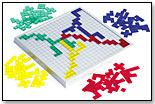 Europe´s 2002 game of the year, Blokus is a strategy game for the family. It's similar to the ancient Go Game — the board is a grid and players use their pieces to try to control as much territory as possible. The game pieces are in four, 21-piece sets of varying shapes. Each player chooses a color and works on expanding his territory on the board while blocking others from doing the same. Each new piece laid down must touch at least one other piece of the same color, but can only touch at corners, not along edges. The game ends when all players have been blocked from laying down more pieces. Points are deducted for pieces not played, and the player with the highest score at the end, wins. Blokus comes with a game board with 400 squares, 84 game pieces (red, green, blue and yellow), and instructions.
— In spring 2007, Sally Lesser, owner of Massachusetts' Henry Bear's Park, called Blokus a "consistent best-seller" at her three stores. It's also tops at Juggles in Wakefield, R.I., and Kazoodles in Vancouver, Wash. Six of 63 retailers named Blokus as their overall best seller in September 2008. Three of 52 retailers named Blokus as one of their overall top sellers in November 2008. Blokus is no longer distributed by Educational Insights as of 12/4/08.
― "No. 1 is Blokus," Linda Hanzelko, owner of Timmy's Toy Chest in Lake Mary, Fla., told TDmonthly when asked about best-selling games in early 2009. "It's an easy sell. It's one that people come back later and say 'You were right.'" In late 2009, Lori Hershman, owner of Evan's Toy Shoppe in Hamden, Ct., estimated sales of about 34 units monthly. Six of 38 retailers called it a best-selling game in Feb. 2010, selling from three to 150 units per month. 5/27/2005 (MSRP: $29.99; Age: 5 to 12)



SC-300 Snap Circuits by ELENCO



Snap Circuits make learning electronics easy and fun. Kids follow the colorful pictures in the manual to build exciting projects, such as FM radios, burglar alarms, doorbells and more. Parts are mounted on plastic modules and snap together with ease. "Children can play with this kit for hours and hours and still have not completed all the projects the snap circuit kits have to offer," Walter Larsen, national sales manager for Elenco, told TDmonthly.
— One retailer said in summer 2007 his store sells 25 Elenco units monthly. Five percent of 64 retailers said in August 2008 that Snap Circuits are a best-selling science product, reporting average sales of six units per month. Four of 38 retailers echoed the same a year later. "They've gone back to this game six or seven times," between January and July 2006, said TDmonthly's homeschooling mom Susan Ledford.
— Any time TDmonthly asks specialty storeowners about top-selling science toys, Elenco's Snap Circuits heads the list. This simple electronics kit appeals to both girls and boys. By making science fun and easy, Snap Circuits earned a TDmonthly Classic Toy 2007 award.
— As of 12/17/2012 this product had 4.8 out of 5 stars from 575 reviews on Amazon.com. Cons: One user said that her grandchildren were "not all that interested" in the Snap Circuits, and told her that they would prefer LEGOs on their birthday. (

Watch Video) 10/27/2005 (MSRP: $59.95; Age: 8 and Up)



Neurosmith Sunshine Symphony by SMALL WORLD TOYS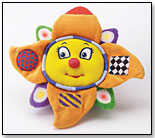 This plush toy puts classical music at a baby's fingertips. This huggable, plush activity toy plays beautiful classical music, while sparkling lights flash. It features four musical compositions, activated by a simple touch, and can also be used in a long-play lullaby mode. Fun tactile activities include a crinkle, squeak, beads and teether. It is a versatile crib, floor or take-along toy with high-quality sound. "I really like the Sunshine Symphony by Neurosmith," Manager Jane Worm of Crackerjacks, Inc. in Easton, Md., told TDmonthly when asked about 2006 holiday best sellers. It's a good value and makes a nice baby gift, seconded Michael Ziegenhagen, owner of Playmatters in Cleveland. 11/21/2005 (Age: All Ages)



Fashion Dollhouse Set by KIDKRAFT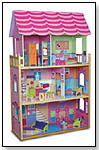 Perfectly sized for most fashion dolls, this large dollhouse is filled with wooden furniture, and is brightly finished in trendy colors of hot pink, lime and lavender. The fashion dollhouse set includes a secret attic under the flip-top roof, three floors (excluding attic) including living room, kitchen, den, bedroom and bathroom, and 18 pieces of wooden furniture, some with fabric detail. The house weighs 39 lbs. and measures 32 ½" x 13 ½" x 51" H.
― Kelly Rummelhart of Ruby Q's in Gridley, Calif., told TDmonthly in spring 2007 that she's had "great experiences" with KidKraft. 1/9/2007



Rush Hour Deluxe Edition by THINKFUN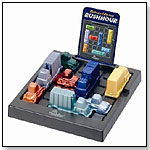 A winner of 20 awards, Rush Hour continues to be one of ThinkFun's most popular and renowned mind-challenging games. In honor of Rush Hour's 10 years of success, ThinkFun is celebrating with a Deluxe Edition that is guaranteed to delight seasoned Rush Hour fans and newcomers alike. Just like the traditional game, the object is to put problem-solving skills in gear to help the red car escape the traffic jam. But Rush Hour Deluxe Edition has been revved-up for maximum performance, featuring 60 of ThinkFun's best challenges and an exciting new level of play. It comes complete with a modern design, 15 bright metallic cars and a collector's gift box for easy travel. Launch date: Summer 2006.
— When surveyed about his best-selling puzzles in a Summer 2011 survey, Joe Berardoni, owner of Pun's Toys in Bryn Mawr, Pa., said he sells between 5 and 7 Rush Hours puzzles each month.
— As of 7/12/2011 this product had 4.3 out of 5 stars from 19 reviews on Amazon.com. Pros: Helps build problem solving skills; great for travel or quiet time. Cons: Two reviewers said that the Deluxe Edition was disappointing, as it actually has less features than the original game.
— Kids caught in traffic love to pull out this game and find their way out of the crunch. Rush Hour makes a great travel toy, specialty retailers have told TDmonthly, and it's been a top seller in their stores for more than 10 years. For these reasons, we gave it our TDmonthly Classic Toy 2007 award. (

Watch Video) 11/20/2006 (MSRP: $19.99; Age: 8 and Up)



Dodge Discs by WILD PLANET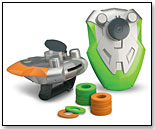 This game'll get kids up and moving. If they can't dodge the disks, they can block them with a built-in shield. Dodge Discs are a set of long-range disc launchers that send foam discs flying up to 25'. Each lightweight hand-held device serves as a disc launcher and doubles as a shield. A top-loading compartment holds 10 soft foam discs that feed into the rapid-fire launcher. Each set comes with 2 launchers and 20 discs that are dispersed with a push of a button. In early 2007, Michael Ziegenhagen, owner of Playmatters in Cleveland, had been selling Dodge Discs for one year. "It's a good action boy toy for indoors and out for under $20," he told TDmonthly. They were chosen as an iParenting Media Award Winner for Excellent Products of 2006. 1/6/2006 (MSRP: $19.99; Age: 6 and Up)



Star Party Microphone by INTERNATIONAL PLAYTHINGS LLC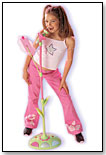 The Star Party headset microphone lets every girl have fun while being the star. This adjustable kid's headset microphone features an amplifier that clips onto the belt for complete portability, four melodies, eight rhythm styles and an applause button. The other Star Party products are compatible with one another, so a group of friends can sing, record and dance together. When asked for his best sellers, Michael Ziegenhagen, owner of Playmatters in Cleveland, said that this item had done consistently well for three years. "I don't know why!" he told TDmonthly. 8/21/2006 (MSRP: $19.95; Age: 5 and Up)



Magna-Tiles by VALTECH CO.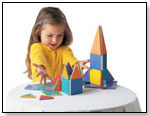 According to Valtech Co., Magna-Tiles were inspired by Pythagoras of Samos (560-480 BC), an important historical mathematician. (Perhaps you recall the Pythagorean Theorem from high school.) If this lofty inspiration doesn't impress you, perhaps the design of the magnetic tiles themselves will. While using the tiles to build various constructs, children will also be developing familiarity with geometric shapes, which will lay a strong foundation for advanced mathematics, such as geometry and calculus. This product has no equal, Michael Ziegenhagen, owner of Playmatters in Cleveland, told TDmonthly. "It's used in some schools to teach geometry and spatial reasoning," he added.
— Two of 50 retailers who spoke with TDmonthly in spring 2008 singled out this item as the best-selling construction toy in their stores.
— "We're constantly selling Magna-Tiles. This is a weekly seller, and they're even high end," said Peggy Sebert, owner of Becky & Me Toys in Glenview, Ill., during an April 2009 survey of 49 retailers on their best-selling construction toys.
— "We sell the Magna-Tiles from Valtech really well on a consistent basis," Kim Emigh, VP of e-commerce at Growing Tree Toys in State College, Pa., told TDmonthly of her store's top-selling construction items in spring 2009. (

Watch Video) 10/3/2006 (MSRP: $49.50; Age: 3 to 7)



---
---


Copyright © 2020 TDmonthly®, a division of TOYDIRECTORY.com®, Inc.