---
Retailer Spotlight: Playmatters
"Strong Point of View" Brings Success to Four Stores
A milestone birthday and a visit to the Nuremburg Toy Fair helped nudge Michael Ziegenhagen to launch Playmatters in Cleveland in the early 1990s, and he hasn't looked back since.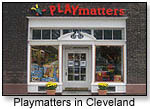 "At the age of 40, I came to the realization that I wanted to be in business for myself," he explained to

TD

monthly Magazine. "I looked for a business that not only would be financially viable, but that also would be inspiring for me in light of my interests and talents, and also that would respond to a need in the marketplace."

European Toys Inspire Cleveland Stores

The toy business inspired Ziegenhagen when he visited the Nuremburg Toy Fair in February of 1992; he opened his first store by September.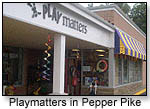 "I saw the traditional quality of the European toy market, and it really turned on a light," he explained.

Ziegenhagen holds an MBA in business and, for about a decade, worked in consumer product marketing for companies such as American Greetings and Matrix Essentials. He said that American Greetings served as a good segue into toys, because he had worked with many licenses from the toy industry. This work gave him valuable insight into the toy business and consumer products that were sold to women.

By 2002, Playmatters had grown to occupy four different locations in metropolitan Cleveland. One obstacle Ziegenhagen faced was balancing the different elements involved in a successful business.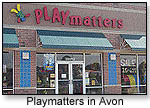 Each Store Is Unique

"It's site selection, finding the right location, the right demographic, and matching it to the right product assortment and service factor," he told

TD

monthly. "I was right on the mark in opening the first location, but in the subsequent locations, I had to sort of fine-tune the staff and the assortment to match the marketplaces."

Ziegenhagen now wishes he had been a bit more aggressive and opened more stores sooner.

"I think we could have been a multi-metropolitan area operation," he said. "Probably a little bit of venture capital could have achieved that level during the 1990s."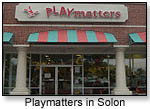 He noted that his stores stand out from their competition because most stores are no longer independent.

"Big box works on really long lead times," he said. "They don't work on a hands-on experience with product or with customers." This contrasts strongly with his own stores, he said, where "we're very close to our customers, and we maintain innovation and leadership in our product assortment. Not only is that assortment always fresh and engaging, but we also have the salespeople who are able to handhold and excite customers as they come through the door."

Staying Independent

One marketing lesson that Zieghenhagen has learned is the importance of having a very strong point of view, rather than blending into the woodwork and looking like everybody else.

"I think we've always conveyed a very strong point of view to our customers, and we've never strayed from our message of award-winning toys that teach, challenge and inspire."

To see Ziegenhagen's best-selling toys, please click here.


| | |
| --- | --- |
| | At a 2006 Toy Fair-related event, Michael Ziegenhagen, owner of four Playmatters toystores, discussed how important it is for retailers to share information. |

Writer's Bio:
Brenda Ruggiero is a freelance writer from western Maryland.
Read more articles by this author
THIS BANNER IS AN AD:
---
---