September 26, 2020

March 2007 | Vol. VI - No. 3


New Games Have Global Effects
Companies Capitalize on Foreign Markets and Language Skills
"The idea of being part of a quasi-real-life massively multiplayer experience appeals to just about everyone." — Rob Fleischer, Mind Candy Design

Japan is a hot market for Family Pastimes (ToyDirectory) games that trade competition for cooperation. An alternate reality game has attracted tens of thousands of players worldwide in the search for a hidden cube … and a $200,000 reward. And at least a couple of companies are taking language lessons to a new level, manufacturers told

TD

monthly Magazine.

Foreign Attraction

"The cooperative play principle [is] sort of my rule of thumb for designing games," said Family Pastimes President Jim Deacove. "I never pitch players against one another."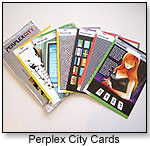 Deacove says his family-friendly approach is working, as it has gained popularity in the Netherlands, where his games are in 85 stores, and in other international markets such as Japan, where "they were really receptive to it."

As Season One of the alternate reality Perplex City game by Mind Candy Design winds to a close, online records reveal more than 50,000 active players, the company's Rob Fleischer told

TD

monthly.

"It's not constrained to one kind of medium," he said of Perplex City, which is now also a board game (distributed in the United States by University Games) but broadly encompasses playing cards, mobile phone interaction and live events across the globe.

"The idea of being part of a quasi-real-life massively multiplayer experience appeals to just about everyone, from hardcore MMO (Massively Multiplayer Online) players to puzzle-addicted moms and dads," Fleischer added.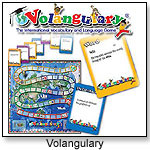 Speaking Up

When it comes to global communication, some manufacturers are taking a direct educational route to impact language skills. Sherwin Burrowes shared that his game Volangulary (ToyShow) aims to give immigrants an effective way to learn a new language, apart from a potentially embarrassing classroom setting.

"The goal of the game is that people would feel more comfortable using the language and be able to communicate better," he told

TD

monthly.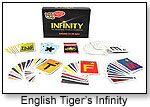 English Tiger Games, "though initially designed for ESL classrooms, can also be used by learners in English-speaking countries as educational aids and motivators," noted President Liam Finn.

"There's a certain amount of memorization and rote learning that has to go on initially in language learning. Any means of getting students to interact with the language could be helpful in that way," Dr. MaryAnn Christison, a linguistics professor at The University of Utah, told

TD

monthly about games designed to aid language study.

Something like English Tiger's Irregular Verbs Bingo, she noted, may not be effective alone because it's not contextualized, "but if Bingo follows a number of activities and it's a game to help [students] check what they've already learned, then it's fine."

English Tiger products are currently only sold in South Korean bookstores, but the company's "goal is to expand so that learners around the world can enjoy our useful and entertaining products," Finn added.

Read on to see what else is new in the world of games:
Coin Hopping - Washington D.C.™ by COIN HOPPING GAMES LLC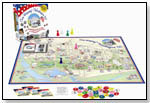 To play this game of strategy, players simply scatter coins on the board and then vie to become president, appoint Supreme Court justices, and even vote in Congress to change the rules. The game is fast-paced and topical as all eyes turn toward the 2008 U.S. election year. "People are interested in politics, and this game gives them a chance to become president and experience the balance of power among the three branches of government. It really captures the spirit of the city," Co-owner Joan Cartier of Coin Hopping Games told TDmonthly. The game board, a beautiful map of the National Mall and surrounding areas, invites exploration of the city and its landmarks. The game includes 50 destination cards with pictures of things to see, and is a patriotic experience Americans will find intriguing. For those thinking of taking the family to D.C., it's more fun than a guide book and provides a way to involve the whole family in the vacation planning. The game has received the following awards: 2007 iParenting Media; Dr. Toy's 100 Best Children's Products 2008; Dr. Toy's 10 Best Board Games 2008; and Creative Child Preferred Choice 2009. Launch date: March 2007. (

Watch Video) 12/5/2006 (MSRP: $29.95; Age: 8 to Adult)



Piratack™ - The Board Game by GIDDY GOOSE 'N GANDER GAMES LLC



Aaarr! Hoist your sails and set your course for high seas adventure in Piratack. This thrilling new board game beckons you into a world where all can join in swashbuckling fun. Players must throw caution to the winds as their ships voyage through tranquil and stormy seas or pass through whirlpools. Ships must trade cargo to increase their strength in cannons because when time runs out, you can't escape...
Piratack. In the end, the fiercest will battle for the ultimate sovereign rule as Piratitan.
— "Innovative game play along with eye-catching graphics are two fundamental goals of our designs," Gerry Groundwater, owner and founder of Giddy Goose 'n Gander Games, told TDmonthly. "Although it costs more, we opted for hand-drawn graphics as a way of differentiating our product. This makes our approach and games particularly suited to specialty retailers."
— "The more players you have, the more fun you have (because there are more ships to attack!)," raved Susan Ledford, a Homeschoolers Roundtable mom who reviewed the game for TDmonthly. (

Watch Video) 1/2/2007 (MSRP: $29.95; Age: 8 and Up)



Baseball Board Game by FUN GAMES INC.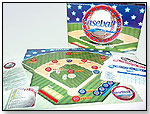 This easy-to-learn game for two players features a baseball-diamond board design and includes two dice, chips that represent players, a scoreboard to keep track of runs and outs, and a statistical sheet to follow up singles, doubles, triples and other plays. It is based on aspects of the baseball game played around the world. The game consists of odd innings (five, seven or nine), and championships can be played by preliminary rounds. Baseball's Board Game is endorsed by Carlos Lee, Star Game player in 2005 and 2006, MLB Home Run Derby 2005, and current star of the Houston Astros.
— "In [the] USA [and] some countries in Latin America and Asia, the sport of baseball is the number one in preference of the people," Aurelio Rodríguez, marketing director for Fun Games, told TDmonthly. Baseball's Board Game "is different because it is just like real baseball and now there are no similar board games in the market," he added.
— "All four children enjoyed playing the game — my daughter included," enthused Teresa Wilson, an evaluator for TDmonthly's Homeschooling Roundtable. "I can play baseball and not sweat" relished 8-year-old Alyssa. Wilson summed up by saying that "the children concurred with the product's claim [that it's] 'just like real baseball.'" 1/8/2007 (MSRP: $24.95; Age: 6 and Up)



Seekers of the Sacred Icons by FAMILY PASTIMES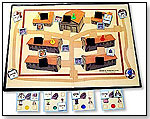 Barbarians have stolen four containers with special parchment revealing the secrets to gaining Truth, Beauty, Compassion and Freedom, but these cannot be opened without the Secret Codes, kept by the Ten Guardians of the Codes. The ruthless Barbarians have imprisoned the Ten Guardians in the Walled City, and the Seekers must restore the Sacred Icons to their four Spiritual Power Centers —
a difficult task that's not for the faint-hearted. "All of [the games] I designed are based on the cooperative play principle," President Jim Deacove of Family Pastimes told TDmonthly. "Strong players are not put in the position to take advantage of the other players." Launch date: January 15, 2007. 1/16/2007 (MSRP: $22.00; Age: 10 and Up)



Happy Retirement™ by MARTY'S GAMES CORP.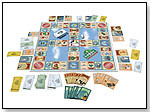 The object of the game is to achieve a Happy Retirement by obtaining a balanced lifestyle (an outcome that most people do not achieve in real life). Players acquire lifestyles and an income that are generally beyond a typical person's means. Players have to make sets consisting of three different types of lifestyles: expensive (e.g., traveling the world), not so expensive (e.g., mountain-bike trips) and free (e.g., good friends). Not included in the rules is the fact that the most valuable lifestyles to own are the ones that are free. Players find this out during game play. The most valuable attribute on the board is "Positive Attitude." Although the game was designed for Baby Boomers, children love to play it, too, because you can't get "bumped out" of the game. They also like having fistfuls of money. Parents consider the game to be educational and fun, as kids learn about values, negotiation and the cost of living. Game play runs 90 minutes. President Martin Kral of Marty's Games Corp. said his game "touches a part of everyone's lives. ...There are currently 90 million people in North America over the age of 50, and in 20 years, there will be over 180 million, and they all want a Happy Retirement." (

Watch Video) 11/28/2006 (MSRP: $29.95; Age: 8 to Adult)



WildWords by WILDWORDS GAME COMPANY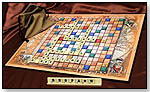 For explorers and adventurers in the world of words comes this crossword game with a wild card: If you land on the right space, one tile can represent more than one letter. And asterisk tiles can mean any combination of letters you wish. But you don't have to tell your opponent what that is: Will he call your bluff, or let the word stand? Even lifetime word gamers will be styling plays they never before dreamed possible. The game includes a board, four trays, 94 game tiles, six spare tiles, a cloth bag and an instruction book. Also included is a free two-player PC online version with chat (a $12.95 value). Wholesale pricing for six units within the continental United States includes shipping.
— Inventor Peter Roizen told TDmonthly his game "levels the playing field between a Scrabble expert and a normal newspaper reader. In a sense I [created] it out of revenge," he said, so the game couldn't be won with little-known two-letter words. Though many shoppers tend to go with the game's classic rival, Roizen has found that in-store demos are good for sales.
As of 08/26/2011 this product is not sold to retailers. 10/26/2006 (MSRP: $29.95; Age: 10 and Up)



Volangulary: The International Vocabulary and Language Game by VOLANGULARY LLC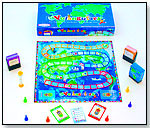 This game of multiple levels challenges one to six players or two to six teams to test and improve their vocabulary, language and communication skills. Players move game pieces around the board toward the winner's circle, collecting PASS and BLOCK cards that add a dimension of strategy and planning. Volangulary is designed for competition among players of all ages and intellect, and younger players benefit from playing against those who are older because they get exposed to higher-level vocabulary and definitions. The brain soaks up these words and retains them (the Brain Sponge Syndrome). Multiple languages are available. Launch date: December 18, 2006.
— Inventor Sherwin Burrowes created this game to "make it fun for my kids doing their homework," but told TDmonthly its purpose is also to help foreigners with language skills. "Use it for five years," he challenges younger players, "[and] I guarantee that you'll have such a large vocabulary that you'll do well on the SATs."
(

Watch Video) 1/5/2007 (MSRP: $29.99; Age: 5 and Up)



Irregular Verbs Bingo by ENGLISH TIGER GAMES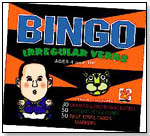 English Tiger has taken the classic game of BINGO and added a twist to make learning more fun. In this set of BINGO cards, players learn irregular verbs in an easy and entertaining way. The unique design allows teachers to change game play depending on student ability so that they can become even more familiar with the words. The special game cards are double-sided and have colorful pictures to help learners associate them with the words. Launch date: January 1, 2007.
— "In today's ESL market, a lot of focus has been put on CAL (Computer Assisted Learning), which we believe has its benefits but removes some interactive elements from the learning process," President Liam Finn of English Tiger Games told TDmonthly. "Our products engage learners through lively game play and encourage students to exhibit cooperation in the classroom." 1/9/2007 (MSRP: $19.99; Age: 4 and Up)



Perplex City by UNIVERSITY GAMES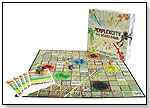 In the world of family games, University Games is introducing a new spin on puzzles with Perplex City, the thrilling new board game of brainteasers. Perplex City requires and reinforces logic, ingenuity, cunning and quick wits.
— "Perplex City differs from other products because the game combines every type of puzzle you can imagine: Logic-based, riddle-based, visual, sequence and trivia-based puzzles have all been wrapped up in this dynamic board game with inspired gameplay," Matthew Crovitz of University Games told TDmonthly. Launch date: March 2007. 1/5/2007 (MSRP: $34.99; Age: 15 and Up)



CrossAx by ATAKAMA-GAMES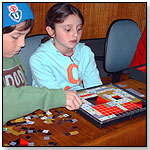 This game challenges players to place symbol tokens in order to form linear strings of different symbols and place as many conquest tokens of their own color as possible. The game ends when no more moves can be made. Usually the game allows about seven turns for each player, and the games last less than 35 minutes. Luck will never be the key to winning, and there is no other similar game available. "CrossAx is a unique, pure strategy, addictive, easy-to-learn, short-time game," President Eduardo Gonzalez of Atakama-Games told TDmonthly. Launch date: August 2007. 2/27/2007 (MSRP: $28.99; Age: 8 and Up)



Mindgammon by MINDGAMMON INC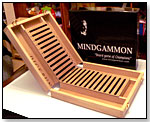 Created by a backgammon champion, Mindgammon is the board game designed for today. It captures the essence of the original "backgammon" while making it interestingly different. Every roll of the dice challenges the mind and it is literally a thrill a roll. Whether you have twenty minutes or two hours, Mindgammon will take you and your mind away from the monotony and rigor of your day and recharge your brain and outlook of life. You can play Mindgammon with someone just for fun or to hone your competitive skills. It is possible your playing partner may not be your best friend after you have beaten him/her a dozen times in a row. But, do remember it is only a game!" Have fun! 2/23/2007 (MSRP: $29.95; Age: 6 and Up)



Kilt by GIBBY GAMES LLC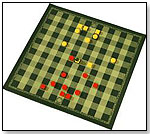 Kilt is a game of pure strategy in which each player assumes the leadership role of one of two opposing Scottish clans. The objective is to direct clansmen across the field, grab the rock, keep control and score it in your opponent's well. On each turn, a player gets two moves — one diagonal and the other horizontal or vertical. Players can bump pieces around the playing field to change the avenues of attack. "The plaid design was specifically used to make finding the perfect moves more difficult, as the four-tone green plays tricks on your eyes. Another of Kilt's qualities is the deep-thinking game play that is created by forcing players to take two moves per turn," Vice President Robert Short of Gibby Games told TDmonthly. Launch date: February 2007. 2/21/2007 (MSRP: $19.99; Age: 8 and Up)



The Wonderful Wizard of Oz by FRONT PORCH CLASSICS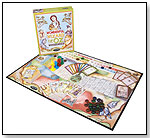 Players can relive America's most beloved children's tale in this adventure based on L. Frank Baum's classic fairy tale. One to five players venture through the Land of Oz with friends Dorothy, the Scarecrow, the Tin Woodsman and the Cowardly Lion to outsmart the Wicked Witch. The game includes basic and advanced rules. "Unlike most games where players play against each other … players play as a team against the Wicked Witch of the West, which is represented by a card deck. This cooperative game play is a very appealing element for a family game," Marketing Coordinator Steve Hart of Front Porch Classics told TDmonthly. Launch date: THIS PRODUCT HAS BEEN TAKEN OUT OF PRODUCTION 4-17-07. (

Watch Video) 2/21/2007 (MSRP: $24.95; Age: 8 and Up)



DICEcapades! by HAYWIRE GROUP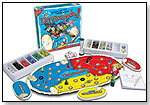 Same great game as the original version but now with more cards! Think you can stack dice on your face? Will you dominate in arm wrestling? How about obscure facts? Got a handle on those? With a mixture of dice games, physical challenges, artistic creations, and trivia questions that will exercise both sides of your brain, you'll see why DICEcapades isn't just the luck of the dice - it's the smarts of the roller! This tabletop game will provide hours of fun with your friends and family. Customize the length of the game to fit your time frame - whether you want to play a marathon session or a quick game, the rules are adaptable to fit what YOU want! For 2-6 players.
— Michelle Deutschmann, owner of Kaleidoscope Toys in Falmouth, Mass., told TDmonthly in a February 2013 survey that DICEcapades! was one of their best selling games. 2/19/2007 (MSRP: $19.99; Age: 12 and Up)



Halley's Revenge by RAINBOW GAMES INC.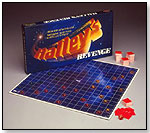 Halley's Revenge is a light strategy game with the excitement of a high-speed chase. The game is for two to four players, and the object is to capture as many of an opponent's satellites as possible before the comet takes over the board. Halley's Revenge has no limit to its wrath, and it moves at an incredible rate, gobbling up everything in its path. As Halley's comet occupies more spaces, satellite movement becomes more difficult. Halley's comet is out for revenge. Approximate playing time is 20 to 30 minutes. 2/19/2007 (MSRP: $19.95)



Play by the Book by EDUCATIONAL INSIGHTS INC.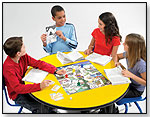 This game uses fiction to develop reading comprehension skills, literal recall and literary analysis. Players read the same chapter or short story, and then travel through regions that represent different genres and feature familiar characters. The objective is to reach THE END by answering questions and judging players' answers with facts from the story. Players on "action spaces" may act, make up rap song or more. "This is a great way for parents to get reluctant readers interested in reading stories. It is easy for even the beginning reader to play, yet can move up in difficulty as the stories become more complex," Kati Elliot of KEH Communications told TDmonthly. Launch date: July 2006. 2/19/2007 (MSRP: $29.99; Age: 8 and Up)



---
---


Copyright © 2020 TDmonthly®, a division of TOYDIRECTORY.com®, Inc.