April 16, 2021

February 2007 | Vol. VI - No. 2

---
Games: Throw Out the Tokens
Innovation Comes From Every Direction
In 2007, are game pieces passé? Beginner Dinner Games from FamilyTimeFun replaces traditional boards and tokens with cutlery and other items on the dinner table, as players dine and play simultaneously. Another game that couldn't quite take the token-free plunge is Beer Chess from MegaChess.com (ToyDirectory) — there are still traditional pawns and queens, but they clip onto the tops of soda and beer cans.

Here are the new games for 2007 that manufacturers say build upon, change and challenge traditional play:
Tivitz by SAS GAMES INC.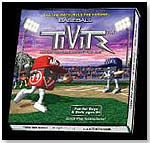 Tivitz is a teacher-endorsed, challenging math and strategy game. Players move tivits, which are like dice and have a different number on each of six sides, across the game board, trying to strategically land on score values on the other side. The object is to capture goals that, when combined with the tivits value, create equations that give the highest-point scores. Baseball, Space, Aqua and Soccer versions are available. "Tivitz has proven to be an entertaining, fun and effective tool that helps kids think, learn and perform, better and more confidently," Joe Whitaker of SAS Games told TDmonthly. "TiViTz is not just your standard educational board game," added Vice President Jennifer Brand of Crosby-Volmer International Communications. "Teachers, educators and school officials across the country have praised the game for having a significant impact in helping to increase student's standardized math test scores." This product received a Spring 2007 Parents' Choice Award and a Spring 2007 Seal of Approval from the National Parenting Center, in addition to being named on Dr. Toy's Spring 2007 Best Products List. Launch date: January 2007.
— Alison Shanahan, who evaluated Tivitz for TDmonthly's Homeschooling Roundtable, noticed that while her kids played the game, "They were very silly, discussing space conquest." But that didn't stop them from learning: "I noticed that while attempting to achieve inter-galactic domination, they focused on getting correct mathematical outcomes," she said. (

Watch Video) 12/14/2006 (MSRP: $29.95; Age: 8 and Up)



Hyper Dash by WILD PLANET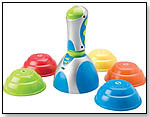 Hyper Dash is a fast-paced electronic game, for one to eight players, that encourages physical activity while challenging speed, skill and agility. It's easy to pick up and hard to put down, as players want to conquer the next level and beat their best time. The game's five targets can be arranged in any way, and players dash among them based on what the electronic tagger calls out. Different modes focus on math skills, teamwork and timed tests. This product is a winner of numerous awards, including a Fall 2007 Parent's Choice Award, an iParenting Media Award, a 2007 Oppenheim Toy Portfolio Gold Seal Award, a 2007 Creative Child Seal of Excellence Award and a 2007 BabyZone Amazing Toy Award. Launch date: Fall 2007. (

Watch Video) 1/5/2007 (MSRP: $19.99; Age: 5 and Up)



Ministers Chess — Third Edition by CORINTHIAN GAMES LTD.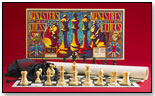 In this game invented by Michael J. Corinthios, Ph.D., two Queens re-named "Ministers" flank the King, establishing symmetry and thereby correcting an anomaly of the structure of chess. A 9x9 folding board and nine pawns per player add space and power, and a conventional 8x8 pattern is on the back side. This 3rd edition includes tournament-sized plastic pieces plus a vinyl roll-up board (19.5" x 19.5") and cloth bag (12" x 7"). "Chess variants have come and gone. This variant is distinguished by its utmost respect for chess. This game constitutes the least deviation … the only change being the perfection of symmetry," Dr. Corinthios told TDmonthly. Launch date: November 17, 2006. 12/12/2006 (MSRP: $29.99; Age: 7 and Up)



Beer Chess by MEGACHESS.COM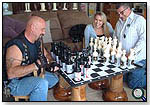 This plastic MegaChess set utilizes a system in which the chess pieces clip onto the tops of beer or soda cans. The game includes 32 chess pieces, a vinyl chess board and a carry box. Launch date: January 1, 2007. 1/8/2007 (MSRP: $89.00; Age: 100 to Adult)



Reel Deal Card Games by PHANTOM EFX INC.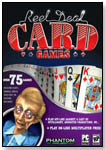 Phantom EFX introduces its first all-card PC games. These are fully integrable with the Phantom online casino, offering for the first time an online component to a card game-only title. There are more than 60 featured classic card games, such as Euchre, Gin, Cribbage and Bridge.
— "Players of Card Games are automatically invited into Phantom's online casino to play and chat with other players. … Also unique to Reel Deal Card Games is a full prize vault, offering players fun and exciting incentives for winning a hand and beating out the other players," Jim Thompson, president of Phantom EFX, told TDmonthly. Launch date: March 1, 2007. 1/8/2007 (MSRP: $19.95; Age: 13 and Up)



University Games - Five Little Monkeys Jumping on the Bed™ by UNIVERSITY GAMES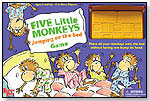 Based on the well-known nursery rhyme, Five Little Monkeys Jumping on the Bed introduces children to counting and strategy while developing fine motor skills.
— "The little monkeys actually jump off the bed!" noted Matthew Crovitz of University Games. "The included bed randomly ejects the monkeys, bringing smiles and giggles to preschoolers as they learn to count." Launch date: March 2007. (

Watch Video) 1/5/2007 (MSRP: $19.99; Age: 3 to 9)



Tongue Tanglers by ENGINUITY GAMES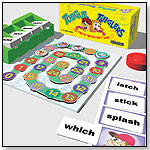 In Tongue Tanglers, players make tongue twisters for each other using 900 words on 450 cards. They have 10 seconds to say the tongue twister that an opponent devised, as many times as possible. This product is a 2008 iParenting Media Award winner. Launch date: August 15, 2007. (

Watch Video) 1/25/2007 (MSRP: $24.95; Age: 8 to Adult)



Volangulary: The International Vocabulary and Language Game by VOLANGULARY LLC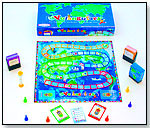 This game of multiple levels challenges one to six players or two to six teams to test and improve their vocabulary, language and communication skills. Players move game pieces around the board toward the winner's circle, collecting PASS and BLOCK cards that add a dimension of strategy and planning. Volangulary is designed for competition among players of all ages and intellect, and younger players benefit from playing against those who are older because they get exposed to higher-level vocabulary and definitions. The brain soaks up these words and retains them (the Brain Sponge Syndrome). Multiple languages are available. Launch date: December 18, 2006.
— Inventor Sherwin Burrowes created this game to "make it fun for my kids doing their homework," but told TDmonthly its purpose is also to help foreigners with language skills. "Use it for five years," he challenges younger players, "[and] I guarantee that you'll have such a large vocabulary that you'll do well on the SATs."
(

Watch Video) 1/5/2007 (MSRP: $29.99; Age: 5 and Up)



Civil Lore! – The Game of American Culture by EVOLVING TOYS LLC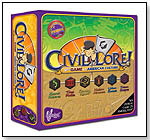 Players battle to win the board using their knowledge of America's cultural lore. They strategize and stake flags that others try to topple. Six fun cultural categories contain questions about folk stories, urban legends, roadside attractions, amazing oddities, unsolved mysteries and many other varieties of fascinating cultural lore.
— "Unlike pop culture trivia games, Civil Lore! lets you explore the deeper roots of American culture through high-quality questions about American cultural history and contemporary folklore," President Geoffrey Moran of Evolving Toys told TDmonthly. It "contains over 2,000 high-quality themed questions and comes with a deluxe accordion-fold game board." Launch date: February 1, 2007. (

Watch Video) 1/8/2007 (MSRP: $29.95; Age: 13 and Up)



The Amazon Hop: A Madcap Jungle Adventure Game by MOMS ON EDGE LLC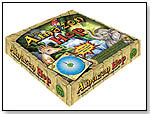 Teach little ones good behavior, manners and social skills while having lots of swinging, screeching and squawking fun. This game comes with 50 question cards,16 lily pads and stone foam pieces, and a Jungle Activity wheel. When a child answers a question correctly and hops to the next foam pad, the spinner is spun and he acts out one of 16 activities, such as "Hop like a tree frog," or "Trumpet like an elephant." The finish line marks the crossing of the "Amazon River."
— The game "encourages parents and caregivers to take an active role in their young child's development," Elena Neitlich, owner of Moms on Edge, told TDmonthly. Launch date: 2006. 1/5/2007 (MSRP: $24.95; Age: 3 and Up)



Baseball Board Game by FUN GAMES INC.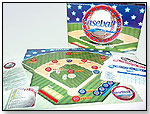 This easy-to-learn game for two players features a baseball-diamond board design and includes two dice, chips that represent players, a scoreboard to keep track of runs and outs, and a statistical sheet to follow up singles, doubles, triples and other plays. It is based on aspects of the baseball game played around the world. The game consists of odd innings (five, seven or nine), and championships can be played by preliminary rounds. Baseball's Board Game is endorsed by Carlos Lee, Star Game player in 2005 and 2006, MLB Home Run Derby 2005, and current star of the Houston Astros.
— "In [the] USA [and] some countries in Latin America and Asia, the sport of baseball is the number one in preference of the people," Aurelio Rodríguez, marketing director for Fun Games, told TDmonthly. Baseball's Board Game "is different because it is just like real baseball and now there are no similar board games in the market," he added.
— "All four children enjoyed playing the game — my daughter included," enthused Teresa Wilson, an evaluator for TDmonthly's Homeschooling Roundtable. "I can play baseball and not sweat" relished 8-year-old Alyssa. Wilson summed up by saying that "the children concurred with the product's claim [that it's] 'just like real baseball.'" 1/8/2007 (MSRP: $24.95; Age: 6 and Up)



WonderGo by WONDERCHESS LLC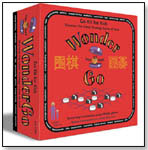 WonderGo is a Go teaching kit for kids. It helps them discover the greatest strategy game of Asia using prize-fillable Go stones and a fully illustrated lesson book. This product was named one of Dr. Toy's Best Products for Spring 2007 and received the 2007 Game of the Year Award from Creative Child Magazine. Launch date: February 2007. (

Watch Video) 1/4/2007 (MSRP: $24.99; Age: 4 and Up)



Resin Chess Set With 2-ft. King by MEGACHESS.COM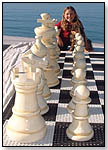 This resin MegaChess set is the company's least expensive set in the popular 2'-high king height. It is rugged and solid, and features the traditional Staunton style that is familiar to all chess players. Wholesale price discounts are available; conditions apply. Launch date: January 1, 2007.
— "The single quality that makes these toys stand out from their competition is that there are none like them. We did the original design and own the tooling," CEO Peter Shikli of MegaChess told TDmonthly. 1/8/2007 (MSRP: $395.00)



The Game Chamber™ by DAZE PRODUCTS INC.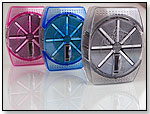 The Game Chamber is an innovative locking storage unit for games, movies or videos. These models, for Nintendo Gameboy Advance, Gameboy Advance SP, Nintendo DS, and DS Lite come in blue, pink and silver shades.
— The product "prevents kids from losing or damaging their games, because they have to put the game cartridge or CD/DVD they are playing with away if they want to play with another," Sherri Sklar, VP of sales and marketing at Daze Products, told TDmonthly. "There is currently nothing else out there in the market that singlehandedly organizes the games, protects [them] from being lost or damaged, and teaches children personal responsibility." For price, contact Daze. Launch date: February 11, 2007. (

Watch Video) 1/12/2007 (MSRP: $14.95; Age: 4 to 15)



Sshh! Mom's Asleep! by FAMILY PASTIMES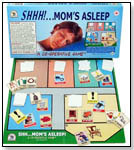 Players must be careful not to wake Mom and Baby while they use tools around the house to get the afternoon chores done. The dog might bark or someone might knock over pots and pans, but players must learn to deal with these events. This game encourages storytelling, discussion, imagination, logic, teamwork and learning about practical things around the home. The company requires a minimum game order (can include other titles) of $100.
— "While most of the chores have specific solutions, a variety of others need you to create your own solutions and explain them to each other," Jim Deacove of Family Pastimes told TDmonthly. It's different from other games, he added, because "how many games do you know that feature being kind to your Mom and helping with the chores?" Launch date: January 2007. 1/5/2007 (MSRP: $15.00; Age: 5 to 8)



Trhyme Jr. - The Legend of the Book of Rhymes by L. M. RDEUX INNOVATIONS INC.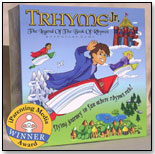 In this rhyming word game, children are transported through the Land of Koob as they fly on a magical book, answer clues with words that rhyme, and test their fate along the way. Colliding imagination and adventure with word fun sparks curious minds. Trhyme Jr. is indeed a high-flying journey in fun where rhymes rule. Players may encounter a "Twist of Fate" that could either be lucky or yucky. "Trhyme Jr.'s unique rhyming challenge is a favorite of children, parents and teachers alike," VP Linda Polaski of L. M. Rdeux Innovations told TDmonthly. This product received a Best Products iParenting Media Award for 2007. Launch date: November 2006. 1/12/2007 (MSRP: $21.99; Age: 7 and Up)



Perplex City by UNIVERSITY GAMES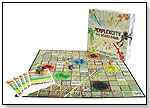 In the world of family games, University Games is introducing a new spin on puzzles with Perplex City, the thrilling new board game of brainteasers. Perplex City requires and reinforces logic, ingenuity, cunning and quick wits.
— "Perplex City differs from other products because the game combines every type of puzzle you can imagine: Logic-based, riddle-based, visual, sequence and trivia-based puzzles have all been wrapped up in this dynamic board game with inspired gameplay," Matthew Crovitz of University Games told TDmonthly. Launch date: March 2007. 1/5/2007 (MSRP: $34.99; Age: 15 and Up)



Fiki Soccer by FIKI SPORTS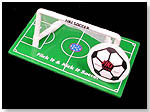 Continuing the tabletop sports theme, this Flick It & Kick It game comes with a genuine leather soccer "ball" with a goal, net and mock soccer field that serves as the base of the game. Launch date: February 2007. 1/12/2007 (MSRP: $7.99; Age: 6 to 80)



NFL Fiki Football by FIKI SPORTS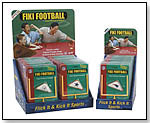 This licensed Fiki Football is available with logos from all 32 NFL teams. The genuine leather triangle "football" comes with a goalpost and a mock football field that serves as the base of the game. Launch date: February 2007. 1/12/2007 (MSRP: $7.99; Age: 6 to 80)



Silly'ables by RAINBOW GAMES INC.

Silly'ables is a hilarious word game for 2 to 8 teams. Each team rolls a die, and by that roll, knows whether to solve a one-, two-, or three-syllable word. Each team chooses a partner to be either the giver or receiver of clues, and they will alternate roles each time. The giver of the clues can draw, make gestures or give one-word clues as the partner guesses. Fast paced and fun, this game goes from one to three syllables in 60 seconds or less! Approximate playing time, depending on the number of teams, is between 30 and 60 minutes. 9/25/2006 (MSRP: $24.95; Age: 12 to Adult)



All Around Town by WIZ KIDS LLC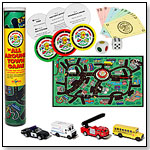 All Around Town is played on a high-quality felt mat with detailed town and road graphics. Players travel to the Doctor, Dentist, Fire Station, Police Station and elsewhere as directed by the playing cards, either spending or earning money while obeying stoplights and road signs. Parents can interact with children and teach valuable health and safety facts during the fun, educational game.
— "The All Around Town game is completely unique in its look and play from traditional games. All of the components were selected to make this a truly new game experience for children," Wendy Spagnolo of Wiz Kids told TDmonthly. Launch date: February 11, 2007. 1/8/2007 (MSRP: $39.99; Age: 5 and Up)



Bella Sara 2nd Series by HIDDEN CITY ENTERTAINMENT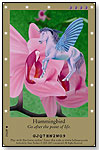 The Bella Sara Second Series features new swimming, flying and fantasy horses. Bella Sara Second Series is a unique new trading card game and online environment for girls that features uplifting messages, such as "Beauty Comes From Within." Each blister-packed card pack contains five random horse and/or energy cards and one random activity card; the Bella Sara Second Series set contains 130 cards total. The corresponding Bella Sara website enables girls to nurture their virtual horses, play games and explore a magical online world. This product is a Spring 2007 Dr. Toy Best Product Award winner and a 2007 iParenting Media Excellent Product Award winner. Launch date: March 2007.
— "Bella Sara's positive messages make it a rare product that is uplifting for girls and one that parents can feel comfortable introducing to their daughters," Andre Lawless, director of marketing for Hidden City Games, told TDmonthly. 1/4/2007 (Age: 5 to 12)



Poppo! by POPPO BRANDS LLC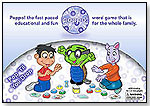 Poppo! is a fast-paced word game that is educational and fun for the whole family. Parents want fun, challenging and educational activities for their kids. Kids want to play right away, hate to wait, love challenges and definitely want to win. Peter Poppo and his pals come together in this exciting, new game specially designed for emerging readers. Your child pops the lettered dice in the poppers and matches them with the word or picture on the card. Being able to rearrange and assemble letters into words in a fast-paced setting is challenging and fun. Once children master the fundamental connection among the letters, the words and the pictures they see, they will be well on their way to becoming excellent readers. Poppo! received a 2007 Major FUN Award, The National Parenting Center's 2007 Seal of Approval and a Spring 2007 Best Products Award from Dr. Toy.
— "We offer educational, character-building products that help to bring adults and kids together," Chief Executive Optimist Michael Vien told TDmonthly. "Specialty stores are going to be able to create a Poppo! package of games, books, toys and plush characters in a way that will let customers consume products in the way they want to, by interacting simultaneously across multiple-delivery methods." He added that there will soon be a Poppo Pals virtual online community for kids and parents to learn and play together.
— Poppo! garnered a TDmonthly Top Toy 2007 award for being a simple, yet useful, educational word game with the undeniable fun factor of poppers. It also introduces new characters and thrives off of the company's well-articulated and executed mission of enriching lives through play. (

Watch Video) 10/27/2006 (MSRP: $24.99; Age: 4 and Up)



Blindside by RAINBOW GAMES INC.

Blindside is a pure strategy game for 2 players. The object of the game is to capture your opponent's movement arrows. Each player has seven hex game pieces, with two to five movement arrows in each hex game piece (23 total movement arrows). Players must beware of the special blue pivot spaces on the gameboard, which allow their opponents to move in any direction they choose for one or two spaces. The object of the game is to be the first player to capture 17 of your opponent's movement arrows. Approximate playing time is 1 hour. 9/25/2006 (MSRP: $19.95; Age: 8 to Adult)



---
---


Copyright © 2021 TDmonthly®, a division of TOYDIRECTORY.com®, Inc.