April 14, 2021

February 2007 | Vol. VI - No. 2

---
Science & Education: Toy Boots Pluto
Innovative Companies Team Up With the Stars
Great Explorations' glow-in-the-dark 3-D Solar System stays up-to-date by banning Pluto and adding three dwarf planets. Our most important star powers the new Solar Robots from Uncle Milton Industries, and a portable system from Toto Products (ToyDirectory) allows parents to reward children with redeemable Star Stash coins, anytime and anywhere.

Read on to see what else is new in the educational universe:
Solar Robots™ by UNCLE MILTON INDUSTRIES INC.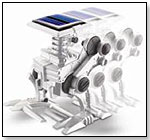 Solar Robots use real solar cells to power themselves. Using only the power they harness from the sun, these robots can walk around. Solar Robots are available in two styles and are for outdoor use only. Launch date: Spring 2007. (

Watch Video) 1/5/2007 (MSRP: $12.99; Age: 6 and Up)



3-D Solar System by GREAT EXPLORATIONS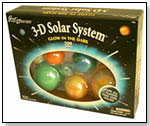 The Great Explorations division continues to illuminate the galaxy coinciding with the renewed interest in planets and space. The newly updated 3-D Solar System and 3-D Planets in a Tube both capture the "new" solar system after astronomers redefined the planets in 2006.
— "The new Glow-in-the-Dark 3-D Solar System is innovative because it is the first product to capture the newly updated solar system with eight planets and three dwarf planets," Matthew Crovitz of University Games told TDmonthly. Launch date: February 2007. 1/5/2007 (MSRP: $19.98; Age: 5 to 15)



Slooh Explore Space Live Activity Books – Volume 1 by BLUESTORM PRODUCTIONS INC.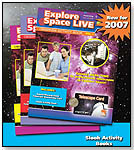 These activity books provide a great way for families to learn about celestial objects, and then see them in real-time, where they can take pictures, print them out, and paste them in their books. They can also fill in information such as distance from the earth and sky conditions at the time of viewing. Each book contains 14 missions and has a telescope card sealed on the front cover.
— Slooh Explore Space Live is the "only product in the marketplace that teaches kids/adults about our universe and then provides the mechanism to go see these celestial objects live by accessing high-powered telescopes through a home computer," commented Patrick Paolucci of Bluestorm. Launch date: February 2007. (

Watch Video) 1/8/2007 (MSRP: $14.95; Age: 6 and Up)



"Wild Science" Eco System by TREE TOYS CORP.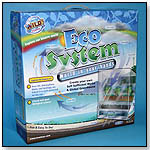 Children can create their own self-sufficient world and global greenhouse with this product. They can explore closed and open biological systems, learn how life, atmosphere, water and geology are linked in a cycle powered by the sun, grow plants in microhabitats, track temperature changes, create rainstorms and more. ToyOps distributes this toy. This product appeared on Dr. Toy's Spring 2007 Best Products List.
— "There has never been a true Eco System developed for the toy industry, and in today's changing world of global warming and greenhouse gas emissions, we look forward to helping children under[stand] this and how their precious resources can be secured for the future," Dennis Callaghan of TreeToys Corp. told TDmonthly. Launch date: May 2007. 1/5/2007 (MSRP: $39.95; Age: 8 and Up)



The Bear Bear and Messer Combo Package by SPAZZMANIA ENTERTAINMENT INC.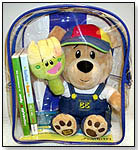 This package includes two award-winning educational DVDs, "The Bear Bear and Messer Show: Shapes and Colors" and "The Adventures of Andy Applebutter," as well as Bear Bear and Messer plush toys in a clear backpack. The DVDs are targeted to ages 2 to 5 and 4 to 7, respectively, and teach color identification, word recognition, social skills and life lessons. Both come with a free downloadable activity book. The product received the 2007 Teachers' Choice Award for the Family.
— President Lin Tam of Spazzmania Entertainment believes her product will do well in specialty stores "because there are not enough educational toys or DVDs that really focus on that market. These … are designed to help bridge a gap of communication between parent and child," she added. "Both shows have garnered excellent awards and reviews." Launch date: Fall 2006. 1/3/2007 (MSRP: $29.98; Age: 2 to 7)



Rocket Phonics by CHILDREN'S U.com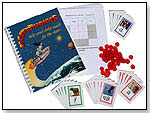 Rocket Phonics is a research-based, scientifically proven method of teaching reading. It is hands-down the best phonics program available today; it's fast, fun, easy-to-use, and more than three times as effective and half the cost of competing programs. Students will be reading by the end of the first lesson.
— In an evaluation of 43 homeschooled children, UCLA professor James Catterall "found that no one who did more than one Rocket Phonics lesson failed to improve, while the controls (all other groups) had a 30 percent failure rate," Stephen Guffanti, MD, CEO of Children's U.com, told TDmonthly about what makes the program unique. Launch date: March 2007. 1/5/2007 (MSRP: $139.99; Age: 5 to 10)



Sing & Read With Greg & Steve – Rhyme Time by CREATIVE TEACHING PRESS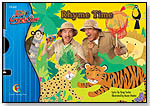 Award-winning Greg & Steve have transformed 12 of their most popular songs into delightful readers. These fun and whimsical stories address early childhood themes and invite children to follow the words while singing along with the CD ($14.99) that accompanies the series. The catchy melodies and lyrics teach children about colors, numbers, friendship and cooperation. A variety pack with one of each book retails for $35.88, and a variety pack with the CD retails for $50.87.
— "Greg & Steve have sold more than three million recordings, ranking them as the number one children's music duo in the country," Gabrielle Falcone, marketing coordinator for Creative Teaching Press Inc., told TDmonthly about the product's uniqueness. Launch date: January 2007. 1/5/2007 (MSRP: $2.99; Age: 4 to 6)



See-Thru Mini Sensory Table by JONTI-CRAFT INC.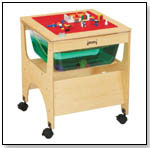 This clear, tough, 9"-deep acrylic tub provides an interesting perspective on sensory play. It is great for teaching lessons such as floating versus sinking, and the bottom drain plug makes clean-up a snap. The cover includes a Lego-compatible plate so the item can pull double-duty as a play table. It is ready to assemble and measures 20½" wide x 20½" long x 24½" high.
— This product "stands out from the competition due to quality. [It] features Jonti-Craft's exclusive KYDZTuff® finish, which is tougher than the finish on a gym floor. The unit is backed by a five-year warranty!" Nick Schwarz, vice president of marketing for Jonti-Craft, told TDmonthly. Launch date: December 1, 2006. 1/5/2007 (MSRP: $291.20; Age: 4 to 10)



My Community 1.1 by SOCIAL SKILL BUILDER INC.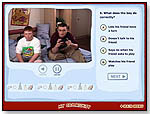 This program teaches children and teens appropriate social behaviors, interactions, expectations and precautions with peers and adults within their community. The CD incorporates more than 350 video sequences of real people interacting in various settings (restaurant, doctor's office, friend's house, grocery store), and allows users to predict what should be said or done. It targets a broader age range than the first version of "My Community," and is Macintosh and IBM PC compatible.
— "The CD-ROM technology allows for repetition and practice, which will enable the individual using it to effectively learn the desired behaviors," Jennifer Jacobs, M.S. CCC-SLP, co-founder of Social Skill Builder Inc., told TDmonthly. "There are no other tools on the market that equal this teaching tool in this format." Launch date: January 2007. 1/12/2007 (MSRP: $89.99; Age: 8 to 18)



Smartkids Performer PL-680 by CONCEPT ENTERPRISES INC.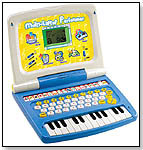 This multi-laptop performer includes a music tutor with a book, a 200-word vocabulary, arithmetic activities and bilingual (English/Spanish) capabilities. "The PL-680 is not only a learning laptop with 18 fun educational activities; it [also] has a piano keyboard for curious children to learn music. There are other learning laptops on the market, but none combine a piano keyboard in an attractive and compact casing," EVP Calvin Liu of Concept Enterprises told TDmonthly. Launch date: October 11, 2006. 1/5/2007 (MSRP: $21.95; Age: 3 to 6)



Complete Gardens in a Can by GIFTS THAT BLOOM


This complete garden kit in a can only requires water. Kids can then grow one of more than 125 different gardens, from a dinosaur garden to a rainforest garden to 4-leaf clovers. Launch date: May 1, 2007.
— "Very few kids have ever gardened before, and they are fast forgetting about a fun and healthy pastime," Robert Piller of Gifts that Bloom told TDmonthly. "One thing that stands out from any competitor is the wide assortment of garden kits, including a banana plant, giant sunflower garden, dinosaur tree…and many others." (

Watch Video) 1/4/2007 (MSRP: $7.95; Age: 4 and Up)



Kidini Double CD Set by KIDINI INC.

Help your child learn how to recognize, avoid or escape dangerous situations with the fun and friendly musical lessons of seven characters — all members of the Kidini Team. The Lesson & Song CD contains the stories and lessons of all seven characters. Each story and lesson is followed by a song for reinforcement. The Double CD Set also includes a 12-page booklet with the words to each of the songs.
— From focus groups, "we found out that the parents like it because it gives [them] a means to talk to their children," Kidini President Tom Stopyra told TDmonthly. And, "the songs themselves, with the reinforcing lyrics, get the children involved." (

Watch Video) 12/29/2006 (MSRP: $24.95)



Lots to Learn: Buster's Favorite Animals by LOTS TO LEARN LLC


This DVD, the third in the Lots to Learn award-winning preschool series, incorporates live action footage, colorful graphics, entertaining interactive segments, challenging games, sound recognition, object matching, memory skills, fun exercises and original sing-along songs. Launch date: November 2006. 1/8/2007 (MSRP: $14.99; Age: 2 to 5)



Globesavers by DUPREY INVENTIONS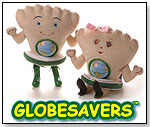 This educational plush toy features an environmental do-gooder theme. It includes a spinning globe and a magnifying glass. The interactive doll comes in girl and boy varieties. (

Watch Video) 1/5/2007 (MSRP: $24.95; Age: 3 to 12)



Professor Woodpecker® Educational DVD: Health and Nutrition - Volume 1 by H & T IMAGINATIONS UNLIMITED INC.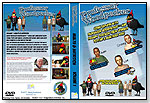 Children can enter Professor Woodpecker's world and learn about nutritional foods and snacks as they explore good eating habits and good health habits in a fun and exciting way. The DVD provides an interactive method of teaching fun basics while maintaining a child's attention by feeding the imagination with live characters and their animated counterparts. Viewers can watch as Professor Woodpecker and friends meet Jerry the Gorilla, Squirmy the Worm and Billy the Goat on three different adventures. This product received a 2007 Seal of Excellence Award from Creative Child Magazine.
— TDmonthly Roundtable reviewer Mildred Tong said her four children (from ages 2 to 9) "loved the song" on this DVD. "Professor Woodpecker was a neat character," she added. "They liked the costume and his accent." 1/5/2007 (MSRP: $12.95)



Drawing Power! With Michael Moodoo: Pirate Drawing Adventure by MOODOO PRODUCTIONS INC.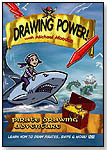 In volume 3 of a six-part series, viewers learn how to draw pirates, ships, sea monsters, sharks, treasure chests and more, while following an adventure story. Running time is 80 minutes. The company requires a minimum order of six units for wholesale discount.
— "This educational DVD teaches children how to draw while following the adventures of Naia, a daring pirate princess. … In each story segment, we learn how to draw the objects or characters she discovers. The use of a narrative story to lead viewers into each drawing lesson is a unique and fun innovation," artist and host Michael Dowell told TDmonthly. Launch date: May 1, 2007. 1/8/2007 (MSRP: $29.99; Age: 5 to 12)



RocketReader Online by ROCKETREADER PTY. LTD.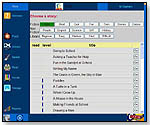 This online subscription service eliminates bad reading habits, so children become excellent readers, and it is packed with cool stories for pre-teens and teens. With 600 readings and comprehension tests, a 5,000-eBook library and a vocabulary module to help children ace the SAT, it has sensational educational value. Children can access their account at home, at school or at an Internet café to enjoy reading, learn lifelong reading skills, achieve better grades, and make their parents proud. The service is available for $19.99 per month.
— "This is the perfect gift! The unparalleled RocketReader reading methods are now available online," Dr. Simon Ronald, CEO of RocketReader, told TDmonthly. Launch date: August 3, 2006. 1/9/2007 (MSRP: $19.99; Age: 7 and Up)



American Manners DVD by TIME FOR MANNERS



American Manners DVD deals with history of the American Flag and respect for it, plus how to behave at patriotic events. The puppets practice the Pledge of Allegiance and also play a musical imagination game, pretending they are at a Fourth of July parade and hearing all the instruments. School bus manners also play an important role.
— "This DVD teaches very young children about love for your country and its flag," President Holly Beth Moncher of Time for Manners told TDmonthly. "We have found no other educational DVD that tries to reach children as young as 2. Its single most unique quality is that it does this by entertaining the young audience." Launch date: September 2007. 12/4/2006 (MSRP: $16.95; Age: 2 and Up)



---
---


Copyright © 2021 TDmonthly®, a division of TOYDIRECTORY.com®, Inc.