September 25, 2020

February 2007 | Vol. VI - No. 2


TDmonthly's Top-10 New Games
Newcomers That Thrived in 2006
With additional reporting by regional correspondents Agata Antonow, Virginia Davis, Christine Lebednik, Terri Hughes-Lazzell and Brenda Ruggiero

Enter the Valley of the Pharaohs. That's what specialty store customers are doing, according to some of the 51 retailers

TD

monthly Magazine spoke with about the new games they've been selling over the last year. Other hot choices include Innovention's Khet and Jax's (ToyShow) Doodle Dice.

According to specialty toy store owners across the country, here are the games worth giving a spin:
Bookshelf Edition Valley of the Pharaohs by FRONT PORCH CLASSICS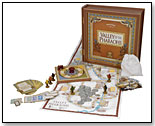 Egypt 1926. The Valley of the Pharaohs holds many secrets, but none so great as the Scepter of Amun-Ra. On your quest to secure the Scepter you will face desert bandits, blinding sandstorms and the ill wishes of your fellow players. But safe haven and good fortune can be found within the oasis of the friendly Bedouin. Collect resources to overcome obstacles or lay obstacles to hinder your opponents. Roll doubles and you control the mummy, but beware — no one masters the mummy for long. Cast metal playing pieces, metal coins and individual character cards provide rich context and detail to this exciting family game of fortune and peril. "Many of Front Porch Classics games feature natural materials, archival designs and other elements that make them an attractive décor piece," pointed out Steve Hart of sales and marketing. " As a matter fact, the majority of our retail partners are gift retailers whose clientele purchase our product not only for the wonderful game play but also as a display or conversation piece." Launch date: September 1, 2006.
—Nancy Teed, owner of Once Upon a Time in Stowe, Vt., said, "It's a really neat cooperative game. You have to work together to win — from little kids to adults."
— "We're really excited about new games being released from Front Porch Classics," endorsed David Correa, buyer at Mrs. Tiggy Winkles in Tucson, Ariz.
— "Front Porch Classics products are designed to live in a family room, office or den. We use natural materials combined with classic designs to give our games a decorative aesthetic and enhance the game play experience," said Steve Hart, creative envoy and marketing coordinator for Front Porch Classics. (

Watch Video) 5/25/2006 (MSRP: $54.95; Age: 8 and Up)



Doodle Dice by JAX LTD INC.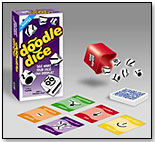 Kids can create a "doodle" with a few rolls of the Doodle Dice. There's a different doodle pictured on each card of the deck. When players build a doodle that matches one of the cards, they take that card. Players can block an opponent's turn or take one of their cards away. Players who collect one card of each color win. It's the fun, challenging way for everyone in the family to be a "doodle artist." Instructions come in English and Spanish. For two to six players, Doodle Dice launched in February 2006.
Awards: A TDmonthly Classics Award for being an all-time favorite toy.
— As of 7/21/2011 this product had 4.8 out of 5 stars from 45 reviews on Amazon.com.
— "We like Doodle Dice from Jax. It sold well for us this last year even though we hadn't seen it before," said Bill Rayment, co-owner of Toy Crossing in Harbor Beach, Mich.
— "A great game from Jax is Doodle Dice. It's inexpensive and made for varied ages," commented Bob Breneman, co-owner of G. Willikers Toy Shop in Portsmouth, N.H. It's his 7th-best-selling product.
— Cindy Levine, president of Jax, told TDmonthly, "Doodle Dice involves very different game play. Participants from age 6 to adult have an equal and full chance to win. It engages players and has a style unlike any other game out there." 2/7/2006 (Age: 6 and Up)



Khet: The Laser Game by INNOVENTION TOYS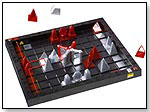 Khet combines lasers with cstrategy in an award-winning game that takes minutes to learn but yields infinite possibilities. Players move Egyptian-themed, mirrored pieces around the playing field, ending each turn by firing a laser that bounces around with the goal of knocking out an opponent's pharaoh. The silver player wins the game by deflecting his laser around the field and hitting the red player's pharaoh. With the addition of fog or smoke, the laser beam becomes visible for more high-tech excitement. Khet (formerly known as Deflexion) caused a stir in 2006 at Toy Fair and Pomona. "The game truly spans the generation gap, with enough technology to interest the 'video-gamers' of the younger crowd while maintaining enough classic strategy ... to interest their grandparents and everyone in between," Luke Hooper of Innovention Toys told TDmonthly. It received a 2006 MENSA Select Award and was a 2007 T.O.T.Y. Game-of-the-Year Nominee. Launch date: 2006. Read Review
— "Khet ... is great seller for us. It's new and did well — even at $50," summed up Danny Givens, owner of Little Dickens in Lynchburg, Va.
— "I put my money on Khet," Co-owner Michele Gietz of Where'd You Get That? in Williamstown, Mass., said in October 2008 about anticipated holiday best sellers. "We only bring in 15 at a time, but the price doesn't scare anybody off — just have to hit the right people."
― Taka Andrews, owner of Miller's Toy Store in Mamaroneck, N.Y., said Khet is a top seller for tween boys, despite the allure of video games. Seven of 39 retailers told TDmonthly in October 2009 that board games are their go-to items for tween-aged boys.
(

Watch Video) 5/27/2005 (MSRP: $44.95; Age: 9 and Up)



Princess Sleeping Beauty by HABA USA/HABERMAASS CORP.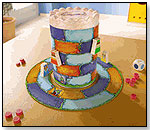 While princes fight to collect the three roses and wake up the Sleeping Beauty, this innovative color dice game from HABA helps develop skills in color recognition and tactical thinking. It's designed for two to four players and comes with a 3-D tower, a game board, 12 roses and instructions.
— HABA games are "very popular," said Brandy Lindstrom, manager at Little Blue Choo Choo in Scottsdale, Ariz.
— "One of our best suppliers … is HABA," seconded Gail Small, owner of Dragon's Toy Box in Seattle.
— Retailers often tell TDmonthly of the quality associated with toys and games made by the German company. 1/31/2007 (MSRP: $23.95; Age: 4 and Up)



Mancala by MELISSA & DOUG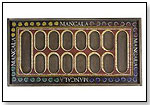 Mancala is part of the company's newer line of classic nostalgic games. It's made of solid wood, is painted by hand, and features a clever system to store pieces securely. It also adds a decorative touch to any room.
— When asked about new best-selling games at Ouray Toys in Ouray, Colo., Assistant Manager Rene Leonardi said, "Mancala by Melissa & Doug."
— "They have a lot of the really good wood toys and games," said Allison Smith, owner of Storybook Nook in West Jordan, Utah, about Melissa & Doug.
— Three of 51 retailers specifically cited Melissa & Doug as a customer favorite for games. 1/31/2007 (MSRP: $18.00; Age: 6 and Up)



Codebreaker by DOUBLESTAR LLC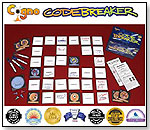 The game begins with 17 pairs of tiles that feature the engaging characters from the Cogno games and books series. The object is to find as many matched pairs as possible — while preventing other players from finding them first. In Codebreaker, players use the included dry-erase markers to draw or write something on the backs of the cards they pick. Players delve into their lifetime of memories to create "codes" that help them remember where the game's characters are hiding. The key is creating codes that others won't guess … and the fun is guessing others' codes.
— The original Cogno game was a huge hit for Kate Tanner, owner of Kidstop Toy & Book Store in Scottsdale, Ariz. VIEW ARTICLE The game "is endlessly creative and interesting, because players draw from their lifetime of memories to write or draw secret reminders about the characters in the game. The key is making coded reminders for yourself that other players will not figure out!" Montaldo told TDmonthly. Award: 2006 Dr. Toy's 100 Best Children's Products — Building on the success of the Cogno games, Codebreaker challenges memory and creativity while adding the fun of secrecy and (best of all) dry-erase markers! Since it's basically "memory" with some scribbling, retailers can easily teach the game to customers and just as easily ring up the next sale. That winning combo won Codebreaker a TDmonthly Top Seller 2007 award.
Where to Buy: Berkira (

Watch Video) 2/1/2006 (MSRP: $19.95; Age: 7 and Up)



Rush Hour Deluxe Edition by THINKFUN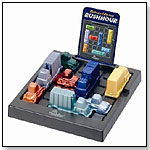 A winner of 20 awards, Rush Hour continues to be one of ThinkFun's most popular and renowned mind-challenging games. In honor of Rush Hour's 10 years of success, ThinkFun is celebrating with a Deluxe Edition that is guaranteed to delight seasoned Rush Hour fans and newcomers alike. Just like the traditional game, the object is to put problem-solving skills in gear to help the red car escape the traffic jam. But Rush Hour Deluxe Edition has been revved-up for maximum performance, featuring 60 of ThinkFun's best challenges and an exciting new level of play. It comes complete with a modern design, 15 bright metallic cars and a collector's gift box for easy travel. Launch date: Summer 2006.
— When surveyed about his best-selling puzzles in a Summer 2011 survey, Joe Berardoni, owner of Pun's Toys in Bryn Mawr, Pa., said he sells between 5 and 7 Rush Hours puzzles each month.
— As of 7/12/2011 this product had 4.3 out of 5 stars from 19 reviews on Amazon.com. Pros: Helps build problem solving skills; great for travel or quiet time. Cons: Two reviewers said that the Deluxe Edition was disappointing, as it actually has less features than the original game.
— Kids caught in traffic love to pull out this game and find their way out of the crunch. Rush Hour makes a great travel toy, specialty retailers have told TDmonthly, and it's been a top seller in their stores for more than 10 years. For these reasons, we gave it our TDmonthly Classic Toy 2007 award. (

Watch Video) 11/20/2006 (MSRP: $19.99; Age: 8 and Up)



Blokus Trigon by EDUCATIONAL INSIGHTS INC.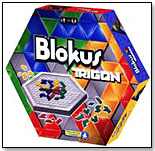 The next in the series of the international best-seller Blokus. Designed for two to four players, it was launched in 2006. THIS PRODUCT IS NO LONGER DISTRIBUTED BY EDUCATIONAL INSIGHTS. 12/4/08. (

Watch Video) 3/10/2006 (MSRP: $29.99; Age: 5 and Up)



Slamwich by GAMEWRIGHT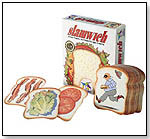 Kids flip and stack this clever loaf of cards to build slamwiches and double deckers. Tomato, lettuce, tomato ... slap! The player who gets there first will win the pile. But he'll have to catch the thief and stop the muncher from stealing a stack of cards. When he's out of cards, he's out of the game. The first player to collect all the cards wins. Slamwich teaches reading readiness skills, such as visual discrimination and sequencing. While kids are flipping and stacking cards, they're actually learning how to recognize a series, make combinations, and anticipate what might happen. "Slamwich includes bread-shaped, die-cut cards. It's a fast-playing card game. It's also Gamewright's first card game," said Jason Schneider, product development and marketing manager for Gamewright.
— Rosie Morris, manager of Whiz Kid Toys in San Luis Obispo, Calif., told TDmonthly to watch out for Gamewright, naming Slamwich as one of their hottest 2006 sales items.
— "We have a lot of card games from Gamewright. One of the better ones is Slamwich," Shirley Reilly, owner of Let's Play in Hillsboro, Ore., told TDmonthly. In an August 2008 survey of 64 retailers, storeowners reported average sales of about a dozen per month. Six named Slamwich as a best-selling card game.
— In August 2010, five of 43 retailers surveyed cited Slamwich as a best-selling card game. 11/27/2006 (Age: 6 and Up)



Catan Event Cards by MAYFAIR GAMES INC.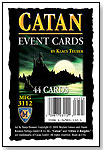 Mayfair isn't satisfied to rest on the past success of its very popular Settlers of Catan. That's why it has produced these game cards, which provide an interesting and exciting twist on the growing classic. Instead of dice, these cards dictate players' moves as they embark on exciting adventures. The set comes with 36 "dice" cards, six score-keeping cards, a rules card and a reshuffle card.
— "I'm seeing more interest in strategy games and commerce games like Settlers of Catan. It's more for older kids and teenagers," observed Amy Barrett, owner of Lasso the Moon Wonderful Toys in Helena, Mont.
— "Settlers of Catan is one of our top-sellers. It was one of our best-selling conquest games," added Shanna Frieling, owner of Giggles Toys & More in Bozeman, Mont.
— The Catan Event Cards can serve as an exciting addition to both the Settlers of Catan and Cities and Knights games. 1/31/2007 (MSRP: $5.00)



---
---


Copyright © 2020 TDmonthly®, a division of TOYDIRECTORY.com®, Inc.