September 25, 2020

February 2007 | Vol. VI - No. 2


TDmonthly's Top-10 Most-Wanted Games
Blokus Just Won't Be Blocked
With additional reporting by regional correspondents Agata Antonow, Virginia Davis, Christine Lebednik, Terri Hughes-Lazzell and Brenda Ruggiero

Blokus by Educational Insights (ToyDirectory) and Apples to Apples by Out of the Box (ToyDirectory) continue to dominate the games category, according to 51 retailers surveyed by

TD

monthly Magazine. Specialty toy stores pointed to several other best-sellers as well, noting that Blue Orange (ToyDirectory) Ringzz true and ThinkFun (ToyShow) is keeping customers aware of "What's Gnu."

Here's the full list of best-selling games:
LCR® Left Center Right™ Dice Game by GEORGE & COMPANY LLC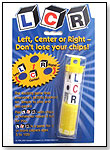 This addictive, fast-paced dice game is as simple as looking left, center and right. The roll of the dice determines which players to the left, right or center get the chips, and the player with the chips at the end wins the game. It's simple, fun and even educational for growing minds. L-C-R comes with a storage tube, three dice, 24 playing chips and game instructions printed on the back of the packaging. Yellow, red, blue and green chips are available. The game is designed for three or more players. "L-C-R is fun for kids and adults. It's fast-paced with its own twist. Even teachers like to use it to teach educational concepts such as sense of direction," said Jill Smilanich, a representative for George & Company LLC.
— "L-C-R is still our biggest seller," Bill Rayment, co-owner of Toy Crossing in Harbor Beach, Mich., told TDmonthly.
— "L-C-R is our No. 1 seller," said Michelle Sahr, owner of My Little Red Wagon in Stow, Ohio.
— "We have ordered 'Left, Center, or Right,' a new dice game from George & Company. We had lots of calls for those," Sheena Brittan, manager of Weiner Dog Toys in Marco Island, Fla., told TDmonthly. (

Watch Video) 1/31/2007 (MSRP: $5.98; Age: 5 and Up)



Blokus by MATTEL INC.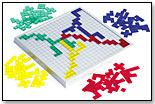 Europe´s 2002 game of the year, Blokus is a strategy game for the family. It's similar to the ancient Go Game — the board is a grid and players use their pieces to try to control as much territory as possible. The game pieces are in four, 21-piece sets of varying shapes. Each player chooses a color and works on expanding his territory on the board while blocking others from doing the same. Each new piece laid down must touch at least one other piece of the same color, but can only touch at corners, not along edges. The game ends when all players have been blocked from laying down more pieces. Points are deducted for pieces not played, and the player with the highest score at the end, wins. Blokus comes with a game board with 400 squares, 84 game pieces (red, green, blue and yellow), and instructions.
— In spring 2007, Sally Lesser, owner of Massachusetts' Henry Bear's Park, called Blokus a "consistent best-seller" at her three stores. It's also tops at Juggles in Wakefield, R.I., and Kazoodles in Vancouver, Wash. Six of 63 retailers named Blokus as their overall best seller in September 2008. Three of 52 retailers named Blokus as one of their overall top sellers in November 2008. Blokus is no longer distributed by Educational Insights as of 12/4/08.
― "No. 1 is Blokus," Linda Hanzelko, owner of Timmy's Toy Chest in Lake Mary, Fla., told TDmonthly when asked about best-selling games in early 2009. "It's an easy sell. It's one that people come back later and say 'You were right.'" In late 2009, Lori Hershman, owner of Evan's Toy Shoppe in Hamden, Ct., estimated sales of about 34 units monthly. Six of 38 retailers called it a best-selling game in Feb. 2010, selling from three to 150 units per month. 5/27/2005 (MSRP: $29.99; Age: 5 to 12)



Apples-to-Apples Party Crate by OUT OF THE BOX PUBLISHING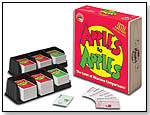 This popular card game now comes in a solid wooden storage crate to be preserved for generations. It's designed for 4 to 10 players, comes with 756 Red Apple Cards, 252 Green Apple Cards and two Deluxe Card Trays. Kids and adults can have fun by making outrageous comparisons that go beyond just "apples-to-apples." Matt Mariani, director of marketing for Out of the Box Publishing, told TDmonthly, "It takes only 30 seconds to learn. A complete game takes less than 30 minutes to finish. The conversations around the table while playing the game are the focus." Launch date: 2006.
— "Apples-to-Apples by Out of the Box: just got more in because people still want it, even after the holidays," said Karen Williams-Fox, owner of Woodbury Mountain Toys in Montpelier, Vt. Five of 31 retailers said the game was one of their best sellers for Christmas 2006.
— "The word is out about this game for adults as well as kids," Owner Elaine Hackney of Boing! JP's Toy Shop in Jamaica Plain, Mass., told TDmonthly in summer 2007. "We carry all the versions. It's so much fun ... a must at our family reunions!"
— An Apples-to-Apples sale a day helps keep the bill collector at bay, retailers have told TDmonthly (in so many words) bushels of times, and so it's been honored with a TDmonthly Top Seller 2007 award. 10/23/2006 (MSRP: $34.99; Age: 12 and Up)



Ringgz by BLUE ORANGE GAMES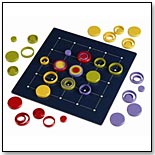 In this exciting strategy game, players use colorful rings to challenge each other to win the most territories. It takes finding the right balance between gaining majorities and controlling the opponents to capture victory. Fast-paced and addictive, this beautifully crafted all-wooden game will please the whole family. For two to four players, playtime is approximately 20 minutes. The game includes a wooden playing board with 25 territories, 1 starting base, 48 wooden rings and instructions. Launch date: 2006.
— "Blue Orange Ringgz is great. It has a beautiful wooden board," said Cathy Albrow, owner of Creative Learning Toys in Grand Rapids, Mich.
— "The best-selling toys are hands down those from Blue Orange. All-wooden games is what they do. Their games are original designs and ideas," said David Correa, buyer at Mrs. Tiggy Winkles in Tucson, Ariz.
— Adeline Bertrix, from sales and marketing at Blue Orange, told TDmonthly, "It's a completely new concept. There is no strategy game out there like it. It can be played by two, three or four players. The colors are very lively. The design is very simple. It's a beautiful game. It's very addictive. Both adults and children can play it, and I think that's very important." (

Watch Video) 3/27/2006 (MSRP: $29.95; Age: 8 and Up)



Pop 5 by CRANIUM INC.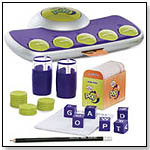 Four or more players can compete for points in this outrageously fun party game where it's not what you know, but how you show it. From Madonna and mullets to moonwalk and Monday Night Football, Pop 5 is a hilarious celebration in which players choose the activity — humming or sculpting, perhaps — for each clue. Launch date: August 2006.
— "We've brought in some new games by Cranium. The Cranium line sells well across the board," observed Nancy Streeter, owner of Eureka in Newburyport, Mass.
— "We have a lot of great games that people come in to buy. Cranium is a very popular one. We sell a lot," said Kara Fihtner, manager at Out of the Blue in Albuquerque, N.M.
— Nine of 51 retailers TDmonthly spoke with identified Cranium as a best-selling line with customers in their stores. 10/25/2006 (MSRP: $34.95)



The Amazing Labyrinth by RAVENSBURGER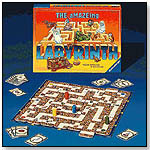 The Amazing Labyrinth is a mind-challenging game that allows players to shape the game board maze in order to win. A player's wooden piece is moved according to the card games selected and the imagination of the players involved. It's fun for kids and adults alike.
— Linda Graham, owner of Scheffel's Toys in Jacksonville, Ore., summed up the game pretty well when she said, "It's a universal maze game for kids and adults. It's always different and always changing."
— "Labyrinth … appeals to many different people. We sell a lot of games to families. They play the game together," was the answer Valla Wagner, co-owner of Teaching Toys & Books in Tacoma, Wash., gave when asked for the best-selling game in the store. "An old favorite was back this year, Labyrinth from Ravensburger," said Ron Sebert, owner of Becky & Me Toys in Glenview, Ill., in early 2009.
— Just when you think you've found your way out of the maze, someone comes along and cuts you off. The concept is easy but the strategy endless, which makes it challenging and fun for everyone from kids to grandparents. The Amazing Labyrinth is often on the best-seller list when games are mentioned, earning it a TDmonthly Top Seller 2007 award.
Where to Buy: Smart Kids Toys 10/23/2006 (MSRP: $24.99; Age: 8 and Up)



What's Gnu? by THINKFUN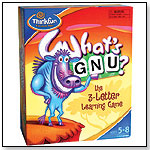 This game lets two to six young players choose between competing and cooperating. It encourages healthy competition as kids race to form three-letter words faster than their opponents. Whoever forms the most words wins. Parents (or older kids) can combine forces with little ones to help them learn how to spell new three-letter words. The game contains 72 letter tiles, 36 word cards, Gnu's stand and instructions. "What's Gnu? is designed as an essential learning tool to help younger kids develop important language and vocabulary skills. It's perfect for multiple players and the rapid-fire game play keeps kids coming back again and again," said Emily Peters, marketing communications manager for ThinkFun. Launch date: 2004.
— "ThinkFun: They have a lot of very popular games," said Gwen Bowden, manager of Doodlehopper 4 Kids in Springfield, Va.
— "ThinkFun games: What's Gnu?" is a best-selling game according to Jamie Burdette, owner of LB Toys in Media, Pa.
— In fall 2009, two of 40 specialty retailers named games by Thinkfun when polled about best-selling educational items. (

Watch Video) 5/25/2006 (MSRP: $15.00; Age: 5 to 8)



Settlers of Catan by MAYFAIR GAMES INC.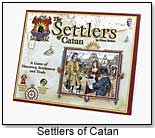 Imported from Germany to the U.S. in 1995, this European designer game is thematically nonviolent, elegant in game play and visually appealing. Players must collect and trade resources, such as wood and sheep, and build the best settlement on an island. Moves require strategic planning, and negotiating and trade are crucial elements of the game.
— "The Settlers of Catan is extremely popular with boys over 12. It's a great game that's a combination of Risk and Monopoly," was the analysis provided by Leanna Halbrecht, owner of Animations in Teaneck, N.J.
— "I'm having a lot of interest in Settlers of Catan and its expansion packs," added Amy Barrett, owner of Lasso the Moon Wonderful Toys in Helena, Mont. "Games such as Settlers of Catan … are becoming more popular," said Owner David Campbell of Amazing Toys in early 2009. — This game has been exciting kids — and specialty retailers — for years. Its long-running status as a top seller earned it a TDmonthly Classic Toy 2007 award. 1/18/2005 (MSRP: $42.00; Age: 12 and Up)



Loot by GAMEWRIGHT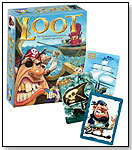 Yo-ho-ho and a barrel of fun. Kids can set sail for an exciting adventure of strategy and skullduggery in this captivating card game, storming their opponents' merchant ships and seizing valuable treasure. But they have to watch their backs, as plundering pirates are out to capture ships. The player with the most loot rules the high seas. Launch date: January 1, 2005.
— "Loot is very popular. It's a strategy game," said Leanna Halbrecht, owner of Animations in Teaneck, N.J.
— When asked about best-selling games in her store, Gail Small, owner of Dragon's Toy Box in Seattle, replied, "Any Gamewright game. [They] are huge, especially for young kids."
— Jason Schneider, product development and marketing manager for Gamewright, told TDmonthly, "Loot is a Mensa Mind-Games winner that's an easy-to-learn and quick-playing strategy game." 1/31/2007 (MSRP: $9.99; Age: 10 and Up)



---
---


Copyright © 2020 TDmonthly®, a division of TOYDIRECTORY.com®, Inc.