May 9, 2021

May 2007 | Vol. VI - No. 5

---
TDmonthly's Top-10 Most-Wanted Infant /Toddler Toys
Pull Toys Got Pull
With additional reporting by regional correspondent Virginia Davis

This month, retailers told

TD

monthly Magazine that pull toys are pulling their weight in the infant category. Tomy's Puppy and Melissa & Doug's Zoo Animals are earning their "pull along" titles quite nicely. And teddy bears are always a toddler favorite as Gund and Jack Rabbit display their latest versions.

Here's what's amusing infants these days. And to learn more about trends in this category, read New Companies and Colors Mix It Up.
Alphabet Train Floor Puzzle by MELISSA & DOUG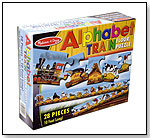 When assembled, this 28-piece puzzle measures 10' long. It is made of heavy-grade cardboard that is coated on both sides and is 20 percent thicker than the competition's material. The company's colorful, detailed, value-priced floor puzzles are available in a variety of shapes, sizes and piece-counts, ranging from 24 to 100 pieces. The pieces of the Alphabet Train Floor Puzzle are self-correcting and the puzzle itself is an amazing 10' long upon completion. Launch date: Re-launched January 2007 with revised graphics.
— "Our best seller is Melissa & Doug — their wooden floor puzzles are very popular," said Melodie Ingwersen, owner of Creative Kids in Columbia, S.C.
— Research conducted by TDmonthly indicated that sales of Melissa & Doug Floor Puzzles were strongest in the Southeast, where retailers averaged more than 30 units sold a month.
— Over 57 percent of retailers told TDmonthly in early 2008 that Melissa & Doug puzzles were the best-selling puzzles in their stores. 3/20/2007 (MSRP: $10.00; Age: 3 and Up)



Pull Along Puppy by Tomy by INTERNATIONAL PLAYTHINGS LLC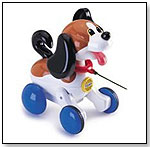 Little toddlers now have a pup of their own to walk. This sweet little puppy moves with a slight tug of the leash. It even makes sounds just like the real thing, including barking, panting and whimpering once the leash is let go. The Puppy requires two AA batteries (not included).
— "Pull toys by International Playthings," were best-selling infant toys according to Amy, manager at The Toy Store in Atlanta.
— Eight of 25 retailers TDmonthly spoke with in spring 2007 agreed that infant toys from International Playthings were best-sellers in their stores.
— Sales of International Playthings infant toys varied from retailer to retailer, with some reporting sales of a few a month, while others claiming dozens sold per month. 4/12/2007 (MSRP: $19.99; Age: 1 and Up)



My First Teddy - Large by GUND INC.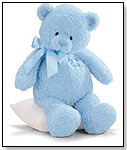 Part of the My First Plush collection from Gund, the My First Teddy is a super-soft plush classic bear that has wide-set ears, a rounded belly and a sweet, smiling expression. It comes in blue and pink, as well as in small, medium, large and super-large sizes. It also comes with a plush rattle.
— "We sell Baby Gund, which is good for infants," said Paula Hall, manager of Rabbit in the Moon in Louisville, Ky.
— Of the four retailers who told TDmonthly they sell Baby Gund, two said they sold at least 30 units a month, while the other two reported they sold about six per month.
— "My First Teddy is a wonderful item because it is both a toy and a keepsake. Little ones love the soft, huggable plush and, as they get older, the bear holds many warm and happy memories," said Shallu Chhabra, marketing and licensing manager for Gund. 4/12/2007 (MSRP: $30.99; Age: 0 and Up)



Pull-Along Zoo Animals by MELISSA & DOUG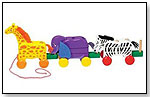 It's time to play "follow the leader" with the Pull-Along Zoo Animals, which contain nine interchangeable pieces as part of a string of unique and colorful animals. One day it's the giraffe's turn to be the head of the pack. Another it might be the elephant's time to lead. Only the child's imagination stands in the way of all the possibilities. It comes with a solidly built interlocking wheelbase as well as a handy pull-along string.
— "Melissa & Doug — anything they sell…[including] pull toys," said Paula Hall, manager of Rabbit in the Moon in Louisville, Ky., about best-selling infant toys in her store in spring 2007.
— Two other retailers TDmonthly spoke with mentioned Melissa & Doug pull toys as popular in their stores.
— Retailers who cited Melissa & Doug pull toys as best sellers reported monthly sales of approximately 30 units. 4/12/2007 (MSRP: $20.00; Age: 2 and Up)



Fun Time Tractor by INTERNATIONAL PLAYTHINGS LLC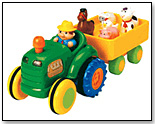 This tractor has a farmer that drives around with five removable plastic farm animals that make their animal sounds when placed on the plastic vehicle.
— Out of the Blue Ltd. Store Manager Kara Fichtner, in Albuquerque, N.M., told TDmonthly in May 2006: "It's one of my favorite toys. It's something we show customers when they come in looking for a toy for a 1-year-old."
— "We sell 144 tractors a year, and we don't have many people coming in," Grafton Stine, owner of Toys on the Square in Hummelstown, Pa, told TDmonthly in summer 2007.
— "For a first birthday toy, it's the Fun Time Tractor from iPlay — it really sells," noted Teresa Ford, owner of Kids' Ketch in Lewes, Del., when asked about best-selling baby gifts in July 2008. Six of 39 retailers told TDmonthly in March 2010 that International Playthings supplies their best-selling infant and toddler toys. Two singled out the Funtime Tractor as a top-selling individual item with sales of four per month.
— In a 2012 survey about best selling infant & toddler products, Joe Berardoni, owner of Pun's Toys in Bryn Mawr, Pa. told TDmonthly, "Pun's best selling baby toy continues to be the Funtime Tractor from International Playthings. Even though it retails for more than $30, this store sells a disproportional amount- up to 12 a month, even during slow times. Of course, my staff all love it also, so it is usually recommended." (

Watch Video) 8/31/2005 (MSRP: $32.99; Age: 1 to 3)



Teddy Bear Jack in the Box by JACK RABBIT CREATIONS INC.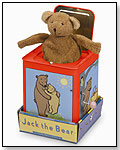 The Teddy Bear Jack in the Box puts a furry and cuddly twist on the classic toy. Kids can wind it up to play the tune "Teddy Bears Picnic." Then, a cute furry teddy jumps out to greet surprised little ones.
— "Jack in the Boxes by Jack Rabbit" are best-selling infant toys, according to Peter (a.k.a. Mr. Toad), owner of Mr. Toad's Toy Company in Naples, Fla. Another retailer agreed.
— "Mr. Toad" sells approximately 30 Jack Rabbit Creations Jack in the Boxes per month, he said in spring 2007.
— "We use a great, soft, terry plush," stated Jim Lancaster of Jack Rabbit Creations. "We create all original artwork for the tin. Maybe most importantly, you won't see it in the mass market — we sell to specialty retailers only." 4/12/2007 (MSRP: $27.95)



Oball by RHINO TOYS INC.



This rubbery, tri-colored ball is a staple for any child learning cognitive and social skills and developing fine- and gross-motor skills. Ideal for children with a special need, the ball is durable and has a skeletal structure that allows for easy catching. "Kids and teachers agree that Oballs are the easiest balls to catch and hold. The cool design already has won five awards for excellence and innovation, including an Oppenheim Toy Portfolio Gold Award and a Dr. Toy Best Vacation Products Award," said Suzanne Silverglate, owner of Rhino Toys.
— "Everybody buys it," Dalene Lockhart, owner of Toy Town in Casper, Wyo., told TDmonthly in 2007. "Right now it is head and shoulders above others [in the infant/toddler category]. It's probably been that way for two years." Retailers reported average monthly sales of five to 25 a month.
— In summer 2008, four of 66 specialty retailers named the Oball as one of their top-selling gifts for babies. "We sell more of them because our store does gift wrapping and it makes a good topper," said Jill Jernigan, owner of J. Christopher Toys in Jonesboro, Ark.
― Ask retailers about top-selling balls and the Oball is an answer that's sure to come up, winning the graspable toy a TDmonthly Top Seller 2007 award. Six of 64 retailers named the Oball as a best-selling baby toy in March 2009, and two of 39 said the same a year later. "[It] is definitely the best-selling gift for babies," stated John Naisbitt, owner of Thinker Things in Del Mar, Calif., in June 2009. (

Watch Video) 9/1/2004 (MSRP: $7.00; Age: 1 and Up)



IQ Preschool - Pull-Along Block Cart by SMALL WORLD TOYS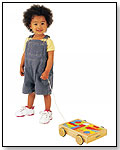 The Pull-Along Cart combines the attributes of three different styles of play: pull toy, building blocks and puzzle solving. The cart comes with 25 brightly colored and assorted wooden blocks. There's rubber on the wheels for traction and safety.
— "I sell a lot of the Small World IQ baby products," said Amy Barrett, owner of Lasso the Moon Wonderful Toys in Helena, Mont.
— "I couldn't give you one figure," Barrett admitted about the sales of IQ baby products in her store. "Let me just say that we sell a lot."
— "The Pull-Along Block Cart incorporates traditional block play with the added benefits of storage and pull-along fun," said Lisa Orman, public relations manager for Small World Toys. 4/12/2007 (MSRP: $24.15)



---
---


Copyright © 2021 TDmonthly®, a division of TOYDIRECTORY.com®, Inc.