---
New Companies and Colors Mix It Up
Trendy Tints and Specialty Manufacturers Keep Babes and Tots Active
"We have been approached by mass-market stores and we've said no." — Matthew Peake, Top Shelf Holdings

With additional reporting by regional correspondents Virginia Davis and Dennis Furlan.

Infant and toddler toys account for 15 percent or more of their total sales, said eight of nine specialty storeowners surveyed by

TD

monthly Magazine. And three indicated it may account for as much as half. With those kinds of numbers, it's no wonder that some of the newest companies catering to little ones are catering — exclusively — to the specialty market, too.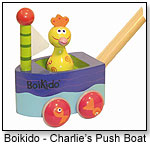 WHAT'S NEW

Boikido and iggiBig just came onto the scene in the United States last year, and along with the brand new Little Little Little Toy Company, are vowing loyalty to specialty stores.

"We have been approached by mass-market stores and we've said no," Owner Matthew Peake of Top Shelf Holdings, producer of the iggiBig line, told

TD

monthly.

President Peter Reynolds of The Little Little Little Toy Company expressed the same: "We're not going to the mass market, period. The specialty retailer is often used as a training ground before [companies] move onto bigger and better things, but the work they do is so important."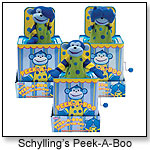 WHAT'S CHANGING

Though many themes remain the same when it comes to toys for infants and toddlers, research has led several companies to branch out in colorful ways.

"There are so many young and new parents, and they really like the fun, modern, bright colors," said Lauren Guegtler, assistant manager at Great Rocky Mountain Toy Company in Bozeman, Mont., indicating the continuance of a trend away from pastels and primaries.

Owner Amy Barrett of Lasso the Moon Wonderful Toys in Helena, Mont., has noticed an influx of spring-oriented colors — "lime green, orange, different shades of purple, aqua" — from companies such as Manhattan Toy, eeBoo and Boikido.

"There's been a lot of research done that says the young mind needs more stimulation than just primary colors," Peake commented. His company's iggiBig brand features shades such as light blue, magenta and lime green.

WHAT'S SELLING

Twenty-five specialty retailers told

TD

monthly their best-sellers include floor puzzles, a ball by Rhino Toys, push and pull toys, and good ol' jack in the boxes. Aside from these and others in the list of

TD

monthly's Top-10 Most-Wanted Infant & Toddler Toys, retailers also revealed the following: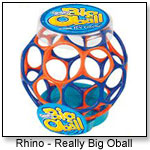 "One thing I keep ordering is the Happy Hands Mat from International Playthings," said Owner David Campbell of Amazing Toys in Great Falls, Mont. "We put it out on display. It's almost like an electronic piano. … And it's under $30."

And Jennifer Schneeweis, owner of Izilla Toys in Seattle, noted that her store sells about five units per week of Plan Toys' Punch & Drop, accounting for one of every five toddler products they sell. "People are buying it for gifts," she said, "We recommend it."

Read on to see what else is new and popular for little ones:







.

AD
---






This tin box features a plush Circus Jester puppet and plays "Pop Goes the Weasel." It is suitable for children over 18 months. Launch date: February 14, 2007.

.

AD
---






.

AD
---






.

AD
---






Made of 100-percent cotton corduroy fabric, this pony has an old-fashioned mop-head mane and tail. It includes a safety back rail on the seat to prevent a child from sitting off center and toppling over backward. The product is made in Poland and features quality European craftsmanship. Launch date: May 2007.

.

AD
---






Created for ages 6 months and up, Boss, the blue dinosaur with 60 colorful balls in his tummy, is just waiting for babies to give him a big hug. Babies can sit inside Boss's tummy (ball pool) for hours of fun. When Boss is zipped up, there are other activities for kids to discover. Launch date: June 2007.

.

AD
---






.

AD
---






.

AD
---






.

AD
---






This musical mat features eight brightly colored, textured handprints that serve as piano keys. When pressed, they make piano, cat, dog, chicken and bell sounds, or play pre-programmed melodies. Children can follow the flashing lights in order to play a song, and the product requires two AA batteries (not included). Launch date: 2000.

.

AD
---






.

AD
---






.

AD
---






.

AD
---






.

AD
---






.

AD
---






This brightly colored, luxuriously soft padded playmat and gym is packed with fun interactive features — including squeaks, rattles, five popular melodies and flashing lights — designed to encourage baby's key developmental needs from birth upward. Babies can rest on their backs and the dangling characters will entertain them. The gym is part of the Babyplay collection, which combines the fun elements of play with key developmental tasks and activities.

.

AD
---






This junior version of the award-winning Bilibo can be just about anything children want it to be — a racing beetle, a spinning top, a boat in a bathtub, a game piece, a sliding puck, a designer's seat for Barbie and more. It is 100 percent recyclable and comes in red/yellow, pink/orange and blue/green color combos.

.

AD
---






One of six fun animals that can be pulled. They wobble and make a small bell sound when pulled.

.

AD
---






.

AD
---






.

AD
---






.

AD
---






This product gives little ones a chance to practice hammering, as they can hit the colored balls until they drop and slide out of the box. It is suitable for ages 12 to 18 months.

.

AD
---
THIS BANNER IS AN AD:
---
---