April 22, 2021

June 2007 | Vol. VI - No. 6

---
TDmonthly's Top-10 Most-Wanted Construction Toys
LEGO's Not Letting Go
With additional reporting by regional correspondents Virginia Davis, Elizabeth Greenspan, Terri Hughes-Lazzell, Christine Lebednik and Brenda Ruggiero

The Star Wars invasion continues, as retailers told

TD

monthly Magazine that LEGO remains on top of the construction-toy universe. Playmobil was never far behind, as it unveiled its new Micro World line. Imagability caters to toddler safety with the WEDGITS Starter Set. And Zoomorphs and ZOOBDude rounded out this month's most popular offerings, from River Dolphin Toys and Infinitoy, respectively.

Here's what kids are building with their hands and their imaginations. To learn about the latest trends in construction toys, read

TD

monthly's Stix and Bonz Make for Piece-ful Building.
Droids Battle Pack by LEGO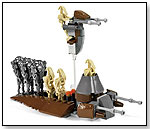 The Trade Federation is on the march. The Separatist forces battle against the Republic with a droid transport carrier and "hovering" STAP vehicle, complete with a full squad of armed and combat-ready battle droids. The set includes two Battle Droid and three super Battle Droid minifigures. Kids can build their own armies and stage battles against the Clone Troopers Battle Pack. "To commemorate the 30th Anniversary for the Star Wars franchise in 2007, there are nine new LEGO sets representing all six movies," Karen Lynch, account executive at Flashpoint PR LLC, told TDmonthly. " Included in this assortment is the LEGO Droids Battle Pack which contains an army of minifigures to allow fans to create their own armies."
— When asked to name a best-selling construction toy in his store, Sean O'Brien, manager of Blinn's in Fairfield, Conn., said, "I would have to say LEGOs. They're having a hard time supplying us — couldn't keep up with demand. There [might] be a big shortage of LEGO this year, especially the Star Wars product line."
— Thirteen of 39 retailers agreed with O'Brien in spring 2007 that LEGO is big in the construction toy category.
— Specialty retailers reported to TDmonthly an average sales figure of about 80 units per month for LEGO sets. 5/2/2007 (MSRP: $9.99; Age: 6 to 12)



Zoomorphs – Mountainmorphs by RIVER DOLPHIN TOYS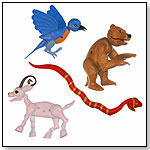 Thirty-five rugged plastic pieces snap together easily to form endless poseable creatures. In this set, children can make a grizzly bear, bluebird, bighorn sheep and mountain king snake, or morph them to make all sorts of fantasy creatures. Extra pieces are included and the heads have hinged jaws. All Zoomorphs sets are interchangeable.
— "I'm a little store, but Zoomorphs are a very big hit in the 4 to 8 age group. It's a big birthday party hit and nice price," summed up Patty Tepper-Rasmussen of Learning Tree in Oklahoma City, Okla. She sells about 15 to 20 units per month in her store.
— Three of 39 retailers agreed in spring 2007 that Zoomorphs are top-selling construction toys in their stores.
— Mark McFarland, co-owner of River Dolphin Toys, said, "The beauty of the building toy category is that if you have a system that kids like, and come out with fresh new products on a consistent basis, they will stay with you for many years." (

Watch Video) 3/6/2007 (MSRP: $16.00; Age: 4 and Up)



WEDGITS Starter Set by IMAGABILITY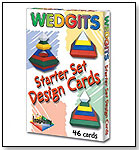 This open-ended building set introduces kids to the spatial world of angles, color association and unlimited geometric design. With large components, this toddler-safe product offers the same open-ended fun kids find while building with WEDGITS Junior and Deluxe sets. The geometric shapes nest, and each set contains 15 pieces of primary-colored building blocks that can be configured in virtually unlimited configurations. The Starter Set is compatible with all other WEDGITS sets.
— "You can start very young with these," said Patty Tepper-Rasmussen of Learning Tree in Oklahoma City, Okla. She sells approximately 10 to 12 WEDGITS sets each month. Idanna Smith of Juggles in Wakefield, R.I., named WEDGITS as a top seller in her store.
— "We came up with the starter set to meet the concerns of parents of toddlers regarding choking hazards. The pieces are big, so that all kids in the family can play with them without worrying about the littlest ones," Rob McKinley, vice-president of sales and marketing for Imagability, told TDmonthly.
— The simple, open-ended play afforded by Wedgits makes it a favorite at toy stores and earned it a TDmonthly Top Seller 2007 award.
— Jillie Beans Toys & More in Westminster, Colo., has carried Wedgits, a consistent best seller, since the store's opening in 2006. "These are an educational toy and parents love that they start at age 1 and you can continue using the early sets even as the child grows older," reported Storeowner Valerie Elsea in April 2010. 5/2/2007 (MSRP: $20.99; Age: 2 and Up)



ZOOBDude™ Rock Climber by INFINITOY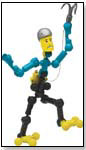 The ZOOBDude Rock Climber doesn't just look cool … he really climbs. Just position his grappling hook, pull the cord, push the button and watch the ZOOBDude scale the wall. ZOOBDudes are pre-assembled adventure heroes that kids can snap apart (and rebuild, and snap apart, and rebuild), each with its own working accessory. Each ZOOBDude includes 19 ZOOB pieces (including two faceplates), diagrams showing how to connect ZOOB pieces, and instructions for rebuilding a ZOOBDude and building three additional creations. All ZOOBDude pieces work with every other Infinitoy ZOOB set.
— ZOOBDude's are the best-selling interchangeable toy at Tinkerz Toy Shop in Alene, Idaho, said sales associate Crystal Mobbs.
— Three of 39 retailers cited ZOOBDudes among construction toy best sellers in spring 2007.
— "Zoob has only five pieces, which snap together 20 different ways," explained Jeff Pinsker, CEO of Infinitoy. "It's an unsual product because you can build many different things. If you want to build a car, an elephant or anything, you don't need special pieces ... and after you put the Zoob pieces together, they move." The ZOOBDudes are transformable, too: "They come preassembled, but every single piece still moves. ... You can build a couple of different models and use the [Rock Climber] grappling hook as a winch to pull them up."
(

Watch Video) 7/14/2006 (MSRP: $9.99; Age: 6 and Up)



Erector Special Edition Set by SCHYLLING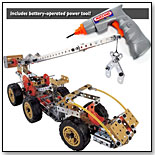 This deluxe set of timeless erector pieces (today manufactured by French company Meccano S.N. and distributed in the United States by NIKKO) includes everything needed to build more than 50 different models. The set contains 643 parts including steel girders, plates, wheels, nuts and bolts. It comes with instructions for building a 4x4 truck with articulated arm, dragster, submarine, helicopter and more. A power tool is included for easier construction. Previously distributed by Nikko America (6.2.09).
— Cheryl Richmond, owner of Punkin Doodles in Havre, Mont., told TDmonthly that the smaller Erector sets are big in her store: "The preference is for sets with 4 or 5 models to build rather than 15 or 20. At least that's the trend for us." Two other retailers agreed in spring 2007 that Erector sets sell well in their stores.
— Specialty retailers reported to TDmonthly average sales of 15 Erector sets per month.
— Juan Alejo, product manager for Erector Sets, told TDmonthly about the Special Editions Set: "It's just pretty cool. It comes with its own carrying case, so that all the parts can be kept safely. It's made of plastic and metal, and is ideal for kids aged 8 to 15." 4/14/2006 (MSRP: $79.95; Age: 8 and Up)



Superstructs Makin' Tracks by WABA FUN LLC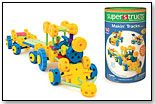 Superstructs Makin' Tracks gives young engineers everything they need to build a colorful train, rugged outback explorer, hard-working tow truck and much much more. It comes with large, vibrant pieces and a visual construction guide that make for easy building and plenty of happy travels. With 160 pieces, children will never run out of ideas or possibilities. Makin' Tracks has already received the 2006 "Smart Play/Smart Toy" award from Dr. Toy. Launch date: June 2006.
— "Superstructs by Waba" was cited as a best seller by Jane Beck, owner of B.J. Beck's Toys in Cedarburg, Wis.
— Two of 39 specialty retailers told TDmonthly in spring 2007 that Waba was makin' tracks with sales in their stores.
— "The Superstructs Makin' Tracks was actually designed together with kids. It involves stay-together models and is also designed for post-build play," said Owner David McCloskey of Waba Fun. 5/22/2006 (MSRP: $44.95; Age: 3 and Up)



Locomotive Set by BAUFIX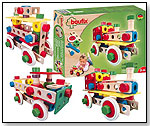 The Baufix Locomotive set includes 80 Baufix components and the necessary tools and visual instructions for three models, including the locomotive. Made in Germany of locally harvested woods from re-forested land, Baufix construction toys are a wonderful way to introduce young children to the magic of building and planning construction projects. Children gain experience in motor functions, logical thinking, creativity and hand-eye coordination. This versatile construction kit can create hundreds of projects, limited only by a child's imagination.
— "We have Baufix now. It's absolutely great," said Tristan Hewitt, manager of Dragon's Toy Box in Seattle, about construction toy best sellers in his store when surveyed by TDmonthly in spring 2007.
— "I'd say we sell about 10 or 12 a month," he added.
— Other compatible Baufix construction sets include the Buggy, Motorbike, Plane and Tractor & Trailer. 5/2/2007 (MSRP: $24.99; Age: 3 to 6)



---
---


Copyright © 2021 TDmonthly®, a division of TOYDIRECTORY.com®, Inc.