---
Stix and Bonz Make for Piece-ful Building
Retailers Vouch for Open-Ended Construction at a Lower Price
"The preference is for sets with four or five models to build." — Cheryl Richmond, Punkin Doodles
With additional reporting by regional correspondents Virginia Davis, Dennis Furlan, Elizabeth Greenspan, Terri Hughes-Lazzell, Christine Lebednik and Brenda Ruggiero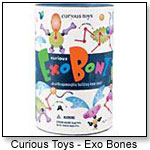 It's always time to build, so specialty toy-store owners are on the lookout for new construction sets, according to a

TD

monthly Magazine survey of 39 retailers. Magnets are in, five retailers said, metal may be out, and free-form sets seem to have an edge over themed offerings. In the mix, manufacturers' newest items include everything from an artsy sculpture toy to a foam castle fit for a princess.

WHAT'S SELLING

Besides the builds that made

TD

monthly's Top-10 Most-Wanted Construction Toys list, specialty toy-store owners identified other products that keep things constructive.

"[Bonz by Curious Toys] is the greatest toy I've seen in years," raved Dean Nelson, owner of Wizard Kids Toys in Toledo, Ohio, about the whimsical interlocking construction pieces.

And Cheryl Richmond, owner of Punkin Doodles in Havre, Mont., noted that she sells a fair amount of CoinStruction by Educational Insights. "You use coins to build little figures," she explained.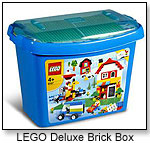 Customers generally seek free-form items, such as buckets of LEGOs, as opposed to build-one-item kits, asserted Nellie Fais, owner of Toy Magic in Bethlehem, Pa. Open-ended Fiddlestix by Poof-Slinky are especially popular during the holiday season at Dancing Bear Toys & Gifts in Frederick, Md. "We have an event featuring them, and they jump dramatically — maybe [to sales of] 10 a day," said Owner Tom England.

WHAT'S FADING

Some building sets may be ready for demolition: "Our customers don't like the metal construction kits anymore," noted Susan Castor, owner of Pentwater Toy Box in Pentwater, Mich.

Richmond noted that higher-priced large Erector sets are not selling that well: "The preference is for sets with four or five models to build rather than 15 or 20." Owner Angel Stahl of Angel's Toy Barn in Greensburg, Pa., said that "smaller, lower-priced items, under $30" are selling better than expected.

"We don't see repeat customers on the Erector," agreed Linda Hays, owner of Hopscotch Inc. in McMinnville, Ore. "We see that as an indication that it's probably not being used once they get it home."

Although LEGO's popularity isn't fading, its supply is, said two retailers: "LEGO has been very disappointing this year, only shipping about one-fourth of their stock — 60 or 70 units," Nancy Streeter, owner of Eureka Toys in Newburyport, Mass., told

TD

monthly.

WHAT'S NEW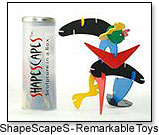 Three retailers expressed concern about an overall shortage in the construction category. Owner Dennis Hofsetter of The Toy Store in Atlanta noted that "there is a huge need for someone to enter that market."

Some companies are taking advantage of the gap. New kits include natural wood Timberkits, distributed by MK and Company; ShapeScapes by Remarkable Toys, which feature colorful organic shapes; Stack & Stick's fitted-wood building kits; Q-Ba-Maze's free-form marble run and Bridge Street Toys' hydrodynamic building sets.

WHAT'S COMING

And Nomaco Inc., a long-time supplier of foam noodles for swimming pools, is branching out this fall with the launch of Planet Foam Dreambuilders Foam Construction System. Jeff Slater, director of retail and corporate marketing for Nomaco, pointed out to

TD

monthly that 80 percent of LEGO sales are themed products, so Nomaco made sure that Dreambuilders — with three themed sets and one free-form set — lends itself to both specific and open-ended play.

Read on to see more creative construction options recommended by retailers and manufacturers:







.

AD
---






.

AD
---






.

AD
---






Fiddlestix is a classic rod and connector toy that stimulates creativity and provides hours of fun for kids. Pieces are made of select hardwood with a non-toxic finish and are easy to manipulate.

.

AD
---






.

AD
---






.

AD
---






These rubberwood kits allow children and adults to create "mechanical marvels in natural wood." Each set includes two layers of components packed in covered plastic trays, a parts list, sand paper, glue and visual instructions. Paint and a battery kit may be added to customize a model. The company requires a minimum wholesale order of 12 pieces. Launch date: August 2006.

.

AD
---






.

AD
---






This building blocks set includes everything kids need to construct a complete section of Brickadoo City: building bricks, water-soluble cement, wooden building elements (doors and frames), a trowel, a mixing bin, a base plate and a foam card with press-out figures and materials. The white bricks and water-soluble cement are made of natural raw materials that don't contain any harmful substances. The bricks are paintable, and each box contains several sacks of cement, enough for four to five playing sessions. Launch date: May/June 2007.

.

AD
---






.

AD
---






.

AD
---






.

AD
---






.

AD
---






This 1,174-piece set allows children to create a stylish urban brownstone, complete with a working garage for storing their modern car. It features unique LEGO pieces like doors, windows and flowers. It includes step-by-step instructions for building and rebuilding three different homes from one box of parts, plus photo inspiration for many more. Launch date: August 2007.

.

AD
---






Fun Bricks is a colorful construction set of 100 pieces and elements of top-quality plastic, including a platform to build the bricks on to create many fun construction objects.

.

AD
---
THIS BANNER IS AN AD:
---
---