March 5, 2021

June 2007 | Vol. VI - No. 6


TDmonthly's Top-10 Most-Wanted Playsets
It's a Mighty, Micro World
With additional reporting by regional correspondents Virginia Davis, Elizabeth Greenspan, Terri Hughes-Lazzell, Christine Lebednik and Brenda Ruggiero

The Playmobil Pirate Micro World rules the high seas of the playset world, according to 39 specialty retailers

TD

monthly Magazine spoke with recently. But never intimidated, International Playthings holds its own with the Calico Critters and Mighty World brands. Kitchens and foods are preserving themselves, too, as Small World Toys, Plan Toys and Melissa & Doug sail along with culinary offerings.

Here's what's selling in playsets. To learn more about the trends in this category, read

TD

monthly's Kids Get Culture "To Go."
Stephanie Sunny-Bunny's Amazing Train Ride by INTERNATIONAL PLAYTHINGS LLC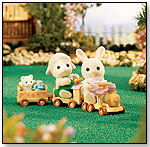 One summer day in Cloverleaf Corners, Stephanie decides to go for a ride in her new train. She does not know, of course, what an adventure is waiting for her on the way. The Amazing Train Ride set includes Stephanie Sunny-Bunny, Emma Lambrook, a baby train with an engine and two cars, a lunchbox with a lid, a spoon, a fork, a bottle of water, bananas, candy and a toy bear.
— "Calico Critters right now, by International Playthings. It seems to have taken off. We sell hundreds of units per month," said Sean O'Brien, manager at Blinn's in Fairfield, Conn., when asked in spring 2007 about popular playsets with customers.
— Specialty retailers reported to TDmonthly average sales ranging from 30 to 80 units per month.
— Five of 39 retailers told TDmonthly that Calico Critters were still hot sellers in their stores. 5/2/2007 (MSRP: $16.99)



Mighty World: Ed the Painter by INTERNATIONAL PLAYTHINGS LLC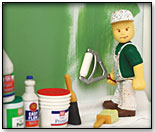 Sure, kids can splatter some color on the wall and call it painted, but if they want the job done right, they'd better call Ed the Painter. Decked out in authentically paint-splattered overalls, Ed has arms and legs that move and his head and gripping hands can turn. He comes ready to work, with a bucket of primer, two gallons of paint, brushes, paint thinner, tray, step ladder, drop cloth and other supplies, including a tiny roll of masking tape. Ed is part of the Construction line of Mighty World.
— "Mighty World has been moving fairly well. They're realistic play figures that are working class: police, construction workers, foremen, firemen," said Erin Toure, sales assistant with The Magic Box in New Orleans, in spring 2007.
— While 11 of 39 retailers cited International Playthings as a hot-selling line in play sets, two retailers specifically mentioned the Mighty World line as the choice among customers.
— One retailer cited sales of 30 units a month for the Mighty World, while another suggested 80 was not uncommon. (

Watch Video) 4/12/2006 (MSRP: $9.99)



Gourmet Kitchen by SMALL WORLD TOYS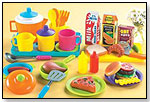 This deluxe 45-piece cookware and food set has everything a child needs to pretend-cook delicious and nutritious meals. The brightly colored plastic set includes a cutting board, knife, fry pan, cooking pot, pretend foods and everything else kids come to expect when play-dining. The set comes in its own see-through plastic carrying box with a lid that snaps shut on both sides and can be turned over to use as a tray.
— When asked about playsets in spring 2007, Teri Soelter, owner of Teri's Toybox in Edmonds, Wash., said, "We sell a lot of kitchen-type things for boys and girls — play food. We get them from Small World. We probably sell a couple of dozen per month."
— Two of 39 retailers cited Small World Gourmet as part of their top-selling lines of playsets.
— Marilyn Sipila, owner of Toys Etc. in Poulsbo, Wash., named Small World Toys as one of her favorite vendors in spring 2007. "I like companies that churn out high-quality product," she said. 5/2/2007 (MSRP: $21.00)



Cutting Food Box by MELISSA & DOUG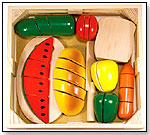 The Cutting Food Box is a super-sized play-food set that comes with a child-safe knife. Kids prepare their own healthy meals, cut into them as they make a crunching sound, and then have fun trying to put them back together again. The set includes a cutting board and a wooden crate for easy storage.
— "I think Melissa & Doug certainly ramped up the trend toward wooden toys in designing things like the food-cutting box out of wood," said Nancy Streeter, owner of Eureka in Newburyport, Mass.
— Melissa & Doug dominated the wooden toys' category in an early 2007 survey, as the brand was cited more than 50 times by a collective 51 retailers.
— Two of 39 retailers told TDmonthly that Melissa & Doug cutting foods make popular playsets.
— As of 8.03.2010, this product had 5 out of 5 stars from 201 reviews on Amazon.com and was No. 20 in the top 100 best-selling toys and games. PROS: Entertaining and well-made. CONS: Paint can peel. (

Watch Video) 1/31/2007 (MSRP: $19.95; Age: 3 and Up)



1 2 3 - Zoo by PLAYMOBIL INC.

Learn about exotic animals at the zoo with this new set. Includes two figures, zebra, elephant, giraffe, monkey, animal pen and tree.
— "I think Playmobil would be our best [playset]. For example, a zoo with animals. They do all kinds of stuff," said Jordan Walden, store manager for Finnegan's Toys & Gifts in Portland, Ore.
— In spring 2007, Walden reported a monthly sales figure of up to 200 units of the Playmobil; for another retailer, two dozen per month was more the norm.
— Playmobil was cited by 10 of 39 retailers TDmonthly spoke with about popular play sets in their stores. 3/5/2007 (MSRP: $10.99)



Adventures of James by LEARNING CURVE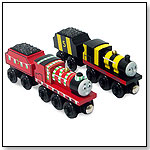 Thomas fans can recreate their favorite stories with this two-car pack. James with Team Colors is from the "Thomas and the Colors" storyline. It comes with a 90-day limited warranty.
— When asked about a top-seller in her store, Patty Tepper-Rasmussen of Learning Tree in Oklahoma City, Okla., responded, "Thomas, of course. I sell a lot."
— One other retailer agreed with Tepper-Rasmussen in spring 2007 about the popularity of Thomas in the play sets category.
— Tepper-Rasmussen said she sells up to 35 units of Thomas per month, and the other retailer sells about 90 per month. 5/2/2007 (MSRP: $26.00; Age: 2 and Up)



Rodeo Deluxe Playset by SCHYLLING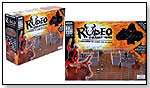 The Rodeo Deluxe Playset brings the thrill of the rodeo into a living room. Four-inch-high action figures and bulls each have 21 points of articulation, detailed features and rodeo gear. Rodeo Champion bulls have jointed skeletons and life-like Bio-Skins that move freely to bring the bulls to life. The set is designed by professional rodeo athletes to be as authentic and true to life as possible. Kids can build the arena of their choice using real working chutes, gates and fences. Everything is scaled down for enhanced realism.
— When asked about popular playsets in her store, Cheryl Richmond, owner of Punkin Doodles in Havre, Mont., said, "Probably the Rodeo Champions by Schylling. We have a lot of cowboys around here." One other retailer agreed with Richmond.
— "We probably sell five or six per month, which, for our store, is real good," Richmond added.
— The idea for western-themed playsets came from the company's owner, who took up horseback riding a couple of years ago, Stephen Medina of Schylling Toys told TDmonthly. "The jointed and poseable characters of the Rodeo Champions Playsets are so realistic that you'll feel like you're at a real rodeo or bull riding event. The play value is off the charts and the scenarios are endless." 5/2/2007 (MSRP: $79.99; Age: 4 and Up)



Pretend & Play Animal Hospital by LEARNING RESOURCES INC.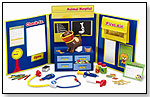 Tender loving pet care goes anywhere with this portable animal hospital, and role-play encourages participation in caring for family pets. The hospital comes complete with a puppy and 34 pieces to ensure a thorough check-up. Write-and-wipe components let children play repeatedly, and a tri-fold board with pockets stores components neatly. Launch date: January 2007.
— "Learning Resources: school and doctor sets," said Danny Givens, owner of Little Dickens in Lynchburg, Va., when asked about popular playsets in his store. One other retailer that TDmonthly spoke with agreed that Learning Resources playsets sell well.
— Twenty units per month was a figure one retailer provided to TDmonthly when asked about sales.
— "Dramatic play toys are always a staple item in specialty toy stores, but what makes the Pretend & Play Animal Hospital special is its topic. Since 60 percent of families have at least one household pet, the idea of children taking care of pets — even through imaginative role play — will resonate with parents," Kim McLynn of Learning Resources told TDmonthly. 3/19/2007 (MSRP: $34.95; Age: 3 to 6)



---
---


Copyright © 2021 TDmonthly®, a division of TOYDIRECTORY.com®, Inc.