---
Kids Take Culture "To Go"
Playsets Emphasize Our Small, Small World
"[Be Good Company's Sandbox Play Sets] are almost as hot as Plasma Cars." — Linda Angel, Kidoodles Toys

With additional reporting by regional correspondents Virginia Davis, Dennis Furlan, Elizabeth Greenspan, Terri Hughes-Lazzell, Christine Lebednik and Brenda Ruggiero

Straight to the moon! Or the rodeo. Kids travel the universe, using playsets that emphasize the world outside their doors.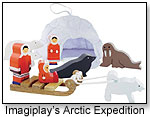 "[Manufacturers] are doing more current kinds of things. … They'll include sushi or an ATM," Jordan Walden, store manager for Finnegan's Toys and Gifts in Portland Ore., commented to

TD

monthly Magazine.

"The themes used to be farms and dollhouses [but they're] expanding and being more imaginative," seconded Barbara Aimes, founder and president of Imagiplay.

WHAT'S NEW

Even sandboxes are now cosmopolitan; Be Good Company's tabletop Sandbox Play Sets featuring dino digs, mermaids and more have suddenly taken off in one mid-western store.

"I have to reorder them every three months and have to do at least two to three cases of each style," said Linda Angel, owner of Kidoodles Toys in Norman, Okla., who has been carrying them since early last year. "They're almost as hot as [Plasmart] Plasma Cars."

Sand trays and figurines also do well at Anna's Toy Depot in Austin, Texas, said Owner Anna Barr.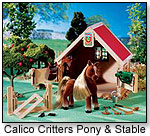 WHAT'S SELLING

Playmobil's still on top of

TD

monthly's Top-10 Most-Wanted Playsets list, but Calico Critters by International Playthings aren't far behind.

Though parents and grandparents snatch up the critters as gifts, girls are "coming in with their own money [and buying] everything from little critters to a full-sized house for about $120," noted manager Sean O'Brien at Blinn's in Fairfield, Conn.

In the fantasy realm, six of 31 retailers mentioned that pirate playsets still "sail" well, but another recently noticed a fall-off.

Other playsets with legs included Brio's Figure 8 Set, RC2's castle and pirate items, princess sets by International Playthings and cars with play mats by Spinner Toys. And play tables are popular, asserted Kim Duff, manager of Giggles Toys & More in Bozeman, Mont.

WHAT'S COMING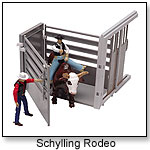 In addition to emphasizing diverse cultures, soft, portable, screwless and all-in-one are the trends for playsets, representatives from Playground Enterprises, Top Shelf Holdings and Odyssey Toys told

TD

monthly. Owner Tom England of Dancing Bear Toys & Gifts in Frederick, Md., also noted "more fascination with wooden items" among his customers.

Finally, Schylling's having success with a new niche-within-a-niche product — its all-inclusive rodeo playsets, which sell well in cow country. Look for more micro-marketing as toy manufacturers search for new ways to sell their toys.

Following are some of the worlds kids are toting around with them. (And browse through more playsets and traditional dollhouses here.)







.

AD
---






.

AD
---






.

AD
---






.

AD
---






.

AD
---






This set includes a stable with a rotating pony feeder, a horse and a girl figurine. Children can play with best friends Misty and Molly, and can "twist the cockerel to turn the clicking trough and feed Misty her favorite meal," according to Wow Toys PR Manager Tanya Laperouse. Launch date: February 2007.

.

AD
---






.

AD
---






Pirates "ARRRRR" all the rage, thanks to Aurora (and some clever amusement park rides and action-packed high-budget movies). Aurora's plush Pirate Max Treasure Chest highlights the all new Pirate Max line for 2007. The 6" on-the-go chest opens and closes, fastened by a velcro attachment. There are four, 4" characters inside, each making a fun sound. Captain Max and Mate Max both "Woof," Chump the Monkey makes monkey noises (think "E-e-e-e-e-o-o-o-o-o") and "Arrr" the Parrot chirps and squawks accordingly. The line also features Aurora's Pirate and Mate Max Flopsies, as well as Pirate Max and Mate Max body puppets and a Max Lil' Pack (a 13" backpack).

.

AD
---






This playset features five detailed characters — king, queen, princess, magician and jester — a table, two thrones and a bed so that every little girl can play happily ever after. The tower doubles as a handle for take-along play and the castle gates really work.

.

AD
---






.

AD
---






This emergency set includes die-cast vehicles, motorcycles, helicopters, firemen, policemen, street signs and a large playmat. The window box is 20" x 14" x 1.5".

.

AD
---






This unique playset includes seven moving pieces buried in two layers. Kids lift the first layer of dinosaur puzzle pieces to reveal a second layer of fossil pieces. The two layers connect magnetically, the animals can move the magnetic backdrop, and animal names are printed on each piece. The backdrop can be used on either side, for the land of dinosaurs or the fossil dig site. The product is handcrafted in wood, except for the included poseable plastic figure, which has gripping hands, a detailed sculpted face and soft, sewn clothing. "We added value to the set by adding the figure," explained Jessica Klein, vice president of sales for Odyssey Toys. "We wanted moving pieces, because kids love that, and magnetic features so they could play in the car." Launch date: April 20, 2007.

.

AD
---






.

AD
---






This 16" ship features sails, six pirates, a cannon, a treasure chest, a row boat, three flags and more. It is sold by the piece and packaged in a 11" x 10" printed box.

.

AD
---






.

AD
---






.

AD
---






The solid wood Heros train table is a perfect size for the home, being smaller than the huge ones typically seen in toy stores. It measures 26-1/2" x 24" x 18-1/2". It can be purchased with the complete train and track set or as just the table for all kinds of play. This quality product is made in the Heros factory in Germany. Launch date: March 2007.

.

AD
---






.

AD
---






.

AD
---






.

AD
---






Dreams come true in this fairy tale palace. With a realistic footbridge, working doors and windows, a rope ladder, a secret entrance and a set of six flexible wooden figures, this playset will provide years of imaginative play.

.

AD
---






It's natural to love this playful wildlife reserve, where animals feed, sleep, play and hide as a child's imagination unfolds. It features working doors, a ladder, sliding gates, two feeding troughs and 12 realistic wild animals.

.

AD
---






The Medieval Entourage Doll Set includes an archer, a damsel, a monk and a court jester. The archer, monk and court jester each come with a unique accessory. All dolls stand approximately 4" tall.

.

AD
---






Craft Box is a newly added item that has almost every imaginable craft from painting to structuring to assembly. It's a great value at $22.95, including freight.

.

AD
---






.

AD
---






.

AD
---
THIS BANNER IS AN AD:
---
---