May 14, 2021

June 2007 | Vol. VI - No. 6

---
Tinker Minds Builds Big
AeroBloks Bring Fun and Safety to Construction Play Sets
"AeroBloks have a 'bubble' look and feel that kids love."

Dick Liou and the folks at Tinker Minds Inc. know that kids love to build, and their goal is to give them the perfect materials to create the fort — or boat, plane, train or canoe — of their dreams.

Tinker Minds manufactures AeroBloks — colorful, inflatable and oversized transparent vinyl blocks that link together to create dozens of child-sized structures. The blocks inflate in as little as eight seconds and can be quickly deflated for easy storage.

A recent redesign has resulted in blocks that are even more durable and versatile, Liou shared with

TD

monthly Magazine. The new kits also include an air pump. Now for sale in Europe, improved AeroBloks will launch in the United States at the ASTRA Convention this month.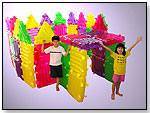 OIL-CRUNCH BENEFIT

"Our original goal in redesigning AeroBloks was to improve cost efficiency," explained Liou, president and co-founder of Tinker Minds. "The blocks are made from vinyl — an oil-based material — and the rising cost of oil has been a real concern for us. But as we finalized our redesign about six months ago, we found that by making a few minor changes we could also improve the connectors on the blocks, speed up the inflation time, and enhance the overall 'bubble' look and feel that kids love."

The blocks come in a variety of shapes that lock together in nearly any conceivable combination. And, unlike other construction kits that let kids build only the basic frame of a house, AeroBloks easily makes complete roofs that give kids the sense of enclosure they crave.

TRANSPARENT PLAY

In addition, parents can rest assured that when they purchase AeroBloks for their kids, they're buying a product that is made with safety in mind.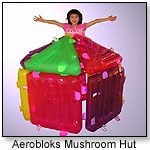 "Many of our competitors' products are made out of plastic, or in some cases, wood. Our play sets have no sharp edges at all; they're soft and very child-friendly," Liou told

TD

monthly.

The transparent blocks also let light — and Mom and Dad — peek into the children's structures as they play.

"When we talk to parents who have purchased AeroBloks, many of them tell us that they chose our product because the blocks are see-through," Liou said.

HEED YOUR MARKET

So what advice does Liou have for others hoping to cash in on the ever-changing toy market?

"Network! Attend trade shows; build relationships. It can sometimes take a little while to nurture a connection before they share any of their trade secrets with you, but still, it's worth the time."

Liou also believes that flexibility is essential. "Listen to market feedback," he said. "All of the changes we've made have been the result of that. This is a continuous learning and improvement process."

Here are some Tinker Minds blocks to get kids building:
---
---


Copyright © 2021 TDmonthly®, a division of TOYDIRECTORY.com®, Inc.