August 11, 2020

August 2007 | Vol. VI - No. 8


Dolls Won't Let Up
Not Hot, Not Cool, Classic Girl Toys Carry On
"Doll sales have been trending down slightly because of the effect of Webkinz — same consumer." — Deran Muckjian, Catch a Falling Star

With additional reporting by regional correspondents Virginia Davis, Dennis Furlan, Terri Hughes-Lazzell, Christine Lebednik and Brenda Ruggiero

Though few of the 62 retailers surveyed by

TD

monthly Magazine claimed dolls as a stellar seller, all but one carried them — a testament to this classic toy's staying power.

WHAT'S NEW

KatJan's rag dolls based on those toted by Kathy and Janet of The Lennon Sisters during their 1950s tours may appeal to traditional gift givers.

"I think they will do well," speculated Kim Hobbs, owner of Hobbs House of Dolls in Marietta, Ga.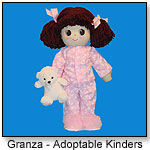 "I'm looking for something like American Girls" for older girls, David Campbell, owner of Amazing Toys in Great Falls, Mont., told

TD

monthly Magazine.

Dolls that fit into that category include the new 21" multicultural Karito Kids from KidsGive, 18" Christian-themed dolls from One2Believe and 18" dolls from Carpatina.

Retailers looking for alternatives to Barbie and Bratz might consider multicultural and biracial fashion dolls, such as Mixis by YNU Group, Makeda by EthiDolls and Princess Zara.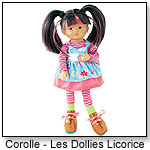 WHAT'S SELLING

Although Groovy Girls by Manhattan Toy are up in some stores and down in others, they're still at the top of

TD

monthly's Top-10 Most-Wanted Dolls list.

Classic baby dolls have regained some popularity, but customers are not always finding the cute, cuddly ones they want.

"I find it very difficult to get dolls for baby girls where the doll does not look angry," commented Marilyn Sipila, owner of Toys Etc. in Poulsbo, Wash. "I have a lot of mothers and grandmothers coming in and saying that as well."

Cute possibilities include the wildly popular Corolle babies, new plush dolls from Mary Meyer, play babies by Lee Middleton and updated rag dolls from Adorable Originals and Granza Inc.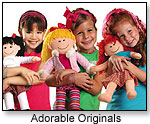 Four of 61 retailers have success with multicultural baby dolls — particularly Asian dolls that reflect adoptions taking place in their neighborhoods. But it all depends on demographics.

"We're not in a multicultural area, so we're not getting that impact like other places would," shared Mary Duncan, manager of Tinkerz Toy Shop in Coeur D'Alene, Idaho.

WHAT'S FADING

Dolls in general are down, agreed eight of 61 retailers.

"A lot of our buyers are older collectors and they only have so much room," explained Debbie Hough, buyer for 41-year-old Hartville Collectibles in Hartville, Ohio.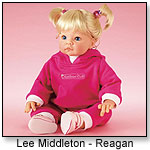 "Doll sales have been trending down slightly because of the effect of Webkinz — same consumer," added Deran Muckjian, owner of Catch a Falling Star in Winchester, Mass.

The one exception seems to be baby dolls, as mentioned above.

WHAT TO MAKE OF IT

Dolls are a staple, although rarely a hot seller. Pay attention to your demographic, look for cute cuddly dolls that are appropriate for little girls, and get ready for Grandma — she's most likely to bring a doll to the cash register.

For the latest fashion dolls, read Fashion Passion. For more on baby dolls, see Hot Babes.
Little Petals - Lily by MARY MEYER CORP.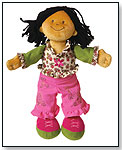 Unlike most dolls, these dolls have embroidered eyes and are constructed of soft fabrics that make them huggable. The first four dolls in the Little Petals line are Lily, Blossom, Daisy and Rose. Corduroy trims, ribbon trims, functional pockets and detailed embroidery are a few of the special details featured on these 10" soft dolls. Launch date: May 2007. 6/18/2007 (MSRP: $13.00; Age: 2 and Up)



Multicultural 16" Rag Dolls - Sofia, Lily and Isabelle by KATJAN INC.



These multicultural dolls wear "Best Pals" bracelets and clothes that are removable for added play value. Each doll is limited edition and numbered on its sewn-in label. Sofia features black hair, dark brown skin and black eyes, and is all dressed up in her red polka-dot party dress. Lily has black hair, pale skin and black eyes, and comes dressed in a mint green vintage-patterned dress. Isabelle has dark brown hair, brown skin and dark brown eyes, and is ready for her first day of school in a plaid dress. Launch date: September 2007. (

Watch Video) 6/15/2007



"Best Pals" Christmas Doll - Kathy by KATJAN INC.

This "Best Pals" doll is dressed up in her holiday attire to match the "Best Pals Christmas" CD cover. The dress is an elegant velveteen traditional color with a drop waist and a bow in the back. This doll also carries a silk drawstring tote with a little white flannel nightie inside. 4/27/2007 (MSRP: $29.95)



Ishababies® ChocoChip Girl and Boy by AISHA & CO. LLC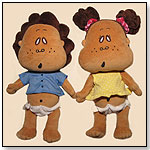 ChocoChip Girl & Boy are the latest additions to the Ishababies family of critically acclaimed "soft-sculptured friends" with "flavors" for everyone. Their luxurious cotton exteriors are complemented by polyester filling of all new material, and they are baby-safe and fully washable. "Global range and appeal," set Ishababies apart, Harold Bailey of Aisha & Co. told TDmonthly. "Via their unique combinations of look, touch and feel, Ishababies help us appreciate ourselves and others." Launch date: October 2006. 4/18/2007 (MSRP: $20.00; Age: 3 and Up)



Pink Melodie Plush Doll by COROLLE DOLLS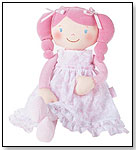 Snuggled inside bright, retro packaging, Melodie Pink is 16" of softness dressed in a fashionable French sun dress. She features a cozy cloth body with long, easily manipulated limbs, and a cheerful painted face that is sweetly framed with velour ponytails. "For many of today's young children, the tactile experience is more about touching technology rather than cradling cloth. … Melodie Pink offers the engaging simplicity of bright color, floppy flexibility and complete softness for a total experience of warmth and comfort," Maggie Moss-Tucker of Moss-Tucker Associates told TDmonthly. (

Watch Video) 4/6/2007 (MSRP: $30.00; Age: All Ages)



Wendi by MOLLY P. ORIGINALS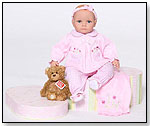 Pretty in pink, Wendi looks and feels like a real baby and is specially weighted for easy "cuddle and carry" times. She has a high-quality, poly fiber, synthetic bean-filled body and features adorable embroidery and a matching 16" satin-trimmed blanket. She comes with her own "Daisy" bear made exclusively for Molly P. by Gund. "Molly P. Originals are extraordinarily made collector's-quality play dolls at "play doll" pricing," Owner Barbara Angel told TDmonthly. Launch date: February 2007. (

Watch Video) 4/3/2007 (MSRP: $69.95; Age: 3 and Up)



My Belly Button Baby by SMALL WORLD TOYS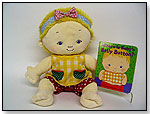 Small World Toys has the perfect new item to help little ones find their navel, just in case it's gone astray. Karen Katz' adorable book "Where Is Baby's Belly Button," along with a cuddly plush toy that comes to life from the story, will help baby solve this caper in no time. The plush doll measures 12", and the company requires a minimum order of four units. Launch date: June 2007. 3/22/2007 (MSRP: $29.99; Age: 1 and Up)



Adorable Girl Doll - Zoe by ADORABLE ORIGINALS INC.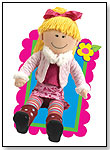 Adorable Girl dolls wear fashionable clothes that appeal to young girls and have a positive message that all girls are beautifully and wonderfully created just as they are. Blond-haired Zoe is outfitted with colorful striped leggings, a fur-trimmed jacket and a pretty ribbon in her hair. Each doll represents the uniqueness and personality of each little girl who will love and cherish her. The dolls — also Maisie, Lili, Kylie, Gracie and Chloe — are significant in size and very huggable. Adorable Originals is working on an extensive line of clothing, accessories and books to complete the Adorable Girl doll collection. Launch date: January 2007.
— Adorable Originals were a favorite pick at the ASTRA Marketplace 2007 for doll collector, retailer and expert Denise Van Patten. 3/22/2007 (MSRP: $39.95; Age: 3 to 9)



Dolls by Pauline Celina Ballerina by VERDES TOYS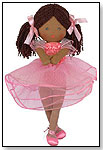 Ready to dance and twirl, Celina is one of three 14" ballerinas dressed in a beautifully detailed tutu with rows of lovely tulle and pretty pink shoes. "Celina, a traditional cloth doll, captures the sweetness and innocence of children in her expression. … [She] is a delightful cuddly soft doll for children. Pauline's heartfelt creations have remained popular for over 30 years," Kent Lai of Verdes Toys told TDmonthly. Launch date: August 2006. 3/22/2007 (MSRP: $16.00; Age: 3 and Up)



Baby Millie by THE LITTLE LITTLE LITTLE TOY COMPANY



Introduce a little girl to her very own baby she can care for, play with and dress. Baby Millie laughs, cries, sucks her bottle and sleeps, just like a real baby. She comes dressed in a soft velour sleeper and hat. The set also includes a bottle, pacifier, pillow and comforter. 3/12/2007 (MSRP: $49.95; Age: 3 to 8)



Grand Duchess by CARPATINA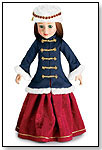 This 18" doll wears a red brocade skirt, a navy blue jacket with gold frogs and fur trim, a fur hat with gold trim and a tassel, and red boots with tassels and a back zipper. "Carpatina is dedicated to offering high-quality fashion and collectibles with a stylish, romantic flavor. The combination of elaborate designs, unexpected details, historical authenticity and play value all combined with high quality of execution makes the Carpatina dolls and outfits highly desirable," Mihaela Hinkle, creative director at Carpatina, told TDmonthly. Launch date: October 2006. 10/26/2006 (MSRP: $38.00; Age: 6 and Up)



Calin Yang by COROLLE DOLLS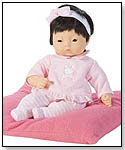 Calin Yang has brown sleepy eyes and natural-looking rooted hair that can be combed and styled. She can also be posed like a real little baby. All Corolle dolls are made with vanilla-scented vinyl. Their clothing reflects current styles and fabrics. Calin Yang is part of Corolle's Mon Premier collection. She has accessories that will encourage little girls aged 18 months and up to take care of her all day long.
— "We do sell several Asian dolls," noted Gwen Bowden, manager of Doodlehopper 4 Kids in Springfield, Va. "There are a lot of adoptions [here], and we try to carry a diverse selection of dolls that kids can play with. Ten percent of toy-store owners said Corolle dolls were great sellers for the holidays 2006.
― "Corolle [sells] head and shoulders above anything else," said Sue Hottel, owner of No Kidding in Mattapoisett, Mass., of her doll department in May 2010. Two retailers told TDmonthly in late spring 2010 that Calin Yang is their top-selling doll. Twenty of 43 retailers named Corolle as their best-selling doll brand. 11/30/2006 (MSRP: $28.95)



Troop Groovy Girls by MANHATTAN TOY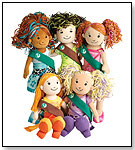 Manhattan Toy has teamed up with Girl Scouts of the USA to design a spirited line of themed Groovy Girls dolls and accessories. Celebrating girls' personal style, diversity and the power of friendship, these debut dolls embrace virtues inspired by the Girl Scouts' mission to build girls of courage, confidence and character who make the world a better place. Groovy Girls Awards: TDmonthly Top Seller 2007. Launch date: July 2007.

Where to Buy Groovy Girls: Blue Turtle Toys (

Watch Video) 6/7/2007 (MSRP: $15.50; Age: 3 and Up)



Käthe Kruse Puppen Waldorf Pirate Boy by EUROPLAY CORP.


Forever looking for a treasure is Käthe Kruse's little Pirate Boy, who is always in a good mood and loves to play. His hand-embroidered face has fun little freckles and his red hair is made of genuine wool. Standing 7" high, this handcrafted doll is dressed in cropped, red pirate pants, while a white shirt with pirate logo and black cap complete his pirate look. Wherever he goes, he always first places his flag. He is stuffed with 100-percent sheep wool and covered with cotton stockinet. Käthe Kruse Waldorf dolls are individually handcrafted and not mass produced. They are "little individuals that stimulate the child's fantasy and imagination," Marion Hohmann of Europlay told TDmonthly. Launch date: February 2007.
— "[My customers] love Waldorf school philosophy," said Kristen Pollard, co-owner of Mud Puddle Toys in Marblehead, Mass. (

Watch Video) 7/5/2007 (MSRP: $44.00; Age: 3 and Up)



Mixis™ by YNU GROUP INC.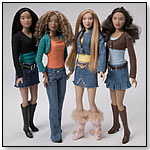 Mixis™ collectible play dolls have been delicately designed with varying skin tones, realistically painted eyes, unique facial characteristics, fully articulated body parts and a naturally proportioned body. The focus is on the blending and fusion of races, ethnicities and cultures, encouraging a dialogue between children and their families that explores the richness and diversity of their individual backgrounds. (

Watch Video) 1/30/2007 (Age: 6 and Up)



Makeda™, The Queen of Sheba Doll/Book and CD Narration by ETHIDOLLS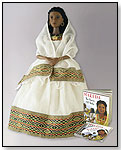 Sixteen-inch-tall Makeda, The Queen of Sheba is the first doll in EthiDolls' African Signature Educational Doll Collection. Her authentic costume is hand woven in Ethiopia, and her dress features a traditional border design of gold, lapis lazuli, ruby red and emerald green. Makeda's lustrous hair is braided in a long natural wave, and she is adorned with gold-plated jewelry and a classic neck tattoo. Queen Makeda's beautifully illustrated storybook and CD narration portray her rise to the throne and her legendary journey to visit King Solomon. "EthiDolls has introduced the first authentic collector-quality educational doll based on African women leaders from antiquity, and has imbued the product with the principles of fair trade," Patti Gindoff, SVP of marketing for EthiDolls, told TDmonthly. Launch date: December 6, 2006. 2/23/2007 (MSRP: $164.00)



Princess Zara Doll – "Making of a Princess" by PRINCESS ZARA INC.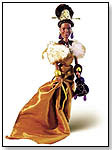 "Making of a Princess" brings a vibrant history and comes with the following: a 40-minute animated DVD of Princess Zara and her ancestors, featuring three inspiring stories spanning three generations connected by a family heirloom; a jewelry box with a jewelry kit; and an E-pal card invitation to Princess Zara's online world where girls can sign in with their secret code and write and receive letters from the Princess. Other dolls in the series include "Hip-pop Diva," "Exotic Jewels of Africa," "Dressmakers of Zaboomga" and "Wardrobe of Gold." Launch date: February 2007.
— "I think people appreciate having multicultural dolls," commented Mary Sisson, owner of Kazoodles in Vancouver, Wash., in late spring 2007. (

Watch Video) 1/9/2007 (MSRP: $19.99; Age: 6 and Up)



Interactive Lia by COROLLE DOLLS



Corolle's 17", multilingual baby doll communicates in French, English, Spanish or Italian. Through a simple, well-hidden and secure battery system, little girls can activate Lia's language skills using different Corolle charm bracelets. Specific, gentle touches and tickles to Lia result in endearing, realistic responses. She is dressed in velour pajamas and a cap. Accessories include a bib, bottle, pacifier, teddy bear and charm bracelets. AAA batteries are not included.
― "I like working with … Corolle as I can order only what I can use for the time period," Owner Patti Tepper-Rasmussen of Learning Tree Toys in Oklahoma City, Okla., told TDmonthly in spring 2007.
— "I think people want more interactive dolls," said Nellie Fais, owner of Toy Magic in Bethlehem, Pa. Twenty-seven of 62 retailers said in spring 2007 that Corolle is their best-selling doll brand, with sales ranging from six to 25 units per month. Corolle's Lia and Lila are best sellers for Brain Station and Tree Town Toys in Ann Arbor, Mich., Owners Hans and Tricia Masing told TDmonthly in fall 2007.
— Interactive Lia is a precious baby doll from a company that's popular with specialty retailers. She earned a TDmonthly Top Toy 2007 award for educational value, as she speaks pertinent baby phrases, such as "I'm hungry!" in four languages. Her little baby voice is as pleasant as her pretty pink outfit and accessories. She's much more than the average baby doll, and vanilla-scented at that. (

Watch Video) 5/8/2007 (MSRP: $100.00; Age: 3 and Up)



P31 Elisabeth Doll by ONE2BELIEVE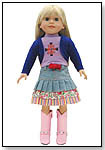 This exclusive collection of high-quality dolls is based on the biblical teaching of Proverbs 31. The P31 dolls were specifically designed to provide a Bible-based, Christian alternative to secular toys on the market, and to encourage young girls to pursue biblical womanhood. There are three different P31 dolls: Abigail, Elisabeth and Leah. Standing 18" tall, each doll has beautiful glass eyes, long rooted hair and a contemporary outfit. Each doll comes with an accessory kit, containing a Bible lesson (based on Proverbs 31:20), two cookie-cutters, a cookie recipe and a list of exciting activities. Launch date: December 12, 2006.
— Josh Livingston of one2believe said, "It is our prayer that the Lord would use these dolls as a means to encourage the girls of today to become Proverbs 31 women of tomorrow."
— P31 Elisabeth is a daily play favorite for 6-year-old Savannah Forrest, a TDmonthly Dolls Roundtable participant, and so tied for third place as a toy with lasting value. (

Watch Video) 1/4/2007 (MSRP: $39.99; Age: 3 and Up)



Adorable Kinders Rag Dolls Qiana by GRANZA INC.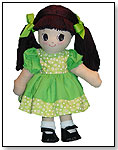 Each high-quality, washable Adoptable Kinders rag doll is designed by famed artisan Aranza Zamora. The 26-doll collection is themed as an active group of kindergarten friends with different personalities, and the name of each character begins with a different letter of the alphabet. Each doll comes with an Internet key-code that allows children to register online at the "Adoptable Kinders School," where they can play educational games. A child graduates to the next grade when all the games for one grade level are completed. The dolls are about 18" tall. (

Watch Video) 7/5/2007 (MSRP: $59.99)



Heidi - from the Lawton Library Collection by THE LAWTON DOLL COMPANY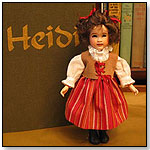 The beloved heroine of Johanna Spyri's classic story, Heidi comes alive with her black curls and pale eyes. The 9" wooden-bodied doll wears a traditional dirndl of woven cotton topped with a leather vest. In her book box are a basket of soft, white rolls for Peter's grandmother and the warm red shawl she couldn't bear to give away. A beautiful sunset-colored silk dress made over for her from one of Clara's is included. Also tucked in the box is the book that made her so homesick when it reminded her of Grandfather's home high up in the Alps. She's available in a limited edition of just 75 dolls. 7/5/2007 (MSRP: $895.00)



Spider-Man 3 Collection by TONNER DOLL COMPANY


The dolls' hand-painted faces strongly capture the likeness of Kirsten Dunst, Tobey Maguire and Bryce Dallas-Howard in their respective roles in the "Spider-Man 3" movie. The dolls are crafted of fine quality vinyl and hard plastic and feature 14 points of articulated movement. Each doll stands 17" tall. Launch date: May 31, 2007.
— The movie "Spider-Man 3" has generated over $336,500,000 in the U.S. Box Office.
— "Two attributes that make Tonner dolls most sought after by fashion doll collectors are the quality and the 'feel' of the dolls," Tom Courtney, visuals and merchandising director for Tonner Dolls told TDmonthly.
— "Spider-Man 3" was directed and co-written by U.S. film director, producer, writer and actor Sam Raimi. 6/18/2007 (MSRP: $149.99; Age: 9 and Up)



The Last Mimzy by TONNER DOLL COMPANY



Tonner Doll Company Inc. has created limited edition Emma & Mimzy™ dolls based on characters from New Line Cinema's science fiction feature film, "The Last Mimzy." At IDEX 2007, Emma and Mimzy received a nomination for an Industry's Choice "Diamond" Dolls Award for Excellence. The partnership between Tonner Doll Company Inc. and New Line Cinema also includes an individual Mimzy collectible. Emma, sculpted by renowned artist Ann Timmerman, is 18" tall, fully strung and crafted in high-quality vinyl with rooted saran hair and sweet, inset eyes full of expression. A miniature 9" Mimzy rabbit is included with Emma, and together they retail for $124.99. A separate, life-size Mimzy doll measures 14" ear to toe and retails at $59.99. (

Watch Video) 2/2/2007



---
---


Copyright © 2020 TDmonthly®, a division of TOYDIRECTORY.com®, Inc.