May 8, 2021

August 2007 | Vol. VI - No. 8

---
Gifts for the Jaded (Kids 8 to 12)
Ordering for tweens can be difficult. Take a look at these specialty toys, or search by category to please the unpleasable.

See more toys for kids 8 to 12.
See more toys for kids 13 and up.
Punch Needle Kit by DIMENSIONS/PERLER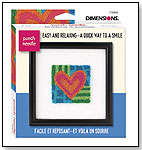 With bright colors and contemporary themes, this punch needle kit fits right in with today's home decorating. It's super easy and quick to stitch, and designs include florals, critters and inspirational sayings. "Punch Needle by Dimensions puts a new spin on a fun, folk craft that has been around for generations, with bright color and contemporary themes," Sales Manager Ann Shade at Dimensions told TDmonthly. Launch date: January 2007. 7/5/2007 (MSRP: $8.99; Age: 10 and Up)



BBurago Gold – Jaguar "E" Coupe Hard Top (1961) by TOY WONDERS INC.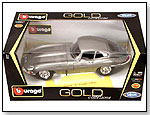 This 1:18-scale die-cast collectible model car measures 9.5" L x 3.5" W x 2.25" H and has an openable hood, doors and trunk. It features Italian design, comes in gray, and is individually packed in a window box. It is manufactured by BBurago. Box size: 12" L x 7.25" W x 5" H. Launch date: June 21, 2007. 7/2/2007 (MSRP: $25.99; Age: 8 and Up)



Sterling Silver Hebrew Letter & Chain by SARAH AND DAVID INTERACTIVE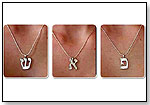 Available in each of the 22 Hebrew letters, these sterling silver necklaces are a wonderful way to display one's special letter. This is also perfect as a gift for any child learning to read Hebrew, for any child at his or her Bar or Bat Mitzvah, for a great Sunday school teacher or for any student who has accomplished something huge. The necklace chain comes in a small 16" and a medium 17". 6/29/2007 (MSRP: $24.95)



Flight School by TREE TOYS CORP.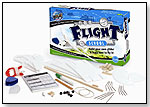 Kids can build their own glider and learn all about the science of flight. These high-performance gliders can be launched either by hand or by the included tow rope. Kids will learn about aerodynamics in their efforts to get the best out of their aircraft for aerobatics, speed or long flights. A pilot's exam and flight log book are provided to allow kids to feel like real pilots. This product is exclusively distributed by Toyops Inc. Launch date: July 2007. 6/27/2007 (MSRP: $13.50; Age: 10 and Up)



Griddly Headz Racing by GRIDDLY GAMES INC.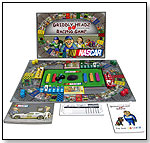 Officially licensed by NASCAR, this game is part of a distinctive and innovative line of sports-themed games. Dice-rolling and sports-related challenges combine with strategy, alliances and a bit of luck to make these games action-packed from the first roll of the dice to the final frenzied seconds. The game is fun, easy to learn and quick to play. This product is a spring 2007 National Parenting Center Seal of Approval Award winner. Launch date: January 2007. 6/27/2007 (MSRP: $29.95; Age: 8 and Up)



Ultra-Star™ 175 Ultimate Sportdisc™ by DISCRAFT INC.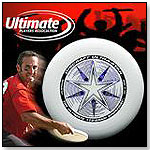 This disc is the world standard for the sport of Ultimate and the official disc of the Ultimate Players Association Championship Series. Ultimate players call it sports equipment ... kids on the beach call it fun. Precision engineered quality has ensured consistent flight since 1981. Full-color custom printing is also available.
— "Discraft flying discs" are best-sellers at Izilla Toys in Seattle, according to Co-Owner Jude Larene. "We sell Ultra-Star discs, which is the official disc for playing Ultimate. Seattle has a huge Ultimate community, even in elementary schools." 6/26/2007 (MSRP: $10.00; Age: 5 and Up)



Chantilly Lane® Pearl's Wisdom Asst. by PBC INTERNATIONAL INC.


This musical and animated plush is available in six different varieties. Each bear dons a boa-trimmed, bright pastel-colored hat and a matching sweatshirt. Each sweatshirt features sayings of love, friendship and inspiration. The bears' heads sway and their mouths move when they sing. Suggested MSRP is between $19.99 and $24.99. Launch date: March 2005. 6/25/2007 (MSRP: $24.99; Age: 8 and Up)



Harry Potter Hogwarts School of Witchcraft and Wizardry Building Cards by KLUTZ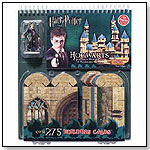 This building set includes more than 275 cards that allow users to construct their own version of the Hogwarts School of Witchcraft & Wizardry. Sturdy slot-to-slot construction means there is no need for glue or nails and the cards can be taken apart and reassembled over and over again. The instructions feature assembly hints, step-by-step illustrations and directions so simple even a Muggle could follow them. The set also comes with a custom-molded Harry Potter figurine. Launch date: May 2007.
— Licensed products may be frowned upon in specialty stores, but don't tell that to the smiling retailers who are profiting from the super combo of best-selling Klutz books with super-hot Harry Potter. It's a new item, but it's already made the radar blink. That's why it's a winner of a TDmonthly Top Seller 2007 award.
— This set is a top seller Brain Station and Tree Town Toys in Ann Arbor, Mich., Owners Hans and Tricia Masing told TDmonthly in fall 2007. 6/13/2007 (MSRP: $19.95; Age: 8 and Up)



Forest at Fontainebleau by J.C. AYER & COMPANY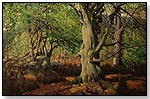 Kroll painted Fontainebleau in 1906 and named it for the famous royal forest outside of Paris, which is noted for its handsome old oak trees and its proximity to the Seine. The painting was rumored to be one of Kroll's wife's favorites. The puzzle measures 15.5" x 23.5" and is made out of African okuome wood for its density and durability. "This is the largest, most beautiful and most challenging puzzle J.C. Ayer & Co. makes," the company's Jim Ayer told TDmonthly. "Sometimes the most expensive is the best deal. Down the road, the customer may forget the price but will see the beauty and remember the challenge." 6/13/2007 (MSRP: $620.00; Age: 13 and Up)



AH-64 Apache Helicopter 1/32 by THE TESTOR CORP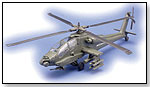 Pre-painted with snap and screw assembly, this kit is perfect for young modelers. The helicopter is made of tough plastic to ensure maximum durability during play. All necessary assembly tools, including a screwdriver, are included in the kit. 6/13/2007 (MSRP: $24.99; Age: 8 and Up)



Microcontroller by THAMES & KOSMOS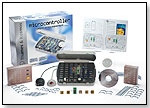 This computer systems engineering kit introduces kids to microcontrollers, sensors and programming. The educational kit includes 100 experiments involving light, heat and sound sensors, data collection and more. Kids will learn about the inner workings of computers and programs and how to assemble circuits, design circuits and write programs. This product received a Spring 2007 Parents' Choice Silver Award.
— "This kit breaks down how computers actually work and thus is extremely relevant to the technology-dependent world in which children live and learn," Christa Raimondo, customer relations manager for Thames & Kosmos, told TDmonthly.
— "Thames & Kosmos science kits do really well during the holidays," Little Blue Choo Choo Manager Brandy Lindstrom in Scottsdale, Ariz., told TDmonthly.
— Five out of 58 retailers who spoke with TDmonthly named science kits as a popular gift item for older kids. 6/13/2007 (MSRP: $149.95; Age: 12 and Up)



Dao by FAMILY GAMES INC.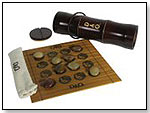 Finding a balance between harmony and strategy, players glide their river-stone playing pieces into predetermined positions. A player may not stop a stone midstream, jump over a stone, or move onto an occupied space. It is all about gliding and flowing. The game comes packaged in a high-gloss bamboo tube. 6/13/2007 (MSRP: $29.99; Age: 8 and Up)



Bull's-Eye Washers™ by FUNDEX GAMES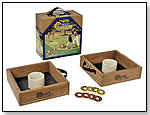 This exciting game for two to four players is similar to horseshoes. Players heave washers at the bull's-eye target and score three points for hitting the center bull's-eye cup and one point for landing it in the box but not in the cup. The first team to score 21 points wins. The game is completely portable and can be set up for all different skill levels. It includes two wooden boxes, four yellow washers and four orange washers. Launch date: June 2006. 6/5/2007 (MSRP: $39.99; Age: 8 and Up)



Nail & Decorative Artist Kit by FASHION ANGELS



Girls can design their own nail art and decorate MP3 players, cell phones, keychains, cameras and almost any gadget one can think of with our groovy Peel-Off Enamel. The kit includes five bottles of Peel-Off Enamel, a nail presentation board for 20 nail designs, gems, sequins, a glitter nail file, a mixing tray, a paint brush, a design sketch pad and a full-color instructional guide book. It is 10.5" W x 16.25" H x 1" D. 6/5/2007 (MSRP: $24.00; Age: 8 and Up)



Dwellings 1 by LEARNING MATERIALS WORKSHOP

This set allows individuals to build with light, color and shadow. Four jewel-like, transparent, acrylic prisms are housed in a natural hardwood tray with a series of color optical filters and reflective mylar squares. The opportunities for experimenting with color mixing and constructing brilliantly colored architectural and sculptural forms are endless. Imagine the possibilities. 6/4/2007 (MSRP: $19.99; Age: 5 to Adult)



Techno Gears Marble Mania MEGA by THE LEARNING JOURNEY INTERNATIONAL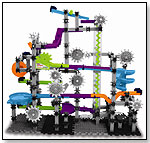 A high-tech version of the Marble Mania Extreme, this 430-piece kit features dual marble tracks, a chamber of sound, a marble twister, a motorized gear and a power lifter that automatically returns marbles to the top of the run. It allows kids to build a bigger and better marble run, and will keep little architects busy creating new working and moving creations. It requires one AA battery. "Our product features several electronic components, such as the sound chamber, the spiral gear and electronic gears. Also, we have a website that gives multiple configurations that can be constructed," Jaye Ross of The Learning Journey International told TDmonthly. Launch date: February 2007. 5/23/2007 (MSRP: $59.99; Age: 8 and Up)



Piano Made Easy® by MAYRON COLE MUSIC CONSERVATORY INC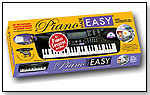 Piano Made Easy turns learning into a piano-playing adventure. As the child is taken on a musically guided tour of a very funny zoo, he or she will explore 10 different areas, in sequential order, and learn such things as note values, keys on the piano and rhythm. In addition to 57 original compositions, the interactive CD also features 10 rhythm and keyboard games. The 49-key battery-operated piano keyboard is placed in front of the computer screen in place of the typing keyboard. Piano Made Easy has won a 2007 iParenting Media Award for Excellent Products, a Toy Man Seal of Approval Award of Excellence, a Family Review Center Platinum Award, an eChoice Award and a 2007 Toy of the Year Award from Creative Child Magazine. (

Watch Video) 5/21/2007 (MSRP: $119.99; Age: 7 and Up)



Erector Tuning Radio Control Light and Music System Car by SCHYLLING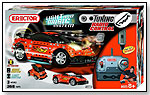 This set allows children to construct three different car models that feature orange metallic paint, flaming stickers, racing tires and chrome-plated rims. It has light and sound effects as well as a full-function controller. The set includes 368 parts, including a power tool. Previously distributed by Nikko America.
— As of 8.03.2010, this product had 4 out of 5 stars from 5 reviews on Amazon.com and was No. 23 in the top 100 best-selling toys and games. PROS: Appeals to boys and holds interest. CONS: Electronics might not last as long as the model does. Can be difficult to assemble. 5/15/2007 (MSRP: $99.00; Age: 8 and Up)



UberArc Architectural Series by UBERSTIX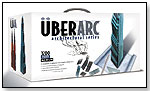 This complete professional construction kit allows children to create foundations from real blueprints with the 12 foundation plans included. Builders can make representations of real skyscrapers or design their own. The 3,200-piece set retails at $299.99. A 1,600-piece set is also available (MSRP: $179.99). Launch date: June 2007. 5/15/2007 (Age: 10 and Up)



Hit or Miss by GAMEWRIGHT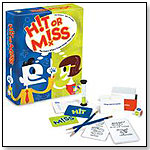 In this quick-playing game, three to eight players must sharpen their pencils and intuition. A player draws a category card and in 45 seconds, everyone lists as many related words as come to mind. The player then rolls the die. If it lands on HIT, that player picks a word he thinks everyone wrote; if it's on MISS, he picks a word he thinks only he wrote. The highest score wins. This product received a 2007 Mensa Select award, a 2007 iParenting Media Award, a Dr. Toy Best Product Award and the National Parenting Center Seal of Approval. "Enforcing creativity, imagination, language and vocabulary development, this box of fun pushes its players to be in tune with each other," Erin Smith of Aigner Associates told TDmonthly. Launch date: March 2007. 5/14/2007 (MSRP: $19.99; Age: 10 and Up)



The Wizard's Workshop by FAMILY GAMES INC.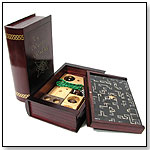 This wooden workshop consists of eight bewitching brainteasers and an everlasting magical maze. Wooden blocks, balls, ropes, cords, metal rings and a screwdriver are tucked inside the faux leather assembly book. The challenge of the game lies not only in putting together the eight wooden puzzles, but also in solving them once the puzzles are assembled. Creativity and constructiveness are essential to this game. (

Watch Video) 5/4/2007 (MSRP: $49.99; Age: 8 and Up)



Winner's Circle Collectibles™ Shire Horse by SAFARI LTD.®



These extraordinary horse replicas capture the true personality of each breed. Expertly sculpted down to the horseshoes on the hooves, the new editions for 2007 are the Shire and the ever-popular Tennessee Walker with red ribbons in the mane. All are hand-painted and phthalate free. The entire collection consists of 15 adult and foal horses and ponies of many of our most favorite breeds. All include five-language educational information. The replica size is 5" L x 4.5" H. 5/14/2007 (MSRP: $5.00; Age: 3 and Up)



---
---


Copyright © 2021 TDmonthly®, a division of TOYDIRECTORY.com®, Inc.