May 13, 2021

August 2007 | Vol. VI - No. 8

---
Thank You, Canada!
Cross-Border Friendship Impacts the Specialty Market
In recognition of the importance Canada plays in the specialty toy market,

TD

monthly Magazine spoke with retailers, manufacturers and experts north of the border to find out how much of their business is U.S.-driven, and what the pluses and minuses are.

LARGER MARKET = MORE MONEY

Manufacturers cited several benefits, including an expanded customer base.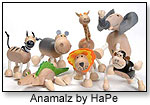 "Partnering with U.S. stores has been beneficial to us in a number of ways, but mostly because the U.S. market is 10 times larger than ours," explained Wendy Hamilton of Model Builders Supply.

Maggie Qiu, general manager of HaPe International, said that it isn't all about size, and other manufacturers agreed. "The U.S. is a trend-setting market for us," stated Qiu. "Our reps and retailers actively provide feedback, which we weave back through our product development process."

For Canadian toy-store owners, however, the story is a little more complicated.

SHIPPING COSTS IRRITATE

According to the six retailers surveyed by

TD

monthly, an average of 59 percent of the toys on their shelves come from the United States, and approximately 40 percent are domestically produced, with the balance coming from Europe and other markets.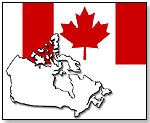 The downside to importing toys from U.S. vendors, however, is cross-border shipping costs.

According to Cindy Fehr of Plush Animal Planet in Grand Forks, British Columbia, "More help is needed for dealing with customs. Border crossing fees charged are always costly."

"Better transport and duty cost sharing" is needed, agreed Alison Lim, founder of Style Kid, an online store headquartered in Port Moody, British Columbia.

Riyaz Dattu, an international trade lawyer with Osler, Hoskin & Harcourt LLP in Toronto, said Chinese goods are the culprit with respect to cross-border duties. Said Dattu, "If product is shipped from China to the States, then to Canada, that's when significant duties and fees kick in."

SALES ARE ONLINE

As far as actual sales are concerned, Canadian retailers commented that U.S. shoppers are much more likely to point and click than to fly or drive.

Tourists from across the border account for "less than 1 percent of total business" for Duane Schreiner of Gracie & Gruff Fine Toys in Calgary, Alberta. Others said "zero."

But the online story is different. The most frequent figure given for the amount of online sales directed toward U.S. customers was 75 percent.

Despite the challenges, manufacturers and retailers agreed that partnering with its neighbor is profitable for both countries.

Here are a few of the products made in Canada that are headed for the U.S.:
Abalone Classic by FOXMIND GAMES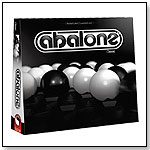 Abalone is a fast-paced strategy board game that has sold more than 4 million copies worldwide. Players compete to push six of their opponents' marbles off the board. The game can be learned in one to two minutes, and the game itself lasts approximately 15 minutes. Each purchase order comes in a carton of six games. This game is a winner of Europe's Game of the Decade Award. (

Watch Video) 6/27/2007 (MSRP: $32.95; Age: 7 and Up)



Packaged Slumber Bags by JADEN'S WORLD



This product fits newborns up to 3-year-olds. (Since every child grows and develops at a different rate, the slumber bag may not fit all 3-year-olds). 9/1/2006 (MSRP: $59.95; Age: 0 to 3)



Crazy Cuties Educational Giant Foam Puzzle by INTERNATIONAL WORLD OF TOYS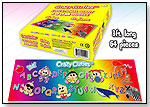 This giant puzzle is 4' long and contains 64 pieces. Children "will love playing with the huge pieces while putting them together, [and] learning their alphabet in the process... [Kids] can easily lie down on the completed puzzle and be quite comfortable doing so!" Marketing Director Mona Ali of International World of Toys told TDmonthly. "The toy is great for the specialty market since it combines so many fun things in one single product." Launch date: September 2007. 2/21/2007 (MSRP: $12.99; Age: 3 to 7)



Griddly Headz Baseball Game by GRIDDLY GAMES INC.



Griddly Headz Baseball Game will hit a home run with any family. Dice rolling and sports-related challenges combined with strategy, alliances and a bit of luck make these games action-packed from the first roll of the dice to the final frenzied seconds. The game's strong and sturdy construction will make it last from one generation to the next. This game received a Dr. Toy Award for Best Products for Summer 2008. And the deluxe version is a 2007 iParenting Media Award winner. Launch date: June 2007. (

Watch Video) 6/22/2007 (MSRP: $49.95; Age: 8 and Up)



Book One - Jasmine the Butterfly Girl by WILDWOOD MEDIA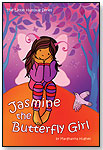 Jasmine is a butterfly girl — half human and half bug — who can fly and talk to the animals of the forest. As protectors of nature, Jasmine and her butterfly friends are growing concerned about the damage being done to Mother Nature. The Butterfly Girls decide to go out on a quest to find a young girl who will them help fight the destruction. Launch date: June 2007.
— "We have just launched our new children's brand, The Little Humbugs. There is a book series, a collection of dolls, and apparel," said David Hughes of Wildwood Media when talking to TDmonthly about serving the American market. 6/18/2007 (MSRP: $9.99; Age: 6 and Up)



World of Elves – Eyela by SCHLEICH NORTH AMERICA, INC.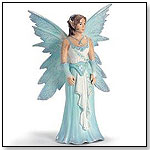 Eyela, the sublime one, is the last in the dynasty of the kings of the elves. She alone can save the land of the elves from doom. Launch date: May 2007.
— "Schleich historical and mythical figures do very well for us," Tye Steinbach of Thinker Toys in Portland, Ore., told TDmonthly in May 2008.
— Over one-fifth of 55 retailers surveyed by TDmonthly in May 2008 named mythical action figures as a top seller.
— More than 23 percent of retailers named action figures by Schleich as best-sellers in their stores. (

Watch Video) 6/13/2007 (MSRP: $4.99; Age: 3 and Up)



Songs for Little Princesses by CASABLANCA KIDS INC.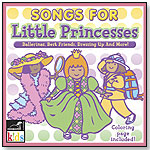 Twenty tracks about ballet, best friends, sleepovers, dress-ups and more will delight any little girl. The hour-long disc features popular children's artists, including Sharon, Lois & Bram, Fred Penner and Parachute Express; it also features jazz greats Freddy Cole and Sweet Baby J'ai. A coloring page is included with the CD. Awards include the 2007 iParenting Media Award Outstanding Products Call, 2007 Parent's Choice, and the 2007 Parent's Choice Outstanding Products Award. Launch date: April 3, 2007. 6/18/2007 (MSRP: $5.99; Age: 0 to 6)



A Treasure in My Garden by THE SECRET MOUNTAIN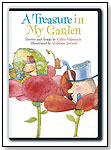 Extraordinary tales, unforgettable melodies and catchy nursery rhymes abound in this animated DVD. From Tooncan Productions, producers of the Academy award-winning film "The Triplets of Belleville," these 13 animated music videos will visually delight both young and old. The music videos feature songs beautifully crafted by celebrated Québec poet Gilles Vigneault and performed by Hart-Rouge and Connie Kaldor. "A Treasure in My Garden" introduces kids and adults to a world where little girls plant light bulbs; lion-taming, mice-fearing men like Marshmallow Stan talk fast; and a little boy sets off to see if the world is truly round. The DVD is also available in an Amaray case. Launch date: April 25, 2007. 5/21/2007 (Age: 2 and Up)



Zipfy – The Freestyle Mini Luge by GREAT CIRCLE WORKS INC.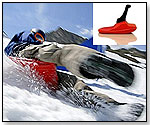 Inspired by the Olympic sport of the luge, the lightweight Zipfy (less than 3.7 lbs.) is compact and fast. Made of high-density polyethylene plastic, it is engineered for performance, safety and maneuverability on every type of snow. It features a feet-first design so that riders can control their speed and stop by digging their heels into the snow. It makes for a great family sport and comes in electric eel green, firefly red, and black diamond colors. "With a low center of gravity and the rail design on the underbelly of the sled, riders can carve down the slopes, simply by leaning into the turn," Mark Cahsens of Zipfy Inc. told TDmonthly. Launch date: October 2007.
— Joe Berardoni, owner of Pun's Toys in Bryn Mawr, Pa., told TDmonthly in late fall 2009 that the Zipfy was one of his top-three best sellers.
— "I sold 12 of the Zipfy luges last week. The sleds are awesome," Jeanette Lauture, owner of Aunt Jean's Toys & Treats in Montclair, N.J., told TDmonthly in early December 2009.
—"During the Christmas season this past December, we sold over a hundred," Joe Berardoni, owner of Pun's Toys in Bryn Mawr, Pa. , told TDmonthly in early 2011.


3/9/2007 (MSRP: $39.99; Age: 5 and Up)



Bamboo Rapelli by HAPE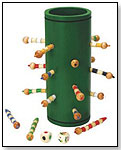 This well-designed game is simple, yet challenging. Rapelli, a game made of bamboo, is a game of chance. Children pick their favorite color caterpillar and roll the color and arrow dice to see whether they move a caterpillar in or out. The last one not to fall out is the winner. Launch date: 2007. 6/22/2007 (MSRP: $29.95; Age: 4 and Up)



NHL Ice Breaker: The Card Hockey Game by CSE GAMES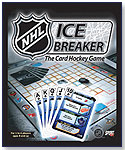 This fast and furious card-based NHL hockey board game appeals to gaming, sports and fantasy sports fans, as well as card players. Play is based on high-hand wins and combines the best elements of several classic card games. One to four players deliberate over playing strong cards immediately or holding them back for a shot on net or a big save, giving players great control over the outcome. Launch date: May 2006. 6/22/2007 (MSRP: $23.31; Age: 8 and Up)



UPSET™ by P.S. PLAYGAMES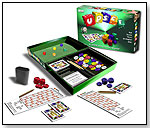 The object of this addictive game is to score points with the dice and strategically use the UPSET cards to beat opponents. Two to six players start with 25 uPcentS (chips) — 10 for the pot and 15 to play with. As players' scores rise, they win chips. If they don't score, they lose chips. And if they go into debt, they are out. If a player rolls UPSET, everyone else must restart from scratch. Playing time is 30 to 120 minutes. Launch date: May 15, 2007 (specialty); August 2007 (mass market).
— UPSET "plays like a classic while at the same time satisfying today's thirst for games of chance and strategy," Executive Officer Paul Thomas of p.s. PlayGames told TDmonthly.
— "UPSET is brand new, and p.s. PlayGames is excited to be branching out into the U.S. market. Since our May 2007 launch in Canada, we have made great strides in sales, marketing and media attention. We welcome any U.S. stores and/or distributors to give UPSET a try," Thomas added. 4/23/2007 (MSRP: $29.99; Age: 12 and Up)



MBS Pond Kit by MODEL BUILDERS SUPPLY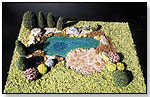 This easy-to-assemble pond kit includes a plastic pond shell, rocks and beautiful landscaping. The kit is available in a 1:12 scale or a 1:24 scale. The base of the pond covers approximately 15" by 10". Launch date: 2006. 6/22/2007 (MSRP: $35.06; Age: 12 and Up)



Fikloo by OIKOS GLOBAL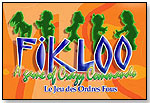 Fikloo produces laughs for the whole family. The game asks players to follow challenging commands such as shaking their hips, puckering their lips and wiggling their toes, all simultaneously. Any player who fails to follow all the commands will be eliminated. This portable game was designed for fun both at home and on travels. Launch date: January 2006. 6/13/2007 (MSRP: $10.95; Age: 6 and Up)



Self Defense Playing Cards by Les Entreprises SynHeme inc.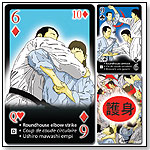 Kids can learn self-defense techniques as they play card games. The goal of the game is to repel all attacks by creating sequences of cards that represent actual self-defense techniques. This game is educational, fun and easy to play. Developed by two self defense teachers. Launch date: June 20, 2007.
— "U.S. stores are our main business partners. Their continuing support allows us to innovate and develop new and exciting products," said Jean-Pierre Grenier of SynHeme in summer 2007. 6/22/2007 (MSRP: $5.98; Age: 7 and Up)



Stikfas Omega Male Knight by STIKFAS/SAIZON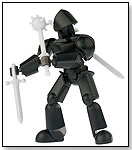 This action figure comes complete with a translucent black armor and gray weapons. In the past, the knight rode into battle on a stallion, but this time, he's on his own. Orders are shipped in cases of 12. Launch date: July 2007.
— "SaiZon takes pride in supporting independent retailers with a high-quality product that is not available in the major retailers," said Martin New of Stikfas/SaiZon, when asked by TDmonthly about serving the American market. (

Watch Video) 6/22/2007 (MSRP: $9.95; Age: 8 and Up)



Ministers Chess — Third Edition by CORINTHIAN GAMES LTD.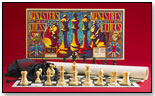 In this game invented by Michael J. Corinthios, Ph.D., two Queens re-named "Ministers" flank the King, establishing symmetry and thereby correcting an anomaly of the structure of chess. A 9x9 folding board and nine pawns per player add space and power, and a conventional 8x8 pattern is on the back side. This 3rd edition includes tournament-sized plastic pieces plus a vinyl roll-up board (19.5" x 19.5") and cloth bag (12" x 7"). "Chess variants have come and gone. This variant is distinguished by its utmost respect for chess. This game constitutes the least deviation … the only change being the perfection of symmetry," Dr. Corinthios told TDmonthly. Launch date: November 17, 2006. 12/12/2006 (MSRP: $29.99; Age: 7 and Up)



Bilingual Preschool: English-Spanish by SARA JORDAN PUBLISHING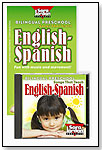 This bilingual audio kit will jump-start learning for preschoolers as they learn names of animals, directions, polite expressions, places in the community, and counting (cardinal and ordinal numbers) through games such as "I Spy," "Mind Your Manners" and "Follow the Leader." Sung by native speakers, these songs are a perfect introduction to a new language (English or Spanish). An English-French version is also available. (

Watch Video) 3/6/2007 (MSRP: $16.95; Age: 2 to 6)



Safety Brainiac - Junior Edition© by BRAINIAC GAMES INC. LLC


This game helps children learn to make good safety decisions. It features questions covering strangers, bullies, Internet stalkers/threats, fires, poisons, pedestrian and biking safety, choking hazards, weather hazards and much more. "The one key characteristic of Safety Brainiac - Junior Edition that sets it apart [from other toys] is the fun and engaging way the game helps children learn how to stay safe against the dangers and threats they can encounter in their daily lives," Brainiac Games Inc. President and CEO Jamey Purcell told TDmonthly. This product is a winner of the Spring 2007 Dr. Toy Best Product Award and the Spring 2007 National Parenting Center Seal of Approval Award. Launch date: November 2006. 6/27/2007 (MSRP: $29.99; Age: 5 to 12)



The Birds of Summer by FAMILY PASTIMES

Players are Parent Birds trying to save their Baby Birds from Predators such as Hawks and Cats. The cards provide six Places for Nests, six Birds, six Predators and six Kinds of Food. All the action takes place on the Neighborhood Chart. Predator Dangers are placed near the Neighborhood. Places to make Nests are played first, then Nests, then Food for each Nest, which attracts a Predator. Will we, the Parent Birds, be able to chase away the Predator? Clever play will make all the difference, as we talk over our plans and make careful choices, with each player making an important contribution. This game is exciting and educational: Memory, math and problem-solving skills are nurtured as well. It is suitable for two to six players. 5/3/2007 (MSRP: $10.00; Age: 7 to Adult)



Dora the Explorer Coloring T-shirt by KOVAC ENTERPRISES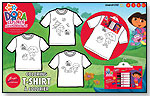 This t-shirt-coloring kit includes one t-shirt and five markers. Pre-printed with one of three Dora images, the shirts come ready for instant coloring fun. The t-shirt sizes are 4, 5, 6 and 6x. Go Diego Go! and SpongeBob SquarePants versions are also available. 6/18/2007 (MSRP: $9.99; Age: 3 and Up)



Eye Know™ - Trivia for the Eyes by WIGGLES 3D



Trivia for they Eyes. All new Edition for 2014! Explore the world through images. The updated version of Eye Know now features even more content and an alternate game play system for younger players. Select an image from the game board to identify and then answer one of three trivia questions about the topic. Choose from an amazing array people, places, animals, manmade objects, famous places, flags, logos and much more. SRP $24.99-$29.99, 2 or more players.
Awards: Mensa Select Award Winner.


2/19/2007 (MSRP: $29.99; Age: 12 and Up)



Arctic Cat - M7 and Crossfire by INTERACTIVE TOY CONCEPTS LTD.



Licensed by Arctic Cat, these 18"-long, scale replicas of the M7 and Crossfire feature powerful electric motors with turbo boost that give an extra burst of speed when needed. These snowmobiles are radio controlled and feature a powerful 380 class electric motor with up to 12 minutes of running time on a charge. Like the real thing, they are responsive and nimble with signature aesthetics, working suspension and a full track design for punching through challenging snowscapes. The included two-channel radio control puts you in the saddle with precise control and long-range fun never before available in the winter. Though designed to be used outdoors on snow, the M7 and Crossfire can also be used indoors on carpets just by changing skis. The products comes with a 9.6V NiCad battery and charger, and require a 9V battery for the transmitter. 6/12/2007 (Age: 8 and Up)



---
---


Copyright © 2021 TDmonthly®, a division of TOYDIRECTORY.com®, Inc.