May 14, 2021

August 2007 | Vol. VI - No. 8

---
TDmonthly's Toy Videos
TDmonthly's Toy Videos give you instant access to toy demos so you can evaluate a product before you buy it. If it works, it shows. If not, that shows, too. Seeing is believing, but hearing doesn't hurt, either.

Videography by Rob Poswall. Edited by Alison Marek.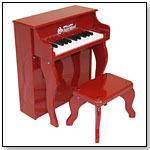 Red Elite Spinet by SCHOENHUT PIANO CO. INC.

This high-quality musical instrument is chromatically tuned and features lovely chime-like notes that are produced by little hammers striking precision-ground, German steel music rods (versus the conventional taut wires used in full-sized pianos). Schoenhut's patented Learning System, with its play-by-color teaching method, makes playing simple and fun. A removable color strip fits behind the keys to guide small fingers from chord to chord, and is also suitable for use on adult-sized keyboards. The accompanying songbook contains a collection of familiar tunes. Launch date: July 2007. (

Watch Video)




To see archived videos sorted by category please click here.


You can also watch manufacturer demos from 2007 and 2006 trade shows.


And here are the new videos for this month:
Wooden Mini Musical Animals by COLORI USA/TATIRI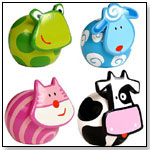 Introduce your child to the wonderful world of animals with our colorful, hand-painted wooden musical animals. Press any of them down and hear it make the sound the real animal would make. It's a fun way for your child to learn, and it livens up your child's desk in the process. Color their world with the lively sight and sounds of these musical animals. These collectible animals feature a unique Italian design and are functional, fun and decorative. (

Watch Video) 10/13/2006 (Age: 3 and Up)



The Wizard's Workshop by FAMILY GAMES INC.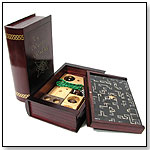 This wooden workshop consists of eight bewitching brainteasers and an everlasting magical maze. Wooden blocks, balls, ropes, cords, metal rings and a screwdriver are tucked inside the faux leather assembly book. The challenge of the game lies not only in putting together the eight wooden puzzles, but also in solving them once the puzzles are assembled. Creativity and constructiveness are essential to this game. (

Watch Video) 5/4/2007 (MSRP: $49.99; Age: 8 and Up)



Co-edikit® 8" Plush – "Don't Make Me Kick You" and "Here I Am! What Were Your Other 2 Wishes?" by FIESTA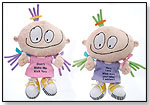 These characters are two of eight 8" plush in a line created by artist and humorist Cheryl Caldwell. The characters serve as a personal guide on how to Live Out Loud™, and are great to play with or set on a computer or desk. They feature witty phrases and graphics that make light of everyday life, girl talk, romance and office chat. Launch date: mid-2007. (

Watch Video) 6/13/2007 (MSRP: $8.00; Age: 5 and Up)



Hanging Mistle Toad by FIESTA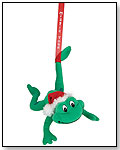 A red ribbon is attached to this lively plush frog so he can be hung above a doorway during Christmastime. (

Watch Video) 5/7/2007 (MSRP: $4.50; Age: 3 and Up)



Elite Fleet R/C Hyperflyer Stunt Plane by KID GALAXY INC.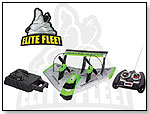 The sleek silver and green, dual-winged Hyper Flyer is a radio-controlled stunt plane that can perform amazing aerial stunts including loops and barrel rolls. The plane can dive, roll and spin, and take off from the ground. It can perform touch-and-go stunts for fast land-to-air take off. With its state-of-the-art charger, the Hyper Flyer is ready for aerial action in just five minutes. It is constructed from virtually indestructible EPP foam. This product is a 2007 Creative Child Toy of the Year Award winner.
— "All of the new items from Kid Galaxy were great," Idanna Smith, owner of Juggles in Wakefield, R.I., told TDmonthly about Toy Fair 2007. (

Watch Video) 2/27/2007 (MSRP: $69.99; Age: 8 and Up)



Noo Boo™ Pound a Sound by MANHATTAN TOY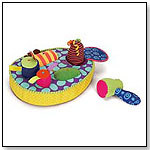 With each thump of the soft hammer, baby hears a variety of sounds or gets a pop-up surprise. This electronic activity toy for ages 9 months and up comes with a battery. Launch date: January 2007. (

Watch Video) 5/24/2007 (MSRP: $25.00; Age: 1 and Up)



Play Clay Kit by PLAY CLAY FACTORY



The kit comes in a clamshell case and includes three brightly colored Play Clay rolls, a Mini Clay Roller and four colorful, fun-shaped Clay Cutters. Play Clay's unique, non-stick roller is easy for little hands to use, and the Clay Cutters have safe, rounded edges. They clay is made from all organic ingredients. "Play Clay, the original scented play dough, features seven wonderful fruity scents. The scent helps develop longer attention spans in young children, while the pliability helps develop fine motor skills," Play Clay Factory Founder and President Linda Clark told TDmonthly. "And best of all, it doesn't crumble and make a mess like other play dough products." (

Watch Video) 5/1/2007 (MSRP: $12.95; Age: 2 and Up)



Lightbeam by YOMEGA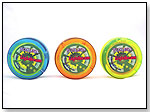 This high-performance four-color light-up yo-yo combines the patented transaxle system found in the world-famous Fireball with a patented electronic pulsating eight-LED diode system to create a kaleidoscope laser-like show of colorful light patterns, which change as the yo-yo continues to spin at the end of the string. The product comes with bonus string, a trick book and a lubricant pen. "The Lightbeam has a unique centrifugal power switch that turns the yo-yo on when it detects motion and shuts it off when it's not in use. This process extends battery life and provides for a truly colorful play experience," Marketing Director John Marcantonio of Yomega told TDmonthly. Launch date: Spring 2007.

Past Videos: Product demonstration, WTHRA 2009 (

Watch Video) 5/23/2007 (MSRP: $12.95; Age: 8 and Up)



FlyTech Dragonfly by WOWWEE GROUP LTD.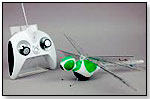 Capable of reaching speeds of up to 18 mph, the radio-controlled flying insect features an ultra-light, dual-wing design and crash-resistant structure. It flaps its wings like a real insect and can take off from any smooth surface and soar, dive-bomb, hover and glide. The motion of the flapping wings can keep the bug aloft for up to 15 minutes.The futuristic bug also features multifaceted LED eyes, two pairs of fluttering wings, a powerful tail rotor and an elongated body that fits in the palm of one's hand. (

Watch Video) 12/21/2006 (MSRP: $49.99; Age: 8 and Up)



University Games - Five Little Monkeys Jumping on the Bed™ by UNIVERSITY GAMES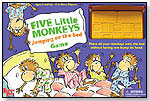 Based on the well-known nursery rhyme, Five Little Monkeys Jumping on the Bed introduces children to counting and strategy while developing fine motor skills.
— "The little monkeys actually jump off the bed!" noted Matthew Crovitz of University Games. "The included bed randomly ejects the monkeys, bringing smiles and giggles to preschoolers as they learn to count." Launch date: March 2007. (

Watch Video) 1/5/2007 (MSRP: $19.99; Age: 3 to 9)



Heritage Playsets Wildlife Park by TOP SHELF HOLDINGS LLC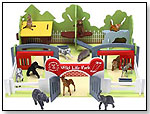 It's natural to love this playful wildlife reserve, where animals feed, sleep, play and hide as a child's imagination unfolds. It features working doors, a ladder, sliding gates, two feeding troughs and 12 realistic wild animals. (

Watch Video) 5/8/2007 (MSRP: $99.95; Age: 3 and Up)



Bubble Ball Blitz by IMPERIAL TOY LLC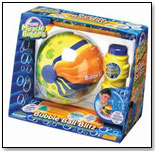 This hand-held bubble party machine provides an endless stream of bubbles, allowing children to make thousands of bubbles in just minutes. Kids just pull the handle of the battery-operated ball to see it work. It comes with Super Miracle Bubbles solution and requires four AA batteries (not included). (

Watch Video) 5/21/2007 (Age: 5 and Up)



BoomChair Gamer - Red by LUMISOURCE, INC.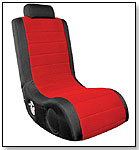 This interactive chair hooks up to media devices to deliver dynamic audio blasts from interior speakers, pumping powerful audio waves through the body. It's a unique way to experience video games, music and movies. The chair weighs 39 lbs. and measures 27" L x 17" W x 31" H. It also comes in blue and green. (

Watch Video) 6/5/2007 (MSRP: $150.00; Age: 4 and Up)



Feel Better Frog by MANHATTAN TOY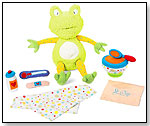 This eight-piece electronic interactive set includes the following: a plush frog, a blanket, a thermometer, a soup bowl and spoon, a tissue, a bandaid and a medicine bottle. The frog says 14 phrases and talks when someone hugs, feeds, takes its temperature or blows its nose. The product includes three AA batteries. Launch date: January 2007. (

Watch Video) 5/24/2007 (MSRP: $40.00; Age: 3 and Up)



Flip & Doodle Easel Desk with Stool by THE STEP2 COMPANY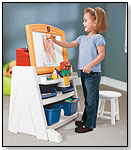 Flip & Doodle's dual design features an upright easel that folds down into a desktop. The art easel features a metal dry-erase board that can also fold down to create a large 13" x 20" work surface. The desk includes molded-in shelves, trays, cup holder and six multi-size bins for storage. It even comes with an 11" stool. This product is a 2007 Parent's Choice Award winner. Launch date: June 2007. (

Watch Video) 5/15/2007 (MSRP: $59.99; Age: 2 and Up)



---
---


Copyright © 2021 TDmonthly®, a division of TOYDIRECTORY.com®, Inc.