September 21, 2020

November 2007 | Vol. VI - No. 11


This Issue's Highlights
What to Read in November
Click on

TD

monthly Magazine's ToyTV newscast for a glimpse at this month's features:

Click on the image above or

click here

to Watch

ToyTV

News.



Yes, it's all about GIFTS! To check out the top-10 gifts for girls, boys and babies, simply click on the screen below. You can also take a look at

TD

monthly's ToyTV product demos.


Click on the image above or

click here

to watch

TD

monthly

's Top-10 Most Wanted Toys Report.


A NEW LOOK



TD

monthly Magazine looks slightly different this month. Our aim is to get the most important articles to you first and minimize your need to "scroll around." So we've moved the "must read" articles to the top. We've also consolidated two of our category bubbles: Both Roundtables and Expert Reviewers are now under the heading "TDMONTHLY TOY REVIEWS," and all trend articles have been gathered into one "TDMONTHLY TRENDS" bubble. More changes are coming. Let us know if they work for you!



TURN CUSTOMERS ON TO SPECIALTY

Want to convert mass-market bargain hunters into dedicated specialty shoppers? Ask them questions, make suggestions, and know the value of the toys you offer — and talk about it! See how lending an ear and educating consumers can turn them into regular specialty store-goers in Retailing Tips: Turn a Mass-Market Fiend into a Specialty Lover.

SELL ONLINE WITHOUT LOSING YOUR MIND

Last month, you learned how to create a welcoming online environment for your store. This month, check out 21st Century Toy Store: Sell Online and Stay Sane for tips on expectations, organization and management behind profitable virtual sales.



OPEN THE WINDOWS OF OPPORTUNITY

Maybe you're preparing for a great holiday display or need a few new ideas to keep your store windows fresh and inviting. Take a look at Retailing Tips: Winning Windows Entice Customers to see what fellow storeowners and experts have to say about pretty and profitable windows in the world of retail.

STAFF PICKS

If you don't have time to browse our Notable and New Toys articles for a look at the hundreds of new products added to our site recently, take a look at these few from

TD

monthly's November Staff Picks:
Deglingos - Pikos the Hedgehog by GEARED FOR IMAGINATION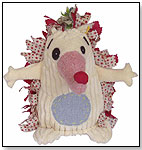 "Deglingos (deh-GLING-goes): common noun. Animalos molto funnios and muy crazios. A distinctive species of contagiously quirky animals, the Deglingos speak their own language, which consists of finishing many words with "os.'" Found living at the best shops in town." Designed in France, these machine-washable characters stand from 8.5" to 11" tall and meet European (CE) safety standards. "The Deglingos are created from 48 different fabrics, which give them a stunning visual and tactile appeal. Specialty retailers will see repeat purchases on these items because of their collectibility, and they will be sold in no mass-market retailers," Ryan Hamilton of distributor All New Materials told TDmonthly. Launch date: July 2007. (

Watch Video) 9/19/2007 (MSRP: $40.00; Age: 0 and Up)



Artistic Borders/Murals by ETHNIC INSPIRATIONS BY MARSHAE, LLC



Shown here is one of our Artistic Borders/Murals titled "Fairy Wonderland." Bring a little magic to your little girls room with her fairy friends all around. Sweet Dreams in Fairy Wonderland. This mural is 36" (3 ft) x 60" (5 ft) and manufactured on pre-pasted wallpaper or the border is 6" high by 15' long. Also available in other designs. 9/24/2007 (MSRP: $80.00; Age: All Ages)



Bur Bur and Friends™ Bur Bur Plush Doll by FARMER'S HAT PRODUCTIONS



Come out and play with Bur Bur. Whether at home or exploring the world, this super-soft doll is sure to become your child's favorite. 9/28/2007 (Age: 2 and Up)



---
---


Copyright © 2020 TDmonthly®, a division of TOYDIRECTORY.com®, Inc.