---
Retailing Tips: Winning Windows Entice Customers
Focused, Updated Displays Turn Heads
"Dolls always help drive traffic into the store." — Rick Garlock, Treasured Child

Specialty retailers and Donna Geary, founder and executive director of Impact Visual Merchandising and author of "Maximizing Store Impact: A Retailer's Guide to Profitable Visual Merchandising" shared with

TD

monthly Magazine 11 tips for creating attractive — and often profitable — window displays: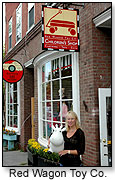 Match Your Window to Your Store's Look. "The window sets up the expectation," said Geary, "and the expectation is fulfilled when you go into the store." When customers enter Red Wagon Toy Co. in Woodstock, Vt., they see garlands adorned with the same little red wagons that grace a tree in the store window, Owner Kim Smith told

TD

monthly.

Communicate One Message. A window must speak to the customer in five to seven seconds, so "less is more," advised Geary, who recommended a single product story or seasonal theme.

Know What Needs Display. Keeping large stuffed animals in the window "brings [customers] into the store to touch or buy them. If they are not in the window, we usually do not sell many," said Joshua Grindstaff of Education Station in Coldwater, Mich. Geary noted that whatever is on display should be easy to find in the store.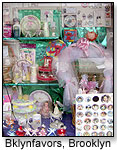 Let It Sell! "When our new order of Adora dolls comes in, we fill our corner window with about 20 of the 18" to 20" dolls posed with baby toys and lots of Koesen or Trudi plush. ... We sell through about half or more of our doll stock in one month," President Brekke Hewitt of Dragon's Toy Box in Seattle told

TD

monthly. "Dolls always help drive traffic into the store," seconded Owner Rick Garlock of The Treasured Child in LaGrange, Ky.

Keep It Fresh. Geary recommends changing a display at least every four weeks — or more often if customers show up for weekly events. Located on a major route through Vermont, Red Wagon Toy Co. attracts customers who "just had to stop," said Smith, who might switch out the display every other day during busy vacation weeks.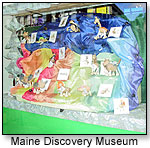 Keep it Bright. In addition to having a clean window, Geary said, lighting is crucial — especially the kind that minimizes reflections. She recommends "putting window lighting on a separate circuit or breaker and leaving it on 24/7" to entice nighttime passersby to return. David J. Snyder, store manager of Maine Discovery Museum, said that with the store's colorful display of HaPe Anamalz, "the illumination after sundown draws attention even though we close at 5:00 p.m."

Capture Attention. Owner Michael Dark of Something Different USA in England couples bold colors with minimal product display. Last Christmas, "I had a window full of Afro-American Santas and choir singers and on another occasion a singing/moving cowboy Santa. It gets people to cross the street!" he said. Anything moving will capture attention, Geary confirmed.

Be Universal. The Treasured Child displays items for both girls and boys, and Dragon's Toy Box covers its bases by using a long window to display games, plush, science toys and more by section, and highlighting seasonal offerings in a tall corner window. "It generally helps focus customers' decisions and always brings in new customers interested in a particular subject," Brekke said.

Get Creative. Owner Terry Myers of Kaleidoscope Toys in Round Rock, Texas, installed dark film to block the heat and sun from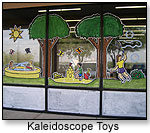 west-facing windows, but compensated by having a seasonal theme mural painted on the exterior every three months. "It's very bright, fun and eye-catching, and can be seen from across the parking lot," she said.

Complement Town Events. Nicole Fletcher, owner of Let the Games Begin in downtown Maple Ridge, BC, said her store's best display correlated with a Caribbean festival and featured games amidst a pirate theme. Red Wagon Toy Co. often works with Billings Farm & Museum, tying in window themes to their weekend events, such as Cow Appreciation Day.

Have Fun With Sales. For the January sale at Red Wagon Toy Co., "I buy four Douglas large penguins [and] big stick-on letters from Staples in red, spell out "SALE" on their tummies [and] add some Styrofoam snowballs and blue icy fabric," Smith told

TD

monthly.

Make sure your store window is equipped to draw people inside — where they can shop! — by exhibiting a clean, updated presentation, sticking to a single message or theme and reflecting the spirit of your business.

Writer's Bio:
Julie L. Jones has written articles for both newspapers and magazines. Before joining the staff of TDmonthly Magazine, she worked as a communications writer and provided editorial support for a market research company.
Read more articles by this author
THIS BANNER IS AN AD:
---
---