March 3, 2021

November 2007 | Vol. VI - No. 11


TDmonthly's Toy Videos
TDmonthly Magazine's Toy Videos give you instant access to toy demos so you can evaluate a product before you buy it.If it works, it shows. If not, that shows, too. Seeing is believing, but hearing doesn't hurt, either.

Get my toy on

TD

monthly

's Toy Videos!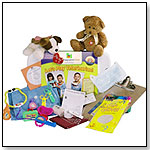 Let's Play Veterinarian! Dramatic Play Box™ by THE IMAGINATIVE CHILD

This set encourages kids to become a veterinarian for a day, allowing them to listen to animals' heartbeats and bandage their scrapes and cuts. The durable, stackable, oversized (18" x 12" x 7") container makes cleanup and organization a breeze. The scrubs and surgical mask can be worn by an adult or child, and the prescription pad allows a child to think about a diagnosis and test-out their writing skills. Each set also includes a clipboard, stethoscope and tools, credit card, ace bandage, name badge, non-latex gloves, dog, bear, surgical tape and sling, as well as a Parent's Resource CD-ROM and Education Guide. (

Watch Video)
To see archived videos sorted by category, please click here.

You can also watch manufacturer demos from 2007 and 2006 trade shows.

And here are the new videos for this month (
NOTE:
More videos are coming this week, so check back soon!):
Dolls Scramble Squares® 9-Piece Puzzle by b. dazzle, inc.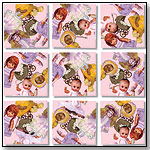 "Playing with dolls" takes on a whole new meaning and challenge with this pretty, but tough, Dolls Scramble Squares® puzzle. At under $10.00 retail, Scramble Squares® puzzles make inexpensive, but highly entertaining and valued gifts for anyone, ages 4 to 104, for Halloween, Christmas, Hanukkah, Easter, Father's Day, Mother's Day, birthdays, get well, graduation and travel. (

Watch Video) 7/9/2007 (MSRP: $8.95; Age: 4 and Up)



Giant Interlocking EduBlocks by EDUSHAPE LTD.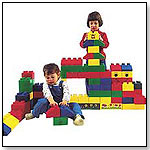 These giant, interlocking, unique, soft blocks are ideal for small hands. The lightweight, incredibly durable and washable blocks are also colorful and nontoxic, and guarantee hours of safe and constructive play. The basic block dimensions are 4.5'' X 4.5'' X 3.5''. (

Watch Video) 8/1/2006 (MSRP: $69.95; Age: 3 to 5)



Bébé Do by COROLLE DOLLS



14" Bébé Do (pronounced "baby dough") has a beautifully sculpted face with a delicate, lifelike, newborn expression and eyes that open and close. Her translucent vinyl skin appears like that of a newborn baby. Bébé Do wears pink footed pajamas and comes with a picture book that shows make-believe moms how to care for their baby doll.
— Ruth Mandt, one of TDmonthly's Dolls Roundtable reviewers, said her granddaughters "think this is the sweetest baby doll they have. They take this doll everwhere and care for it like a real baby." It was picked by the Roundtabler reviewers as the doll with the most lasting value.
— Corolle baby dolls are constantly mentioned as a great seller in specialty retail stores, especially around the fourth quarter, which makes vanilla-scented Bébé Do a natural for a TDmonthly Classic Toy 2007 award. Her sweet face has just enough realism to trigger a nurturing instinct. Her scaled-down size makes her a perfect fit for little mommies.

Where to Buy: Blue Turtle Toy Store (

Watch Video) 1/12/2005 (MSRP: $55.00; Age: 2 and Up)



Down Syndrome Dolls by THE CHILDREN'S FACTORY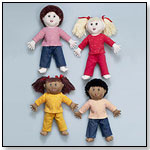 These 15"-tall rag dolls have distinguishing features of Down syndrome. Two skin tones and boy/girl versions are available. The dolls are machine washable and dryable. (

Watch Video) 6/27/2007 (MSRP: $21.95)



Magneatos by GUIDECRAFT INC.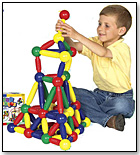 Magneatos is a jumbo-sized magnetic construction set similar in concept to popular sets made for older kids, but designed for small hands with huge imaginations. The distinctive extra-large size and bright colors of Magneatos make them ideal for little builders. Available in 36-, 72- and 144-piece sets, Magneatos construction sets can be combined with one another. The suggested retail prices for the sets are $30, $50 and $100, respectively. Baby builders can reach for the sky with this popular toy. Its steady sales have earned it a TDmonthly Top Seller 2007 award.
— TDmonthly posted a video of Guidecraft Inc.'s Magneatos in November 2007, in which a demonstrator commented on the "not so sturdy" nature of the product, potentially portraying the design or strength of the magnets as a weakness. TDmonthly did mention positive traits of the toy, but upon further review and observance of children playing the set, discovered even more: Magneatos encourage children to work together, communicate (as they find certain colors of pieces, for example), and compete, since the larger sets, especially, contain enough pieces for children to work on their own projects. Also, the power of the magnets forces children to put more thought into the foundation of their structures, reinforcing principles of balance. Per these findings, the video was removed.
Where to Buy: Rocking Horse Toy Store; Really Great Toys; Berkira 9/7/2005 (MSRP: $30.00; Age: 3 and Up)



Hot Dogs by JACK RABBIT CREATIONS INC.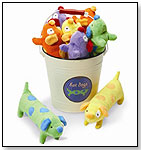 From babies to grown-ups, everyone can enjoy these adorable hot dogs. They are made of super-soft velour plush and come in four great color combinations. Each hot dog has a soothing chime inside and is easy for little hands to grasp. Launch date: March 2007. (

Watch Video) 5/4/2007 (MSRP: $10.00; Age: 0 and Up)



ZipBin® Softie™ Train Depot Playset™ Play, Zip, Go! by NEAT-OH! INTERNATIONAL LLC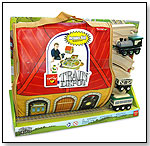 This soft-sided bin is not only decorated according to the theme, but is also shaped to resemble a train depot. It looks like an engine house when it's carrying toys, but opens up into a train lover's delight of a playscape. It also includes eight sections of wooden track and three train cars, all of which match other popular wooden trains. "Neat-Oh! products alone offer the patent-pending ability to convert back and forth from toy to storage," said Gerry Linda, director of marketing for Neat-Oh! International. Launch date: August 2007. This product was previously catalogued under the name ZipBin® Softie™ Train Depot Playset™ Play, Zip, Go! (changed January 2009).
— The shape, artwork and usefulness of this ZipBin® set made it a recipient of a TDmonthly Innovations 2007 award. Not only does it zip-up into a storage space and zip-out into a play mat, but it also includes toys for play so that kids and parents have everything they need right at the time of purchase. (

Watch Video) 9/21/2007 (MSRP: $19.99; Age: 3 to 8)



Riebee Water Bocce by Winlow Products

Riebee brings the land-based version of this popular game to water sports across the country. Riebee Water Bocce includes four of the colorful patented Riebee water skipping/skimming discs and one floating scoring mat. Two to four players skip their discs onto the scoring mat and score points based upon where and how many discs land on the scoring mat. (

Watch Video) 2/6/2007 (MSRP: $14.95)



Raggedy Ann & Andy by RUSS BERRIE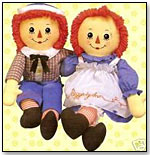 These 30" Raggedy Ann and Andy plush dolls are timeless. Both have red yarn hair, button eyes and triangular noses and wear their traditional outfits: a white apron over a blue cotton shirt for Raggedy Ann and a flannel shirt, blue pants and a ribbon for Andy.
— "Raggedy Ann" was among the popular licensed products mentioned by Holly Reay, owner of Kid's Corner in Indianapolis, Ind.
— "Raggedy Ann & Andy" was also cited as a licensed-toy winner by Melodie Ingwersen, owner of Creative Kids in Columbia, S.C.
— Almost no toy could be more classic than Raggedy Ann, Johnny Gruelle's sweet-natured and moral character from the series of books he wrote for young children in 1918. Supposedly based on a rehabbed rag doll Gruelle created for his daughter, Marcella, Raggedy Ann captured the hearts of a nation. Raggedy Andy joined her advenures in 1920. These 30" versions of Gruelle's characters are a fourth-quarter staple, specialty toy store owners told TDmonthly Magazine, and so have earned a TDmonthly Classic Toy 2007 award. (

Watch Video) 4/14/2006 (MSRP: $59.95; Age: 8 and Up)



Jasmine the Butterfly Girl in her chrysalis Pod by WILDWOOD MEDIA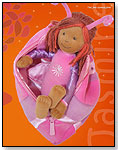 This beautiful butterfly girl comes snuggled in her very own chrysalis, just like a real butterfly. Jasmine brings her environmental message in a unique and fun way. With her bug-shaped body and gorgeous colored wings, she will inspire children to imagine they are the protectors of nature too. This toy was inspired by nature, and developed to give something back. Launch date: August 2007.
— "We believe there hasn't been a toy that encourages children to think about the environment, and that by caring for nature we can all help in some small way," David Hughes of Wildwood Media told TDmonthly. (

Watch Video) 10/13/2006 (MSRP: $29.99; Age: 3 and Up)



Ernie Fire Engine by WOW TOYS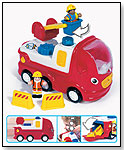 Ernie Fire Engine comes to the rescue with his powerful friction motor and crew of firefighters. Little firefighters can ring his push-button bell and watch his revolving light before using the click-and-turn ladder to fight any imaginary blaze. The firefighter's hand opens the back door to reveal two emergency barriers. Ernie is great for long-lasting role-play fun.
— "Wow is an excellent line of cars, especially for the 1- to 1½ -year-olds," said Fred Rosenberg, owner of On the Park in Kingwood, Texas, in spring 2007. "It's hard to find things as well made as [Wow] that you can actually sell to that age. In the fall [2006], we brought them in, and they've done very well." They've also become a best seller for Brain Station and Tree Town Toys in Ann Arbor, Mich., Owners Hans and Tricia Masing told TDmonthly in fall 2007.
— "This is my baby's favorite toy. She plays with it every day," shared TDmonthly's Baby Roundtable reviewer Sharri Hefner. She and her co-reviewers voted Ernie No. 1 for lasting value out of the 12 toys they evaluated from March to July 2007.
— Ernie Fire Engine is full of "wow" for toddlers — from its friction-prompted motion and siren to its friendly face and likable figurines. Doors that open and close, a workable ladder and attractive packaging also contributed to its receipt of a TDmonthly Top Toy 2007 award. Saving trips to the store to buy batteries (it doesn't need them) helped, too! (

Watch Video) 5/10/2007 (MSRP: $29.99; Age: 2 to 5)



Harry Copter Animal Rescue by WOW TOYS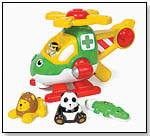 Up, up and away, Harry the helicopter to the rescue! Hold his sturdy handle and squeeze the trigger to activate his friction-powered main rotor, then pick up the injured animals with his magnetic lift and drop them off safely by turning the searchlight. He's also got a clicking tail rotor. A flying vet figure, a panda, lion and crocodile complete this wonderful role-play set.
— "My 3-year-old girl loves rescuing the animals," said Penelope Pauley, a member of TDmonthly's Baby Roundtable review panel. "The animals move into other games as well. It's very versatile." It was the No. 2 pick of 12 toys evaluated for lasting value. (

Watch Video) 11/28/2006 (MSRP: $34.99; Age: 2 to 5)



Zoobie™ Pets – Mashaka the Monkey by ZOOBIES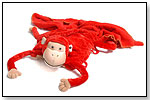 Part of the Safari Collection of Zoobie™ Pets, Mashaka the Monkey is a plush animal, pillow and blanket all in one. It wears a light-blue collar, and the blanket is detachable for washing convenience. The Zoobie Pets Safari Line was included on the ASTRA "Best-for-Kids" toy list for Holiday 2007 and received a Best Bet 2007 Award from the Canadian Toy Testing Council. Launch date: February 2007.
— Zoobie Pets' innovative three-in-one design has captured the attention of numerous retailers at trade shows this year, also garnering a TDmonthly Top Toy 2007 award. In addition to featuring soft, quality materials, the Zoobie Pet's identity as a stuffed animal, pillow and blanket is executed extremely well, leaving great possibilities for travel and growth with any child.
— The new Zoobies were doing well for Brandy Lindstrom, manager of Little Blue Choo Choo in Scottsdale Ariz. in fall 2007.
— As of 05/13/2011 this product had 4 out of 5 stars from 3 reviews on Amazon.com. Cons: Two customers said they wished they had bought the larger size, because the "baby" size was smaller than they had expected.

Where to Buy: Kazoo Toys; Poopsie's (

Watch Video) 9/25/2007 (MSRP: $30.00; Age: 3 and Up)



Zoomorphs Globalmorphs by RIVER DOLPHIN TOYS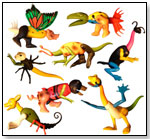 This set of interchangeable parts features the following eight animals plus extra pieces: black bear, dart frog, Madagascan moth, seal, swine, lobster, kangaroo and Komodo dragon. It comes with a 20-page educational booklet and a large playmat of the world. The pieces can be popped together to create all sorts of poseable animals. Launch date: October 2007.
— TDmonthly has been tracking Zoomorphs' success from the beginning, and sales haven't wavered yet. Kids have an unquenchable appetite for building new critters or, for the more fastidious, faithfully recreating the real things with these multicolored animal parts. The newest set adds an educational play mat and booklet. Altogether, Zoomorphs have earned a TDmonthly Top Seller 2007 award.
Where to Buy: Kazoo Toys; LB Toys (

Watch Video) 9/17/2007 (MSRP: $35.00; Age: 4 and Up)



---
---


Copyright © 2021 TDmonthly®, a division of TOYDIRECTORY.com®, Inc.